Fresh air, Fresh ideas
Published by: WCET | 7/9/2014
Tags: Practice
As military boot camp serves to bulk up the physical endurance and mental preparation for combat service, WCET's data boot camp brought together cross-functional teams to bulk up their knowledge and preparation to build analytics capacity at their specific institution.  Unlike other events where the focus is on keynote speakers, the boot camp allowed for valuable networking and group problem solving by using small group break-outs, subject matter expert led discussions, and plenty of time for beneficial conversations.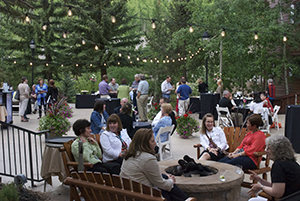 As the character of the boot camp was centered on conversations, what you will not find here, or on the boot camp resources page, are video recordings or a blow-by-blow of who said what when.  Rather, the purpose of the event, and the true value, was for attendees to take away their personalized plan for implementing data analytics on their campus.  In that frame of reference, what follows are some highlights of information shared by our subject matter experts (SMEs) – I have tried to credit direct quotes but have often taken ideas from several people and condensed them into one point. For more direct quotes and learning be sure to check out the Storify of the tweets using #wcetbootcamp!
Postsecondary institutions need to examine the validity of our work – are we measuring the right things? Are our programs adding value for students and is it worth the cost?
Are institutional innovations sustainable once grant and other one-time funding are gone?  Dennis Jones noted "A really good innovation is of little use if it isn't economically viable."
The key to success for innovations is creative use of human resources – using existing team to work on innovations by shifting small amounts of time to it.  The only outlay of cost is time, no other monetary investment. (As Linda Baer called it… "skunk works projects" – done under the radar and eventually funded when they become necessary.)
Develop a short term plan (3-5 years) that aligns with your institutional strategic plan which is accepted by all stakeholders and has specific deliverables for design, pilots, scaling to the entire population and measuring, monitoring and optimizing moving forward.
Keep it simple and focused – determine your strategic need and pose the question you'd like to answer using the data before you start. As Mike Sharkey shared on twitter "If you don't know where to start, think of a single use case to help narrow the scope."
Accept imperfection.
Don't get stuck in analysis paralysis – move from analysis to action.
Identify the low-hanging fruit – find ways to develop small wins.
Coordination and documentation of the data collection processes are key to building a sustainable analytic culture on campus.
Get approval from your institutional review board early in the process so you can avoid the "we can't do it because of FERPA" detractors.
Communicate the plan with all stakeholders – don't leave anyone out of the implementation planning.  Strong communications will support cultural change within your institutional culture.
Look all around your institution for experts to support your analytic endeavors.  There are smart faculty and practitioners in all disciplines from math to academic advising to English and geography.  You don't necessarily have to depend on outside expertise.
If you do hire consultants, the best consultants are always working themselves out of a job – they come in and build capacity within your institution so you can be self-supporting.
As Vernon Smith noted, "Innovation meets a need in a new way. Be prepared to fail. Then fail fast and move on."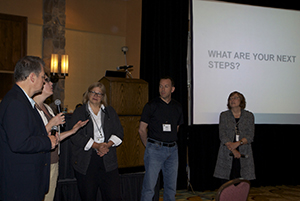 We invite you to join or continue the conversation at WCET's 26th Annual Meeting in Portland, OR November 19-21, 2014.   If you have an analytics story, or other projects, research or practices in e-learning to share, be sure to submit your proposal by Friday, July 18th.
Special thanks go out to all of our SMEs for sharing your experiences and knowledge and participants for your active participation in WCET's data boot camp!
See you in Portland!

Cali Morrison
WCET, Manager, Communications
cmorrison@wiche.edu
Support our work.  Join WCET.