Professional Licensure Notifications
Professional Licensure notifications provided by institutions afford transparency to protect and support students pursuing a required professional license or certification to be employed in a specific occupation. Each state and profession have varying educational requirements which means that students are at risk of not completing necessary educational requirements in a state in order to obtain a license or certification. It is no longer acceptable to place sole responsibility on the student to research the requirements in a state, as the stakes are too high.
Federal requirements
Federal regulations, 34 CFR 668.43(a)(5)(v) and 34 CFR 668.43(c), requiring professional licensure notifications regardless of modality, tie compliance to participation in Title IV HEA programs.
Federal Regulation 38 CFR 21.4253(d)(9)-(10) requires that for program approval to provide Veterans Benefits, that the State Approving Agency may apply additional criteria that the "course meets all instructional curriculum licensure requirements of such state". Before requiring the school to meet the additional criteria, the State approving agency must present a written proposal justifying the need for this additional criterion.
Federal Regulation 38 CFR 21.4259(e) the State approving agency will disapprove a program leading to a license or certification if the institution fails to publicly disclose in a prominent manner, any conditions or additional requirements, including training, experience, or examinations required to obtain the license, certification, or approval for which the program of education is designed to provide preparation.
SARA Policy
Institutions that participate in reciprocity through the State Authorization Reciprocity Agreements (SARA) must provide professional licensure notifications for programs subject to SARA Policy as provided in SARA Manual Section 5.2.
State Laws & Regulations
Institutions should determine if there are separate notifications required by the state regulations to offer professional licensure programs in the state. These could include state misrepresentation regulations and other consumer protection related regulations.
Additional information is available on the State Authorization Network (SAN) website. To learn more, please consider membership to SAN!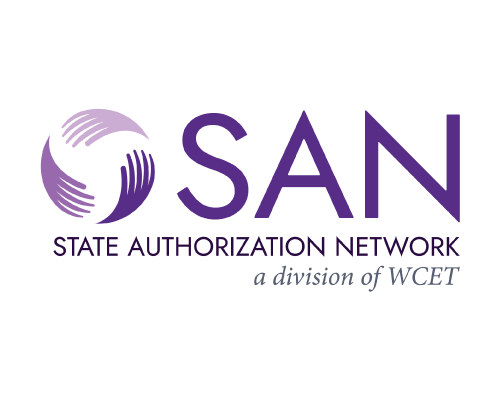 Professional Licensure Notifications Now Required!
Hosted in partnership with WCET's State Authorization Network. Effective July 1, 2020, institutions are now responsible for providing public and individual notifications for the institution's programs that lead to professional licensure or certification for distance education and face-to-face programs....