The Evolution of Education
Published by: WCET | 8/14/2014
Tags: Access, Competency-based Education, Completion, Credentials, Innovation, Online Learning, Open Educational Resources, Prior Learning Assessment, Quality, WCET Annual Meeting, Workforce/Employment
This year, the WCET Annual Meeting will kick off with a keynote from Nancy Zimpher, Chancellor of the State University of New York (SUNY).  Today she shares with us how her team is addressing three fundamental principles in education – access, completion and success. 
The Evolution of Education: Responsibilities for Post-secondary Education in a New Age
Education as we know it is rapidly evolving. From the earliest stages through post-secondary, some gaps in the pipeline have persisted as educators, administrators, parents, and students play catch-up with advances in technology, teaching methods, higher standards, and an increasing need for critical thinking guided by the STEM disciplines. As the world adapts to this new age, the mission of higher education has pressed beyond teaching and learning to include a more encompassing fate—the reliable delivery of education and job training that directly supports the innovation-driven 21st-century economy and today's careers.
More so than any other sector, higher ed is equipped to lead the nation's work to seal the leaks in our education pipeline. As anchor institutions founded on answering society's highest needs while improving quality of life by creating a skilled workforce, colleges and universities have deep roots in local communities and, collectively speaking, we are perhaps the nation's most reliable and powerful force of economic development.
We have always been that engine. What's new, though, are the creative, evidence-based, scalable interventions that are fueling our evolution. Applied learning, digital access, seamless transfer—these are the kinds of transformational changes that our sector should be implementing as we embrace our role in the education of every student, from cradle to career.
SUNY has developed a roadmap for what we view as the future of public higher education in the U.S. It is guided by three fundamental principles—Access, Completion, and Success.
Access
With our cradle-to-career partners across the state, SUNY brings the opportunity of college to every New Yorker regardless of their background, family income, or other factors that may deter a student from pursuing a degree. We partner with schools and communities across the state—particularly those in our most challenged zip codes—to reach every student as early on in the pipeline as possible and see to it that they have access to the teaching, mentoring, and out-of-school support they need to prepare for college and career. These "cradle-to-career" partnerships utilize the StriveTogether collective impact approach to improving education outcomes.
We are doing what we can to reach non-traditional students too, such as returning veterans and adults who have life commitments such as a family to support and a job (or jobs) that keep them from believing college is an option. Open SUNY, our new platform for online education, allows us to vastly increase access to courses from across our 64-campus system and to power certain high-demand degrees with online "anytime" access as well as various supports for students and faculty that contribute to their success in this environment. With digital courses ready to take any time day or night, Open SUNY gives us the capacity to adjust to the schedules of our students and not the other way around.
Completion
Through a number of initiatives, including one of the nation's foremost student transfer policies, we are also helping all students finish school faster, because cutting time-to-degree is still the number one way to cut costs. We have made it seamless for students to transfer credits all throughout our system of 64 colleges and universities. There is no valid reason why the nation's institutions of public higher education can't collectively do the same.
Today, the average SUNY student takes 4.4 years to earn a bachelor's degree, and New York ranks fourth in the country for students graduating within four years—after only the smaller states of Delaware, Virginia, and New Hampshire. Part of that success comes in the form of awareness—doing all we can to be sure students know what it takes to earn a degree not only academically but financially. National focus on cutting college costs has led to our pairing of one of the most affordable educations in the country with one of the most aggressive financial aid transparency campaigns, SUNY Smart Track. We comprehensively show students what college is going to cost, detail for them their financing options, and support them as they decide how much to borrow and develop a plan to pay it back. SUNY Smart Track follows every student borrower from their decision to enroll through graduation and even as alums. As a result, SUNY students incur less debt than the national average, our loan default rate is significantly lower than average, and 40 percent of our students graduate with no loan debt at all.
Of course, the advent of technology in the digital age has been a significant boon to our efforts as well. Open SUNY is aiding our completion agenda, but it's just the beginning. We are on the cusp of implementing web-based degree planning and auditing software that will track classes and degree requirements for students, enabling them to quickly see what courses they still need to graduate and when and where they can take them, be it at their "home" campus, a potential "transfer" campus within our system, or through Open SUNY. This will also be a powerful new tool for parents, faculty advisors, and admissions counselors as they assist students.
Success
Today's high-tech, global economy is fast-paced and moving forward every day, and we have to ensure that, above all else, we are preparing our students to be a part of it. That's why there is so much hype— and justifiably so—surrounding the expansion of applied learning opportunities in college, including everything from clinical placements and cooperative education to service learning, volunteerism, student research, and field study.
At SUNY, we believe in the power of learning by doing, and we are retooling our workforce development programs en masse to take these approaches to the broadest possible scale. We are expanding our prior learning assessments so incoming students don't have to re-learn what they already know. And through innovative on-the-job training programs like apprenticeships, internships, and co-op across our system, SUNY faculty are working side-by-side with the state's employers to craft new, engaging curricula that integrates classroom study and (often paid) work experience. So our graduates have a significant advantage as they enter the workforce. Importantly, we are tailoring our applied learning offerings to meet the unique community and workforce needs of regions throughout New York State, so truly, everybody wins.
Through this education evolution, the core purposes of our sector remain, and traditional classroom settings are by no means extinct. But higher education in its finest, most effective 21st-century form integrates real-world work experience, modern technology, cradle-to-career networking, and other systemic evidence-based reforms as much as possible. The challenges that post-secondary education faces in a new age are daunting, but with creativity, openness, and a commitment to collective impact, higher education can rise to the occasion.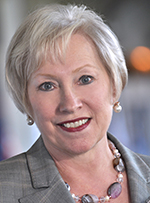 Nancy Zimpher
Chancellor
State University of New York
Road Map Photo Credit: Teijo Hakala