Many pressures on higher education make the services of the North American Network of Science Labs Online (NANSLO) essential.  These include growing enrollments in online courses while campus enrollments decline, the need to provide flexibility for nontraditional students, a growing demand for digital literacy, and a national emphasis on growing the number of STEM students, among others.
What is NANSLO?
The North American Network of Science Labs Online (NANSLO) is an alliance of cutting-edge science laboratories based at higher education institutions that provide students enrolled in science courses with opportunities to conduct their lab experiments on state-of-the-art science equipment using robotics, software, and video over the Internet. From any computer, students can log into one of the labs' web interfaces and manipulate the controls on a microscope or other scientific equipment, participate in conversation with lab partners, ask for assistance from a knowledgeable lab technician in real time, and collect data and images for their science assignments. Through NANSLO, institutions can expand student access to STEM pathways, as they make it possible for students who cannot come to campus to complete lab activities online.
How Does it Work?
Through the NANSLO control panel, students:
CONNECT by computer to control the movement of high quality scientific equipment used to perform the assigned lab activities."Very convenient and easy to use" Great Falls College Montana State University
Student, MT
DISCOVER AND EXPLORE. Students have the opportunity to think like a scientist – observing, interpreting, predicting, classifying, modeling, communicating, and drawing conclusions based on the data collected.  Students watch their progress in real time on a webcam that displays what they are doing, and they gather real data to analyze and make predictions and draw conclusions."It is much easier using an online microscope than even one by hand … You can
zoom/capture images, and do things you cannot otherwise do unless the
microscope is hooked up to a computer . . . " Community College of Aurora Student, CO
COLLABORATE with lab partners nearby or around the world as each takes turns using the equipment. And, students get immediate help from the NANSLO lab techs when needed."Great! makes me feel like I'm in an actual lab! Lamar Community College, CO
ENGAGE in active learning. As they work through the activities, students are actively performing their experiment, using their settings, experiencing their own observations, and collecting their own data."This type of unique 'hands on' experience taps into parts of the brain that even
person-person labs miss." Kenai Peninsula College University of Alaska Anchorage, AK

What is NANSLO's Discipline Focus?
NANSLO has developed 27 lab activities in biology, chemistry, physics, and allied health that are openly licensed with Creative Commons BY attribution.  These labs are easily integrated into course curriculum and include background information, pre-lab questions, and lab activities that can be performed online.  Or, these labs can easily be customized to meet individual course requirements.  A list of all NANSLO lab activities with access to the Word version is available for easy download.  Over time, NANSLO expects to expand its collection within these initial disciplines and add others.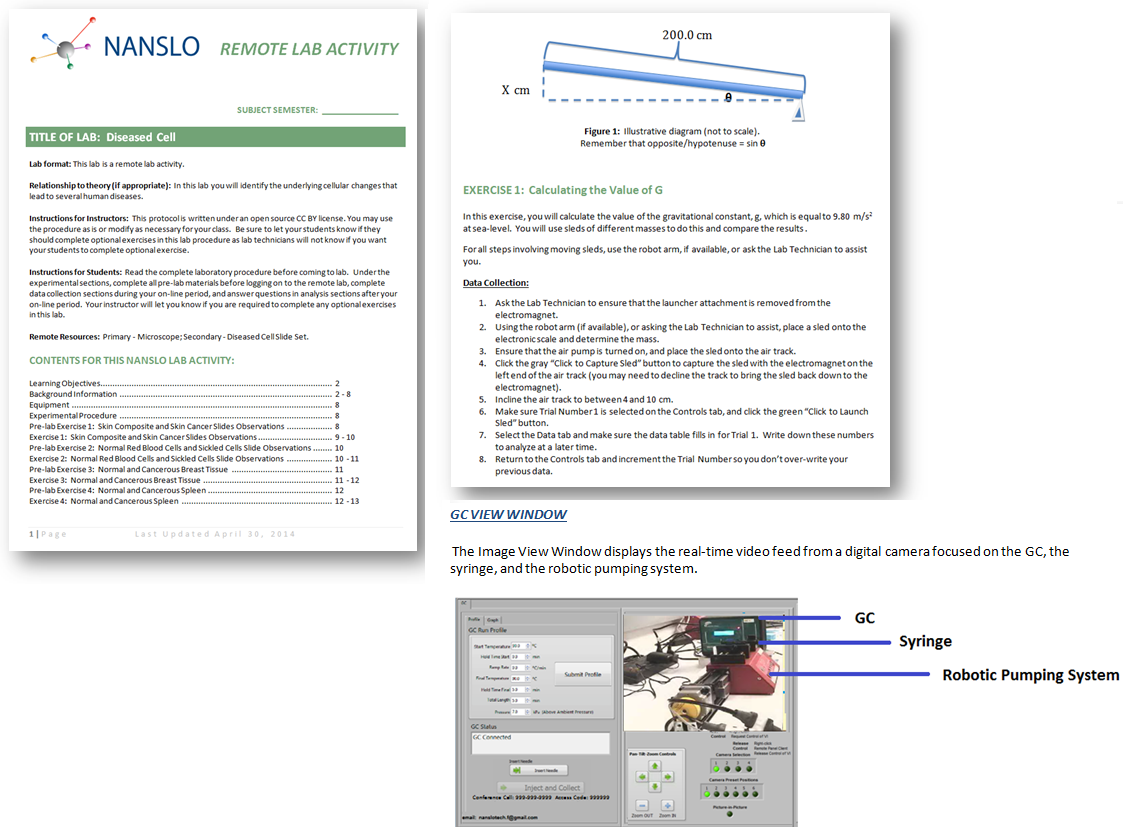 Who Participates in NANSLO?
The NANSLO network's hub is based at the Western Interstate Commission for Higher Education (WICHE) in Boulder, CO. WICHE serves as the public's primary resource for information about NANSLO, coordinates communication among the network's lab partners, provides the centralized scheduling system, and oversees selected contracting and financial transaction services for the partners.  Currently, the network includes three laboratories: the Colorado Community College System (CCCS) laboratory is located at Red Rocks Community College in Arvada in Colorado; the Great Falls College Montana State University (GFCMSU) is located in Great Falls, Montana; and North Island College (NIC) is located in Courtenay, British Columbia.

The CCCS laboratory began serving CCConline students in 2012 and continues to do so along with serving students from three Consortium for Healthcare Education Online (CHEO) community colleges in Colorado through a U.S. Department of Labor Trade Adjustment Assistance Community College and Career Training (TAACCCT) grant that established that initiative and provided funding for expanding NANSLO's work.  The NIC laboratory is primarily NANSLO's development site but delivers lab activities to one CHEO community college in Alaska.  NANSLO's GFCMSU laboratory, established with funds from the TAACCCT grant, opened in late fall 2014 and serves four CHEO community colleges in Montana, South Dakota, and Wyoming.
How Do Students Access an Assigned Lab?
First, an institution or its faculty uses the centralized scheduling system to reserve a block of time for students to perform assigned NANSLO lab activities.  When a reservation is made, a unique URL and PIN is generated.  Faculty give their students this information, and students use it to access the scheduling system and select a day and time within the reserved block to complete the lab activity.  Students also use that link or the student dashboard customized with information unique to them to access their NANSLO lab activities.
Once connected to the NANSLO lab, students have access to real scientific lab equipment that lets them:
Collect real time data and capture it electronically;
Experiment with different settings to see the impact on that data;
Capture high-resolution images to include in lab reports;
Engage in authentic instrumental experimentation;
Collaborate with classmates and lab personnel through teleconferencing; and
Gain skills that can be used in the future whether in science or other careers that require data collection, analysis and decision making, while gaining digital experience in remote web-based control.
Faculty can find out how their students are performing by logging into a dashboard customized for their use and selecting the lab activity of interest.  The report generated assists them in determining student participation in the assigned lab activity.
Conclusion
Over the past year, students have been surveyed about their experience with NANSLO.  Here are some comments:
"It was amazing to be able to sit in comfort of my own home and be able to work with this equipment.  I believe this is the way of the future just because it is so fitting for people to be able to do this.  Everyone in this world has busy lives and this makes it that much easier on people."  Kodiak College University of Alaska Anchorage Student, AK
"What a great resource, it was way easier to use and much cheaper than buying the microscope
for my class"  Flathead Valley Community College Student, MT
"This was great and I can see enormous potential for online students.  Thank you for the opportunity!  Community College of Aurora, CO
"I think this was a great experience.  I think it comes pretty close to the real thing, which is
great.  :)" Arapahoe Community College, CO
In sum, NANSLO can provide real value to institutions by:
Delivering high-quality lab activities to students online in science courses requiring a lab component;
Providing students with access to real lab equipment allowing them to collect real data and think like real scientists;
Reducing the need to expend limited dollars on expanding labs on campus;
Providing students with an experience that can be applied to many professions; and
Addressing the need for flexibility in accessing and performing lab activities.
NANSLO's future plans call for implementing a fee-for-service model so that other institutions can purchase NANSLO services for their students. It is also looking at cloud computing as a possible approach to expand capacity exponentially while further enhancing efficiencies.
If you would like more information about NANSLO go to www.wiche.edu/nanslo or contact Sue Schmidt at sschmidt@wiche.edu or 303-541-0220.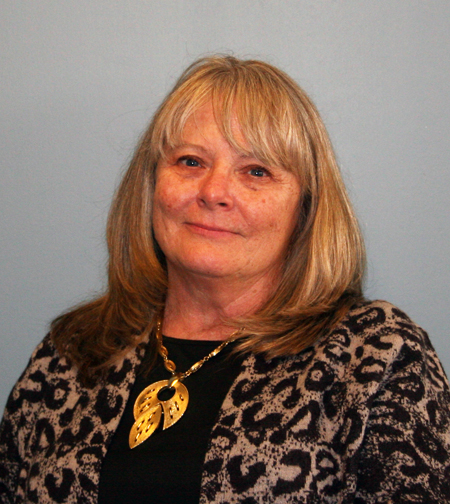 Sue Schmidt
NANSLO/CHEO Project Coordinator
WICHE
sschmidt@wiche.edu
Pat Shea


Director, Academic Leadership Initiatives
WICHE
pshea@wiche.edu
This product was funded by a grant awarded by the U.S. Department of Labor's Employment and Training Administration.  The product was created by the grantee and does not necessarily reflect the official position of the U.S. Department of Labor.  The Department of Labor makes no guarantees, warranties, or assurances of any kind, express or implied, with respect to such information, including any information on linked sites and including, but not limited to, accuracy of the information or its completeness, timeliness, usefulness, adequacy, continued availability, or ownership.