Change begins with an idea, and in the Instructional Design department at Walters State Community College, we are not afraid of change. We realize that technology is changing our world minute by minute, and by embracing that movement, Walters State continues to be on the cutting edge of the current technology allowing us to offer new and innovative ways to make teaching and learning more effective for our faculty as well as our students.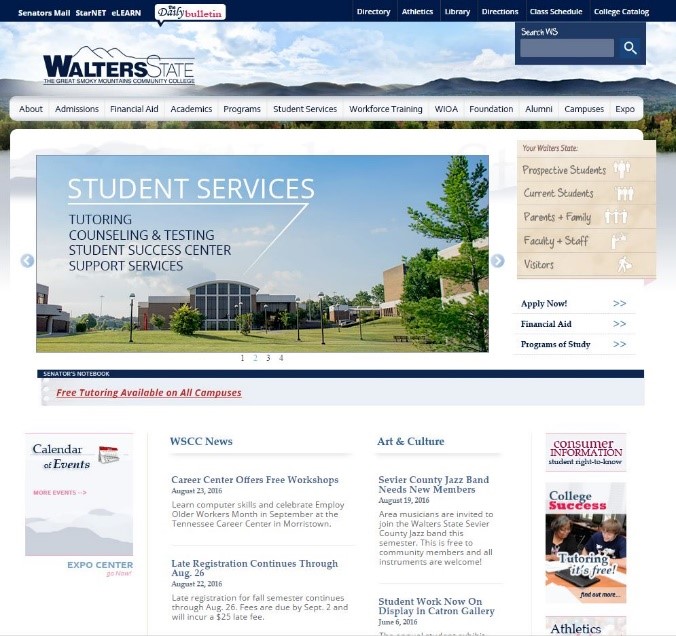 Walters State Community College is "a learning-centered, comprehensive, public community college dedicated to increasing educational attainment and supporting economic development by providing affordable, high-quality educational opportunities for the residents of East Tennessee."  We strive to be a leader in the educational arena by discovering new and innovative ways to not only assist our own faculty and students' educational needs, but we also strive to support others that are outside our four campus community as well. Thus, the idea for the 20 Minute Mentor was born.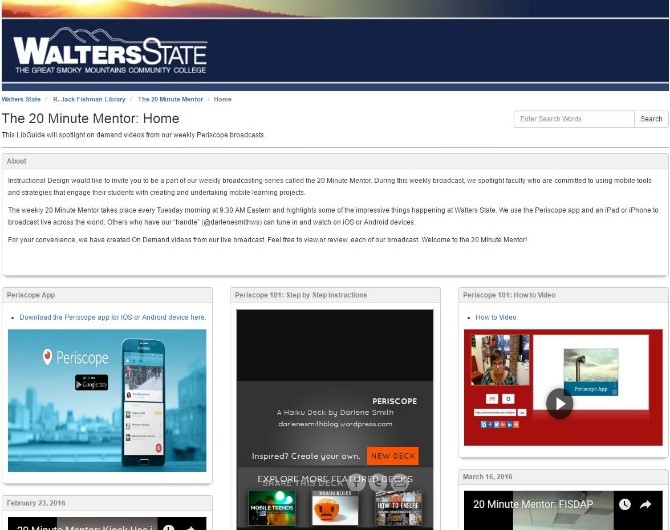 What is the 20 Minute Mentor?
Every Tuesday morning at 9:30 am, Darlene Smith of our Instructional Design department broadcasts a live 20 Minute Mentor session using the free Periscope app and shares inventive ways WSCC is using technology. Darlene contacts faculty members who are effectively using mobile learning in the classroom, and schedules times to spotlight them on the weekly broadcast. Well in advance of the scheduled date, Darlene and the faculty member plan a rough outline for the broadcast so the session runs as smoothly as possible. Some of the broadcasts happen in a classroom, while others are just a one-on-one sessions with faculty members at different locations on campus. Both ways have been effective, per feedback from Darlene's Periscope viewers. The viewers have the option of viewing live, but because the weekly broadcasts are published to a YouTube channel, viewers can replay or watch the broadcasts at a more convenient time on the 20 Minute Mentor mPage.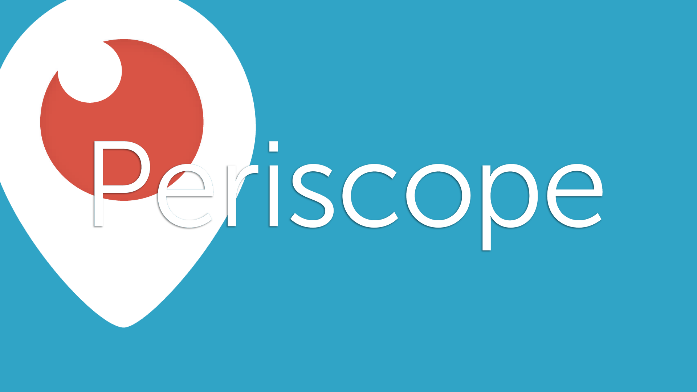 What is Periscope?
Periscope is a live streaming video app. It enables users to "go live" via a mobile device (Smartphone, iPad, etc.).  It allows "on the go" broadcasting, streaming video and audio to viewers who join the broadcast. The user sets up a Periscope account using a Twitter handle. During the broadcast, viewers can engage in real-time discussions, ask questions, and provide feedback using the "Say Something" field at the bottom of their screens. All live videos are uploaded to Twitter and remain active for 24 hours; videos can also be saved to the camera roll so the broadcaster can publish them at a later date.As you can see, Periscope definitely has many uses both inside and outside the classroom.
What lessons have we learned?
Our 20 Minute Mentor series began in the spring semester. February 23, 2016 was our first live broadcast, and the last broadcast for the spring semester was May 10, 2016. During that time, we have learned some valuable lessons.
First, have a strategy. Develop a plan by asking yourself some simple questions:
What are your goals? Planning is crucial to a successful live broadcast. Decide what you want to accomplish. Determining your goals will keep you focused on your purpose. Remember, "If you fail to plan, you plan to fail."
What day(s) and times are you going to broadcast? Being consistent with a day and time is a must for a successful broadcast. Oprah Winfrey was on every afternoon at 4:00 pm EST, Monday through Friday. To watch her, viewers had to be near a television at that time. We all know her show was a success, and she had a faithful audience. By being consistent with the "channel" days and times, viewers know when to have their mobile devices ready to watch.
What topics do you want to discuss? Do you want to introduce a weekly web tool or app? Do you want to spotlight what is happening on your campus or in your department? Do you want to provide a "Study Hall" for students to get additional help outside of class time? Do you want to provide "How to …" broadcasts for incoming students and their parents? Deciding the topics ahead of time will help you stay organized. After deciding on the topics, create interesting titles for each. You definitely get more viewers with "catchy" titles for your broadcasts!
Second, be consistent. Jumping on Periscope every now and then will not have the impact that a consistent day and time will have. Yes, it will be fun, but it won't grow your audience base because they won't have time to make plans to "be there."
Third, keep trying. Remember that Periscope is a social media platform, and with any social media platform, you have to keep using it in order to grow it. Below is a collection of data for WSCC's 20 Minute Mentor series.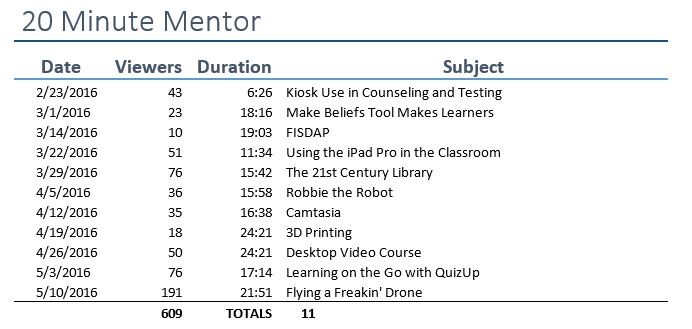 As you can see from the data above, the number of viewers fluctuated from week to week, but 609 viewers were introduced to innovative technology ideas that are being implemented on the Walters State Community College campuses. We feel that number is acceptable for our trial run of live broadcasting. We are looking forward to comparing the data from spring 2016 with the fall 2016 semester which ends in December. We will keep you posted of our outcomes! Bottom line, you may not see quick results, but over time, you will make an impact!
Finally, just have fun! David White, Assistant Dean of Distance Education and Instructional Design at WSCC reminds us often that "Sometimes good enough is good enough."  Do a few practice runs with Periscope to get comfortable when broadcasting, but relax and have fun! Per our experience, you will be far more critical of your broadcast than your audience will.
WSCC is most proud that the broadcast uses a free app, that the person with the vision for this professional development topic is one of our own faculty members working in Instructional Design (Darlene Smith; @darlenesmithws), and that Darlene also leads the Mobile Learning Academy 1.0, 2.0, and 3.0 and, therefore, knows all the faculty involved as potential presenters in the "20 Minute Mentor." Darlene has been able to follow the presenters who have gone through her Mobile Learning Academies and has then been able to assist their growth over time as faculty using mobile learning in their classrooms and, later, as faculty training other faculty members. In addition, by having the one keystone person leading training of faculty and spotlighting faculty using mobile learning, WSCC has captured what we have produced internally and have been able to showcase it around the world to anyone with a mobile device and an interest in mobile learning.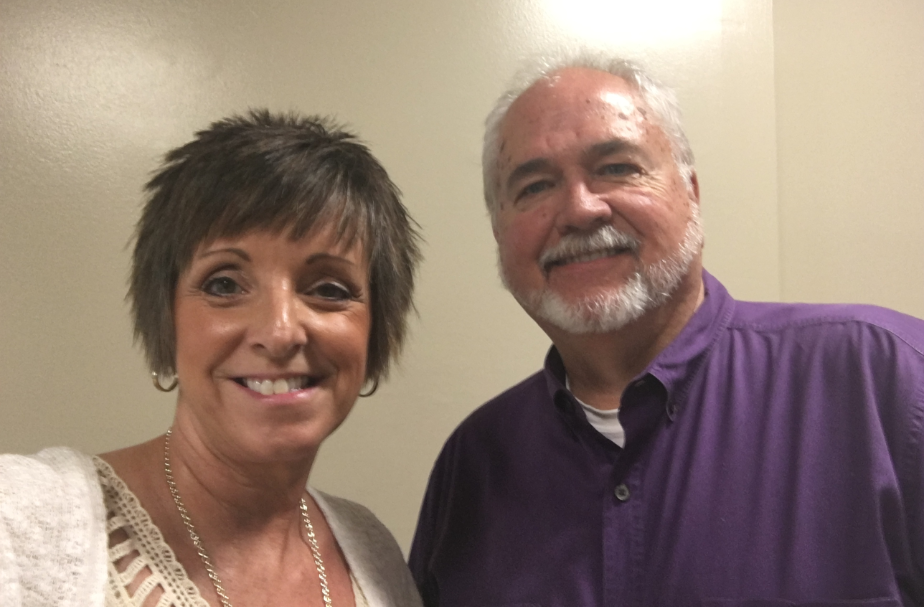 Darlene Smith
Associate Professor of Education
David White
Assistant Dean of Distance Education and Instructional Design and Professor of English