System(s) for CBE Readiness: Enabling Student Affordability and Success
Published by: WCET | 2/1/2017
Competency Based Education allows students to advance toward a completion goal based on their mastery of a skill or competency at their own pace. Establishing a CBE program can seem like a daunting task,  but, luckily, this post contains some help!

This week on WCET Frontiers we have a wonderful post from Carlos Rivers. Carlos brings ideas and inspiration for an institution looking to start a CBE program, based on experiences with developing a CBE framework at Texas A&M University-Commerce.
Thank you Carlos for the resources and advice on CBE program development.
Enjoy the read,
Lindsey
---
This post compiles institutional knowledge about CBE from key stakeholders at Texas A&M University-Commerce, including the Vice President for Student Access and Success (Dr. Mary Hendrix), Texas Affordable Baccalaureate program staff, Registrars, Financial Aid Office, and our Institutional Research Division. This guided article would not have been possible without their expertise and collaboration.
Are you CBE Ready?
That was the first question I asked attendees this past October at the Texas Affordable Baccalaureate (TAB) Intensive. Co-hosted by the Institute for Competency-Based Education (ICBE) and the Texas Higher Education Coordinating Board (THECB), the Intensive was a one-day event that included sessions on planning and implementing Competency-Based Education programs in higher education.
Attendees primarily were Texas institutions seeking TAB Grant Program funds to develop their own CBE programs throughout the state. While there was a lot of enthusiasm from attendees, figure one clearly shows that a majority (70%) of them clearly do not think their "back-end" business systems are ready to deliver CBE. The road will not be easy, but institutions that are selected in this statewide expansion of TAB degree programs can achieve significant cost savings for students and an analysis of the data after three years into the program indicate the potential to improve efficiencies for institutions.
This post focuses on the Inspiration & Investigation section of the new ICBE Development Framework for CBE programs, particularly on System(s) for CBE Readiness. Our hope is that this short guide from our experience at Texas A&M University-Commerce (TAMU-C) helps other institutions on their quest to adopt new educational models that have the potential to serve underrepresented pockets (often deep) of students.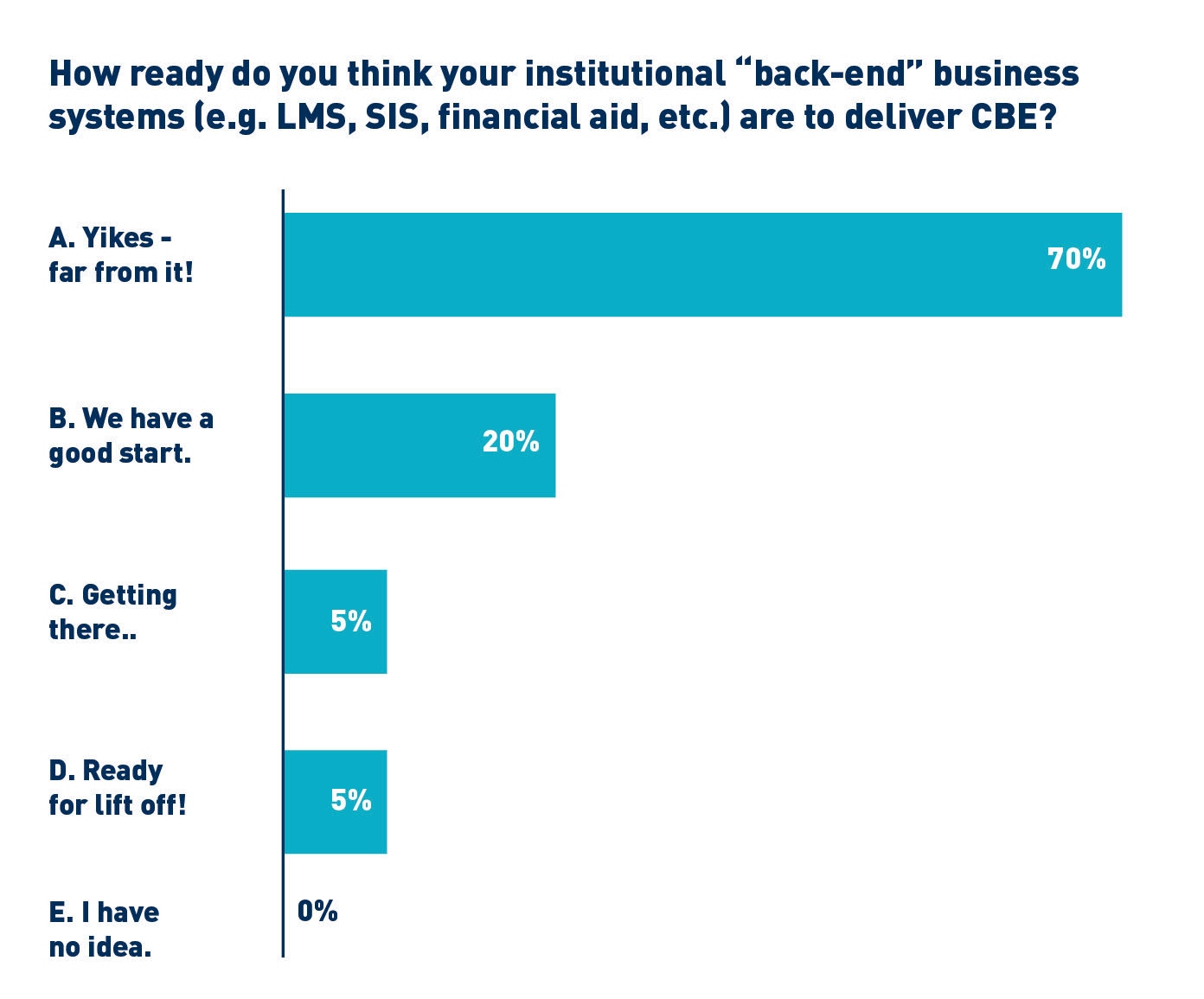 The TAB program at TAMU-C is the state's first SACSCOC-approved competency-based baccalaureate degree offered by a public university in Texas. In 2012, there was not a lot of research on CBE out there, nor real efforts of collaboration amongst IHEs developing these types of programs. Needless to say, the planning & implementation stages felt much like the famous expression "building the plane while flying it."
Fortunately for all of us there is now a plethora of resources on CBE to get you on the fast track to success. However, I will still warn you: when it comes to CBE, there is no one-size-fits-all approach. IHEs have begun to open up and share their own experiences, but I caution you to always be open to surprises and be ready to adapt, because what is true for one institution may not apply in your specific CBE model.
Include Every Academic and Operational Unit in Planning for CBE
Before discussing system(s) for CBE readiness, how many of you have already started to build your on-campus partnerships for a successful CBE implementation? Think about all the areas that implementing a new innovative program touches. Figure two shows examples of these important stakeholders. For example, the HR Director's assistance was crucial to determine a faculty compensation model, and involving the Director of Testing was important to determine TSI requirements for these returning students.
My advice, which now in hindsight seems like a given: get key stakeholders involved early in the process, and let them have a voice. Remember, you are going to be asking folks who have probably been doing the same operations for the past decade, to adapt to a completely different model. Get them involved early, to avoid problems once your program is operational.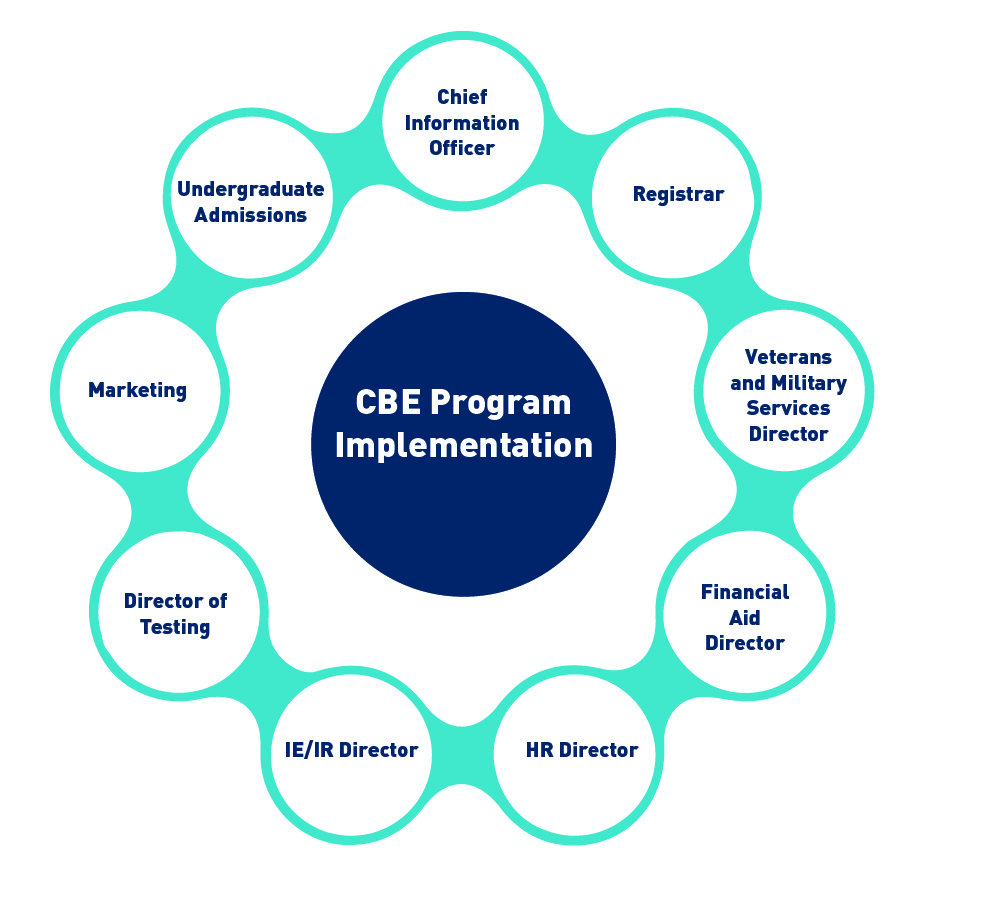 How We Addressed Our Systems and Business Process
Below is a guideline of each system and business process, and how we tackled each at TAMU-C:
Learning Management System (LMS): When this project started in 2012, we faced a big problem: our LMS was not intended to deliver CBE courses and competencies. LMS issues included the need for middleware that populate students in non-standard terms and also allow students to accelerate. A pre-test assessment was crucial to direct the student's learning path to demonstrate proficiency. Your LMS selection needs to be able to adapt to the student's individual learning needs. In essence, you have to start thinking about the SIS/LMS data integration task early. While some institutions decide to build their LMS in-house for CBE models, this route for traditional institutions can end up being quite costly; besides, most LMS vendors have or have plans to update their existing product roadmap to include a CBE friendly environment. Other institutions have decided to have two separate systems, one for CBE and another for traditional modalities. At TAMU-C we decided on one LMS for all of our programs, ensuring that our LMS vendor provides an entire ecosystem for learning, no matter the model. As you decide on your LMS selection for CBE, also consider that there are plenty of smaller LMS vendors that are eager to test the waters; seeking partnerships might allow you to reduce your overall costs.
Customer Relationship Management System (CRM): During summer, I attended the Noel Levitz National Conference on Student Recruitment, Marketing, and Retention. In more than one session I heard, "If you do not have a CRM, what are you waiting for?" Currently, the TAB program staff tracks contact and interactions in a spreadsheet, as you can imagine, this is an intensive manual process. At TAMU-C we recently have opted for Salesforce, which will allow us to capture faculty-learner interactions in a consistent format ideal for both analytics and reporting. It is crucial to start thinking how you will develop your engagement metrics for your program.
Student Information System (SIS): Our CBE model is based on 7-week term parameters; essentially, there are two TAB Terms within the traditional semester structure. Unfortunately for us, our SIS centers on standard terms. We had to create part-of-term codes within our standard term code structures in order to differentiate student enrollment metrics from one TAB term to the next. Most SIS (including yours, I suspect) focus largely on standard terms. I caution you that the workaround to adapt current systems is massively labor intensive, but not impossible. Some of the issues we have faced with non-standard terms include: state reporting for funding, tracking of census dates, drops for non-payment and payment plans, and tracking of veteran and military service members benefits.
Financial Aid: Issues related to financial aid arose from our SIS focusing on standard terms. Our CBE model requires not only 7-week parameters but also the ability to allow students to accelerate. All aspects of financial aid became an intensive manual process with spreadsheets, since Satisfactory Academic Progress (SAP) must be tracked for each individual student. A perfect example is the challenge of awarding Incompletes:
"A full-time TAB student has to enroll in 6 SCHs for financial aid to disburse. Let's say the student masters the competencies and completes his/her courses successfully before the end of the TAB Term. Now the student has the option to accelerate by taking an additional course for the same flat rate, reducing their overall cost per course for the term. If the student completes the course, great, but what happens if the student doesn't complete this third course by the end of the term? This student would be awarded an incomplete, despite having successfully completing two courses in their required full-time load. This incomplete would not allow SAP to be calculated, resulting in the loss of financial aid funds to the student for the next term, even though he/she accelerated."
Point being, you have to be careful when awarding Incompletes to accelerators on financial aid. It is important to mention that there is a growing need for financial aid solutions/providers to support non-standard term models, or, together, we must request to our current SIS providers to update their systems to award financial aid correctly to meet CBE requirements.
Data Analytics/Predictive Analytics: The word analytics may sound daunting, but it is a very important piece to guarantee the validity of your program. When I came into this position in 2015, most metrics were being collected manually from program inception. What used to be a two to five-day process, turned into seconds from the push of a button, after automating key metrics. I would recommend finding a Business Intelligence (BI) tool that meets your needs or leverage current tools on your campus. However, you need to make sure you have the right talent to turn raw data into a competitive advantage for your institution. In our case, we partnered with our IR team to build CBE specific metrics.
Also, as important, be sure to embed continuous improvement processes in your metrics. For example: ICBE keeps running averages of each CBE metric since program inception, and we use the averages as benchmarks to analyze current term performance. Another growing field in higher education — and I saw a lot of use-case scenarios at the EDUCAUSE Annual Conference — is the use of predictive analytics to better understand student populations. While business intelligence has been used to understand what has happened and improve strategic planning moving forward, predictive analytics allows you to see what is happening now, so you can act on that knowledge today, when it matters. The use case scenarios ranged from making intervention programs on target populations to graduation/retention initiatives that have the potential to enable student success at all our institutions.
Transcription: A survey by the Technical Interoperability Pilot (TIP) project indicated that 42% of C-BEN institutions are issuing "dual transcripts." The first transcript contains the traditional credit hour grade measures, while the other includes CBE mastery-based achievement designations. At our institution, students must attain an 80% or better on a post-assessment and/or project to pass the course. Faculty post a grade of A, B or F that is then converted to our traditional numeric GPA scaling system for transcription. Why did we take this route? We wanted to make sure our TAB students' transcripts look identical to those of their peers in traditional degree programs to guarantee transferability and/or ease of application to graduate programs. Because we also understood the importance of providing evidence of learning to employers, we also use an e-portfolio to document proficiency.
Staffing: The TAB program at our institution is led by a program director with an administrative assistant who helps with daily operations. Two, professional-track faculty positions also teach in the program and provide orientation sessions to new students. The program uses existing faculty, university staff who meet SACSCOC credentialing requirements, and a few adjunct faculty who are paid an overload of $250 per student enrolled. Enrollment is capped at 35 students per course.
I leave the success coach for last, because this role has proven to be one of the most important roles to consider. This individual is there to motivate/assist students to move through the program. Current students and graduates of the program have expressed over and over how this individual has helped them move through the program to completion. You must figure out how a CBE model will affect faculty roles and loads/compensation, and discuss what additional staffing needs may arise with these new education models.
Recommended Tools: This post would not be complete without a couple of tools to help you along your CBE journey. The CBE Design planner by C-BEN helps institutions in creating high-quality CBE programs with access to a range of resource to get you on your way. The NCHEMS free CBE Cost Modeling Tool allows you to estimate CBE-related cost and revenues. NCHEMS provides both a blank worksheet and a sample to get you started!
We Plan to Expand and We Welcome Your Questions
This is a brief overview of what TAMU-C faced in its quest to implement our first CBE program. Currently, we are hoping to get two more CBE degrees on their way at our institution. We hope this short guide serves you in the development of your own program.
At the ICBE we strive for collaboration and the sharing of resources to avoid duplications of efforts, and to enhance best practices in CBE. We encourage readers to reach out to the ICBE to build partnerships, collaborate in research, and/or answer any follow-up questions you may have. For more information, please feel free to reach out to me at carlos.rivers@tamuc.edu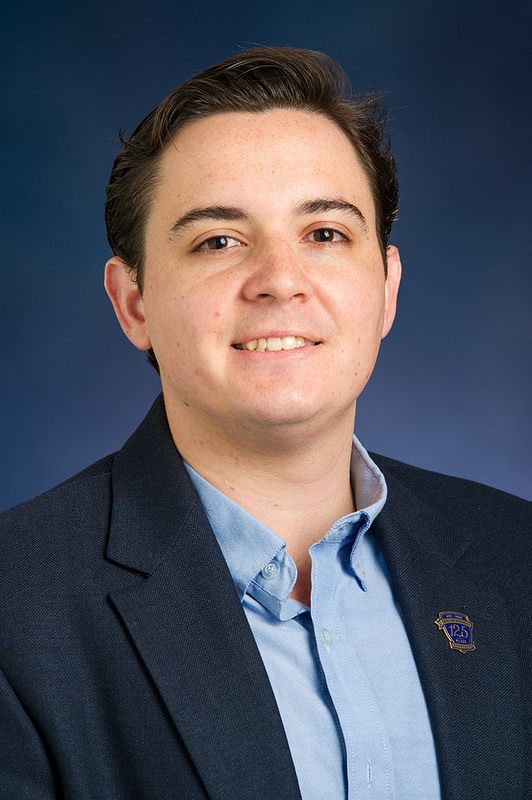 Carlos Rivers, MBA
Operations Research Analyst
Institute for Competency-Based Education
Texas A&M University-Commerce
---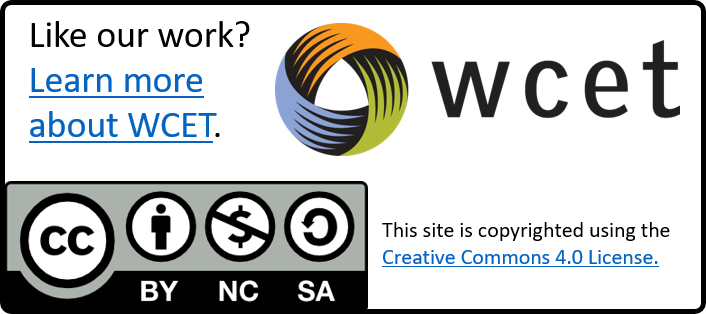 Save