"What is College Worth?" – Postsecondary Value Commission Addresses that Question
Published by: WCET | 5/12/2021
What is the value of a college education? The Bill & Melinda Gates Foundation's Postsecondary Value Commission released today the first in a series of reports, data tools, and action agendas to address this elusive question.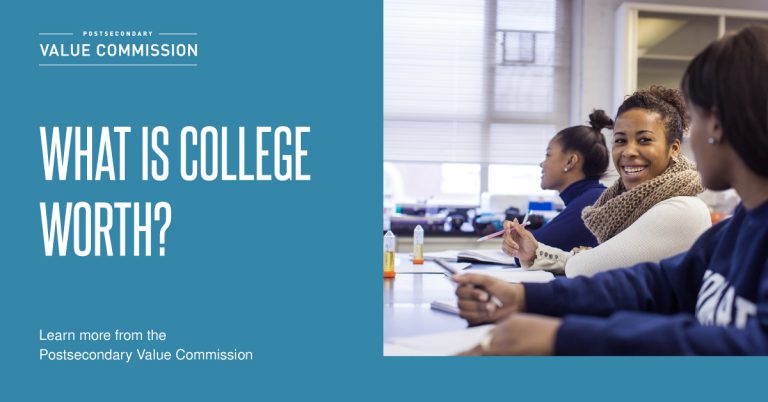 Students, parents, employers, and policymakers increasingly question the collegiate investment if the economic return is not apparent, opportunity costs are considerable, and students are left with stifling loan debt. These questions have been amplified due to the pandemic and the feeling among some students that they are not getting what they purchased.
While not all benefits to the college experience are financial, the economics loom large and equity considerations come into play as voiced by the Commission:
The Issue

Concerns about college affordability and debt are giving rise to the question "What is college worth?" The returns on education after high school vary greatly by who a student is and where they come from – and they shouldn't. Today in America, Latinx adults with a bachelor's degree or higher earn 25% less than their White peers, while Black adults earn 21% less. This contributes to the reality that a household headed by a White college graduate has eight times the wealth of a household headed by a Black college graduate.

This can and must change. A national commission – the Postsecondary Value Commission – is shining a light on this issue and is calling for action to improve the value of education after high school and make that value more equitable.

The Commission's work is extremely data driven and views the concept of "value" through different lenses. For students, they consider the student investment, impact on student ability to build wealth, learning (including critical thinking and collaborative problem solving), skills gaps, and impact on wellbeing. For society, they consider public benefits and the role in promoting justice.
Findings
Using "the best available data and new analyses for measuring and promoting value" they make the following key observation:
Today, the returns on an education after high school vary according to a student's race, ethnicity, income, or gender, and there are actions that can be taken – now – to change that.
College is worth it, but how much it is worth varies by who a student is, which institution(s) they attend (and which programs they pursue), and whether they earn a credential.
In detailing their findings, the following one will cause heartburn at institutions cited as not meeting the basic economic thresholds for their students.
Colleges and universities vary widely in the economic value realized by their students – and many are showing minimal returns.
DATA POINT: While a majority of public and private not-for-profit colleges and universities post minimum economic returns for their students 10 years after first enrollment (i.e., earnings at or above those of high school graduates plus total net price), just under 650 institutions fail to meet this most basic threshold (including a majority of private for-profit institutions).

Commission analysis of federal College Scorecard data
Undoubtedly some colleges deserve to be called out and others are incapable of failing this test because they attract wealthy students who (mostly) will succeed in any case. In a "question and answer" follow-up in the materials provided to me, the question is asked about the Commission's work being used to "punish colleges and universities that are trying to do a better job of serving students of color, students from low-income backgrounds, and women but still have relatively low outcomes?" They respond that their intent is for the data to be used for improvement and not to shame institutions.
Other findings, include:
Economic returns also vary by a student's race/ ethnicity and whether they complete a degree or certificate or not.
Economic returns also vary widely by race/ethnicity even among graduates of the same program, recognizing that earnings disparities stem from educational and non-educational sources.
Recommendations and Next Steps
The Commission recommendations double down on the need for data driven decisions and provide actions that they would like to see taken by the different constituencies:
Information can and should drive action to improve value – especially for Black, Latinx, Indigenous, and underrepresented Asian American/Pacific Islander students, students from low-income backgrounds, and women.
Colleges and universities can create stronger and smarter paths to credentials that reduce the time and money students need to invest, focus more of their resources on students with the greatest financial need, and create stronger pathways to economically stable and fulfilling careers.
State and federal policymakers can better target student aid dollars to the most financially vulnerable students, strengthening investment in colleges and universities that are serving (not just enrolling) a significant number of diverse students.
Students and families should be empowered to ask critical questions about the return on their educational investment – and get answers to those questions. These questions include things like time-to-credential, earnings for graduates at different points in time, debt-to-earnings ratio for graduates, and more.
This is just the beginning of work coming from the Postsecondary Value Commission. They will release a data tool containing performance data on value measures for thousands of colleges and universities. They also will form a coalition of institutions committed to advancing value through improved data collection.
What About Digital Education?
Any time one gets into the economics of higher education, I wonder about when the "digital education is cheaper" argument will come into play. WCET has addressed this in our work on the price and cost of distance education. As we outline in the Change Magazine article on this issue, there is widespread misperceptions on both the academic and policymaker sides on the cost vs. price equation. The common refrain from the public is that online education must cost less to create and offer.
From what I have read thus far, the Commission is curiously silent on the impact that digital technologies might have on postsecondary value. Let's keep watching and get prepared. WCET's Steering Committee has a working group that is preparing a series of posts and events addressing student return on investment that will be released this fall.
Why Should You Care About This Report?
The value of postsecondary education has driven decisions by hundreds of thousands of students and by multitudes of policymakers. This report turns the bright spotlight on the question. There will even more expectations for colleges and universities to respond.
Sasha Thackaberry (Vice President, Online & Continuing Education, Louisiana State University and WCET Executive Council Chair) put the report into context for WCET members:
For WCET members…we need to ask ourselves how digital education is part of the solution and not part of the problem.
---