We are happy to have Patti O'Sullivan provide us with an update on Every Learner's advances over the past year with a special focus on their attention to increasing equity in the ways institutions serve students.
WCET enjoys a dual role with Every Learner Everywhere. First, we serve as the administrative backbone host for the grant-funded Network. Second, WCET is also one of the twelve partners in the Network. We are very pleased with the great works and equity in digital learning focus of Every Learner Everywhere.
– Russ Poulin, WCET
Also, Every Learner Everywhere and NROC invite you to their webcast today, January 13, at Noon PT, Centering Equity in Digital Learning for Every Learner Everywhere.
The Backstory of The Every Learner Everywhere Network
The Every Learner Everywhere network consists of twelve partner organizations that collaborate to advance equity in higher education through the transformation of postsecondary teaching and learning. Every Learner builds capacity in colleges and universities to improve student outcomes with digital learning through timely resources such as playbooks, webinars, research studies, and ongoing analysis of institution practices and market trends. Every Learner's works are freely available to all on our website's resource library.

At Every Learner, we also provide direct technical assistance such as consultations, workshops, and strategic planning sessions.These experiences are currently primarily available to institutions identified through our grant work.
Most importantly, the network remains passionate about our mission and continues to work diligently to increase equity in the ways institutions serve students. This past year has been marked with successful initiatives, which is reason to celebrate. We'd like to share some of our success stories.
Success Story One: Include Student Voices
Student voices matter and, throughout 2021, the Every Learner Everywhere network has striven to be equity-forward in the resources we develop for faculty and administrators. An important part of being equity-forward is including the very students we are trying to serve in the process of developing our resources. Our student fellows have helped us better understand the needs of all students. They have provided input on our publications and presentations and even spoken directly to our network and our institutional partners through webinar and conference panels.
A 16th century political slogan adopted by disability activists expresses the Every Learner commitment to include students in our work, "Nothing about us without us." It is in this spirit that our student fellows have authored their own resource outlining myths and truths related to equitable teaching. This resource, based on educational research as well as the student fellows' lived experience, is written for faculty, student support staff, and administrators and will be published in 2022.
Success Story Two: Pursuing Equity Through Workshops and Coaching
We started the year with Strategies for Success, a weekly webinar series running January through April that featured researchers, seasoned faculty, and learning specialists who connected faculty with strategies and resources for inclusive teaching, effective course design, and engaging students in remote learning settings.
We also incorporated a companion service to Strategies for Success with our one-on-one coaching for faculty with our Experts Network. The Every Learner Everywhere Expert Network, Powered by ISTE, was a free service we offered to support higher education faculty and leaders who needed expert advice to support students through the COVID-19 crisis, including the transition from face-to-face instruction to online learning.
While hundreds of faculty attended the Strategies for Success webinars, it was the direct coaching provided by the Expert Network that created the most impact on faculty, according to ISTE Edusurge organizer Brandon Olszewski, Director of Research at ISTE.
"The direct-to-client coaching provided by the Expert Network and Summer Faculty Workshop served an essential need for higher education practitioners from all walks, including tenure-track, adjunct, and leadership. The high (94%) Net Promoter Score for the Expert Network is a testament to the critical role the one-on-one, on-demand coach served."
Next, we developed our Educational Equity Through Digital Learning Summer Workshop series that offered participants the opportunity to attend synchronous sessions with national leaders; it included facilitated peer discussions and professional coaching sessions. Workshop sessions centered on equity in digital learning through three topics: evidence-based teaching practices, differentiated instruction, and adaptive learning. In total, there were 67 active faculty throughout the 8-week workshop, and Every Learner issued certificates to 38 faculty for completing all workshop requirements.
Success Story Three: Publications that Still Resonate
The COVID-19 pandemic highlighted how student well-being is a key component to student success. In fact, student well-being is the focus of two related Every Learner publications: Caring For Students Playbook: Six Recommendations and the accompanying guide, Caring For Students Playbook:Getting Started With Key Terms, Challenges, and Approaches, which provides practical recommendations, concrete strategies, and resources to support instructors in operationalizing equity-focused, inclusive teaching strategies that put student care into practice by acknowledging student challenges while identifying student assets.
We also authored multiple publications centered on equity in online classes and in departmental policies and teaching approaches.Two of these key resources are Optimizing High-Quality Digital Learning Experiences: A Playbook For Faculty and Getting Started With Equity: A Guide for Academic Department Leaders. The Faculty Playbook guides faculty in strategic online and hybrid course design that positively impacts student learning, especially for students who are minoritized because of race, gender, disability, or socioeconomic status. Getting Started With Equity offers specific strategies faculty can adopt in the classroom, the curriculum, in course design, and in assessments, all of which center on justice for minoritized students. The resource, along with the companion resource IMPACT Framework, also walks department leaders through the process of conducting a departmental equity audit.
We ended the year with the Blended Institution of Higher Education, the second installment of our series on blended learning following Planning for a Blended Future, which we published in May of 2021. Both of these resources position students and their success at the center, prioritizing equity to ensure success for all students — specifically those who have been historically minoritized or traditionally underrepresented. The Blended resources combine an array of technological and process elements and thoughtfully integrate instruction, learning, support, and services for students.
And One More Success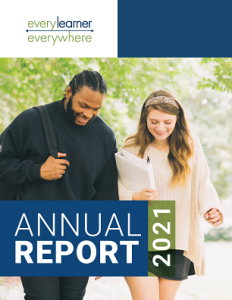 Our network also had the opportunity to reiterate our emphasis on equity through various events. For example, in June, the authors of the above resources spoke about care and equity at the ASU Remote Summit and the Gardner Institute's Socially Just Design in Postsecondary Education: a Series. Both events featured a conversation with the Every Learner Everywhere Student Fellows that focused on engagement and impact in higher education. You can watch the student fellows talk about their internship projects and their experiences as students during the pandemic on the Every Learner YouTube channel.
We've summarized the network's services, resources, and impact in our 2021 Annual Report with a look toward a new year in which we hold ourselves accountable to our equity mission while we continue to be a guide for faculty and instructors engaged in removing systemic barriers and inequity in teaching and learning through digital learning tools and innovative teaching strategies.
Hopes for 2022
We are starting off 2022 with another installment of Strategies for Success, and we're rolling out many more resources and services during the year. If student well-being and educational equity are on your New Year's resolution list, register for Strategies for Success and check out our new resources library. Below, we'd like to share our favorite resources from 2021:
The Blended Institution of Higher Education
Be sure to check back regularly for a great lineup of new resources in 2022 that provide a platform for students to provide feedback on their higher education experiences, that offer strategies and shared learning for faculty wanting to make their teaching more equitable, and that center student care as higher education faces a third year of the Covid-19 pandemic.