We Missed You WCET! - Our fav moments from #WCET2022
Published by: WCET | 12/2/2022
Tags: WCET, WCET Annual Meeting
Each year (except for a few recent years that we don't want to think about) WCET community members, higher education practitioners, and the WCET staff join together to celebrate, collaborate, share, learn, and laugh at the WCET Annual Meeting. After a brief hiatus where the annual conference was held virtually, the in-person WCET 2022 was the highlight of our year.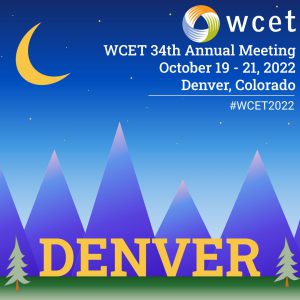 This year's WCET Annual Meeting had a full schedule of quality general sessions, exciting extracurricular events, enjoyable group dining experiences, illuminating concurrent sessions, festive award presentations, and satisfying keynotes! Today, I'm joined by my fellow WCET team members to review the Annual Meeting and our favorite moments from the week.
Plus, I have a few details on next year's event… the Annual Meeting is turning 35! And you can bet we're going to celebrate in grand, jazzy style.
Annual Meeting Starts Out Strong
This year's meeting began on October 18th with State Authorization Network (SAN) Coordinator meetings and gatherings plus a meeting of the WCET Steering Committee and Executive Council. Learn more about what our leadership groups do for WCET. The 19th started with a meeting of our Consortia and Systems group, a pre-conference session on Microcredentialing from Tanya Joosten (one of this year's WOW Award winners!), and our opening general session on quality education from an accreditation perspective. Personally, this session was a highlight of the conference. The panelists included:
Sylvia Fernandez, President and CEO – Council for Accreditation of Counseling and Related Educational Programs,
Leah Matthews, Executive Director – Distance Education Accrediting Commission,
Karen Solomon, Vice President and Chief Transformation Officer – Higher Learning Commission.
The session was moderated by WICHE's own President, Demarée Michelau.
Not only was this panel an outstanding overview of important issues related to accreditation within higher education, specifically digital learning, but it was the first time I've attended an opening session at a conference where every panelist and moderator was a woman. It was incredibly motivating to learn from such inspiring and successful women.
An abundance of valuable concurrent sessions followed the opening event, and you can see the list of all session via the program. Suffice it to say, I heard only good things about this year's sessions, so kudos and thank you to everyone who presented this year.
Great Sessions and Awarding Lunches
The morning of the 20th dawned bright and early, especially for those who participated in the WCET 5k. Concurrent sessions continued throughout the day, broken up by our lunchtime WCET Awards celebration. Congratulations again to the winners of this year's awards:
2022 WCET Outstanding Work (WOW) Award
Higher Education and Real-World Training (HEaRT) – Southern New Hampshire University (NH)
Increasing Gateway Course Completion with Texas College Bridge – Dallas College (TX)
Native American Art Course Redesign – Nicolet College (WI)
Dr. Tanya Joosten – National Research Center for Distance Education & Technological Advancements (DETA) (WI)
2022 Honorable Mentions
Dr. Constance Hall – Capella University (MN)
Ecampus Multimedia Team and the Department of Chemistry – Oregon State University (OR)
Personal Adaptive Learning in Intro Physics – University of Central Florida (FL)
SANSational Awards
Utilizing Accreditation Documentation to Demonstrate Compliance with C-RAC Guidelines, Campbell University
State Authorization Working Group (SAWG), University of Cincinnati
Implementing a professional licensure database for automatic individual disclosures, Utah Tech University
Sally M. Johnstone Award
Erika Swain, Assistant Director for Compliance and Authorization at the University of Colorado Boulder and Associate Director of State Authorization at the University of Colorado System.
The Dick Jonsen Mollie McGill Award
Tina Parscal, Associate Vice Chancellor for CCCOnline and Academic Affairs.
Thank you to each of these individuals and institutions for their amazing work making higher education digital learning more successful. Congratulations! Stay tuned for blog posts and podcast episodes featuring this year's recipients.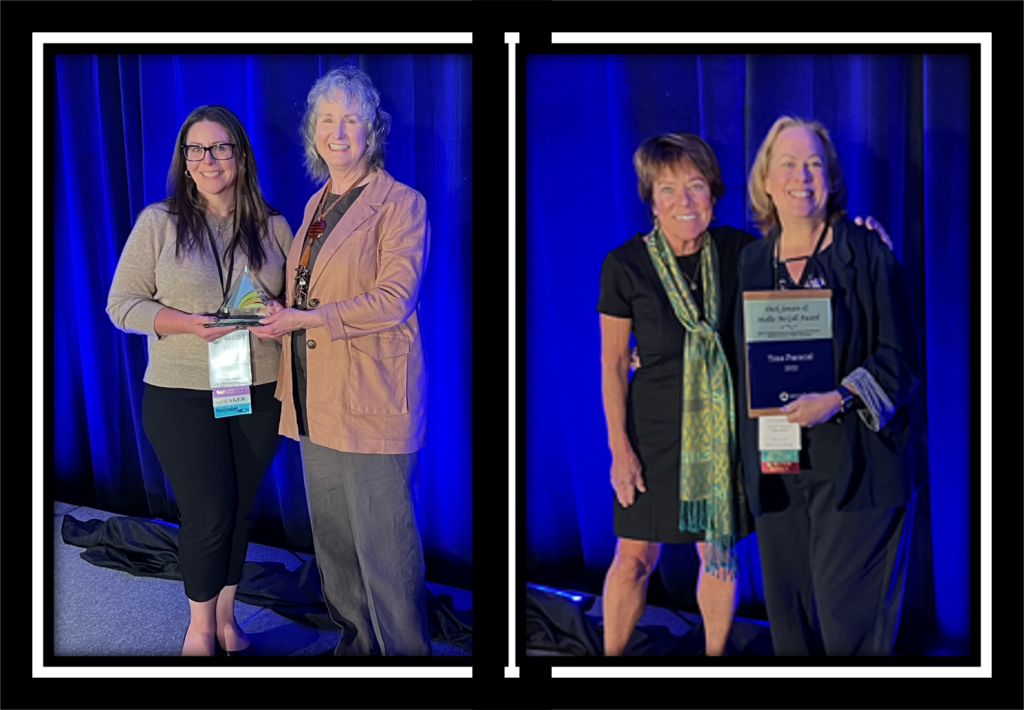 WCET + ASWE
Another highlight of this year for me was attending WCET + ASWE events. As you may have heard, the International Forum for Women in E-Learning (IFWE) has been rebranded as ASWE and will now be housed within WCET. I enjoyed the book club session, where we discussed Melinda Gates The Moment of Lift: How Empowering Women Changes the World. WCET + ASWE also hosted a great reception to celebrate and discuss future events. In odd years, the full ASWE summit will occur in conjunction with the WCET Annual Meeting. The first WCET + ASWE event will take place in New Orleans, Louisiana in October 2023.
---
Thank you all for such a wonderful event this year! I have shared my favorite parts of the event, but I also asked my team to share their takeaways and favorite moments. Thank you to everyone who sent me their comments!
Cheryl Dowd, Senior Director, State Authorization Network & WCET Policy Innovations:
It was so energizing to be in the same physical space as our members! I don't have just one favorite memory as I have a series of related memories where our conversations were enriched by collaborative thoughts of members in the concurrent sessions. Attendees were eager to share their thoughts and questions and share their experiences relative to the topic areas of the session. If I have to pick favorite moments, I will say that it was wonderful for SAN to share the winners of our annual SANsational Awards and also to applaud our SAN colleague, Erika Swain, who was very deserving of the Sally M. Johnstone Award for her contributions to both the SAN and WCET membership groups.
---
Rosa Calabrese, Manager, Digital Design, WCET:
It was so good to be back in person this year and to see everyone face-to-face. I know it's a common reflection on returning to in person events across industries, but I think it is worth spending an extra moment appreciating since there are just so many conversations and happenstance meetings that take place easily in person but don't come as naturally online.
All the sessions that I attended were interesting, quality presentations. As always at WCET Annual Meetings, I enjoyed going to sessions that focused on accessibility, as I work with the topic frequently in my position and have long been interested in the cause outside of work as well. This year, I was especially excited to attend the session "Online Learning with an LD; Challenges, Triumphs, and Lessons Learned" and the presentation did not disappoint. The presenters provided hands-on tools to better structure online courses with students with learning disabilities in mind, and they also provided exercises, which emphasized the uniqueness of each students' individual needs. I left the session hopeful and excited to implement the lessons learned into my own position as a designer at WCET.
---
Jana Walser-Smith, Director, Interstate Compliance and SAN Member Outreach:
As a newly hired member of the organization, this year's Annual Meeting was my first formal WCET event. I found it to be one of the most enjoyable and informative sessions I've attended. Not only did the gathering provide a plethora of beneficial information, but it also facilitated many mutually collaborative exchanges. In fact, I learned at the Annual Meeting just how kind and inclusive our profession truly is. Every day offered opportunities for mixers, small group discussions, as well as events and exchanges with vendors and colleagues.
The programming was eclectic, yet truly tailored to the multi-faceted work we do as leaders in higher education digital learning as it relates to compliance, practice, policy, and advocacy. Even more, there was so much content to choose from! Session topics ran the gamut of micro credentialing, faculty professional development, to how mental health and well-being impacts student success. The facilities were outstanding, the panels and speakers were informative, and the material was most beneficial.
---
Kathryn Kerensky, Director, Digital Learning Policy & Compliance, State Authorization Network:
In particular, I thought the session on learning design for people with learning disabilities was a very informative session. It's critical to highlight sessions like this one, where the presenters show the nuances and the importance of inclusive design.
---
Russ Poulin, Executive Director, WCET & Vice President for Technology-Enhanced Education, WICHE:
Two of my favorite experiences with the 2022 Annual Meeting were the plenary sessions that I had the joy of helping to coordinate.
In the opening session, we wanted attendees to better understand the perspective of accrediting agencies on digital learning. Led by WICHE President Demarée Michelau, we had Sylvia Fernandez (counseling and related educational programs), Leah Matthews (Distance Education Accrediting Commission), and Karen Solomon (Higher Learning Commission). We learned about the roles of the different types of accrediting agencies and the roles of accreditation in relation to states and the Department of Education in quality and financial aid oversight. When a question about the newish Federal requirement that any program taught in "whole or in part" via distance education, I recall hearing an audible gasp by a few in the audience who had not kept up on this issue. Solomon did a great job of alleviating some fears saying that her agency will not review every program after an institution has undergone some initial reviews of distance education programs. There could still be some tracking requirements and different agencies may develop their own process for complying with this rule. In the end, we learned that accreditors really want to work with institutional personnel to assure quality experiences for students.
On the second day, I led a conversation about Online Program Management (OPM) providers. We used a movie metaphor (of course I would!) developed by panelist Phil Hill (Mindwires, LLC). Based on the chase scenes in the Mad Max movies, Phil gave a third-party view of the state of the industry. In that somewhat chaotic metaphor, some companies hit bumps in the road and others are racing along. Carolyn Fast (The Century Foundation) updated us on concerns from the consumer protection community and regulations that could be proposed. Erika Swain (University of Colorado Boulder) gave a frank institutional perspective. The panel created a great discussion among the panelists and with the audience. While there have been actions that have prompted concern, but not all OPMs operate the same. Institutions and students have certainly experienced both success and frustrations. One big takeaway was the need for institutional personnel to really understand the agreements and the need for there to be a strong institutional team managing the relationship. Without that leadership, the relationship will manage the institution…and that is not good. As in Mad Max, if you are not paying attention, you get run over.
The Phenomenal Closing
I would be remiss not to mention our closing keynote from Dr. Mordecai Brownlee. One just has to search the #WCET2022 hashtag on Twitter to enjoy the reactions from our attendees regarding his electric final session. Dr. Brownlee shared how to use technology to revolutionize higher education today and to reach new heights when it comes to equitable education offerings and accessibility.
It is an honor to provide the closing keynote at the WCET (@wcet_info) 34th Annual Meeting. Looking forward to seeing you all soon. #WCET2022 pic.twitter.com/YW5RfN9Zv7

— Dr. Mordecai Ian Brownlee (@ItsDrMordecai) October 21, 2022
Step 1: To understand #digitalequity, we must first understand the #digitaldivide. Part of digital equity is giving people a choice. "You have to be a walking example of a mission in action." – @ItsDrMordecai #WCET2022 pic.twitter.com/JBdE2OqAZS

— WCET (@wcet_info) October 21, 2022
Understanding digital equity:
1) To understand digital equity, we must first understand the #digitaldivide
2) Key factors creating the #digitaldivide: age-related, socioeconomic, geographic, and racial/cultural/language @ItsDrMordecai #WCET2022

— Van L Davis (@historydoc) October 21, 2022
"Welcome to the next era of #highereducation. An era where technology is beyond what we may imagine, and #equity is ever so critical." –@ItsDrMordecai #WCET2022

— WCET (@wcet_info) October 21, 2022
---
Thank you to all of you who attended WCET 2022! Our entire team enjoyed seeing everyone and learning with you.
We're learning so much and we're also having all the fun! From group networking dinners to a hockey game to Much Ado About Nothing, we're having a blast with our #WCET2022 family! pic.twitter.com/uX96BP8VjL

— WCET (@wcet_info) October 21, 2022
2023 – WCET Annual Meeting Turns 35
Save the date for the WCET 35th Annual Meeting in New Orleans, Louisiana. The Call for Proposals will open in March 2023!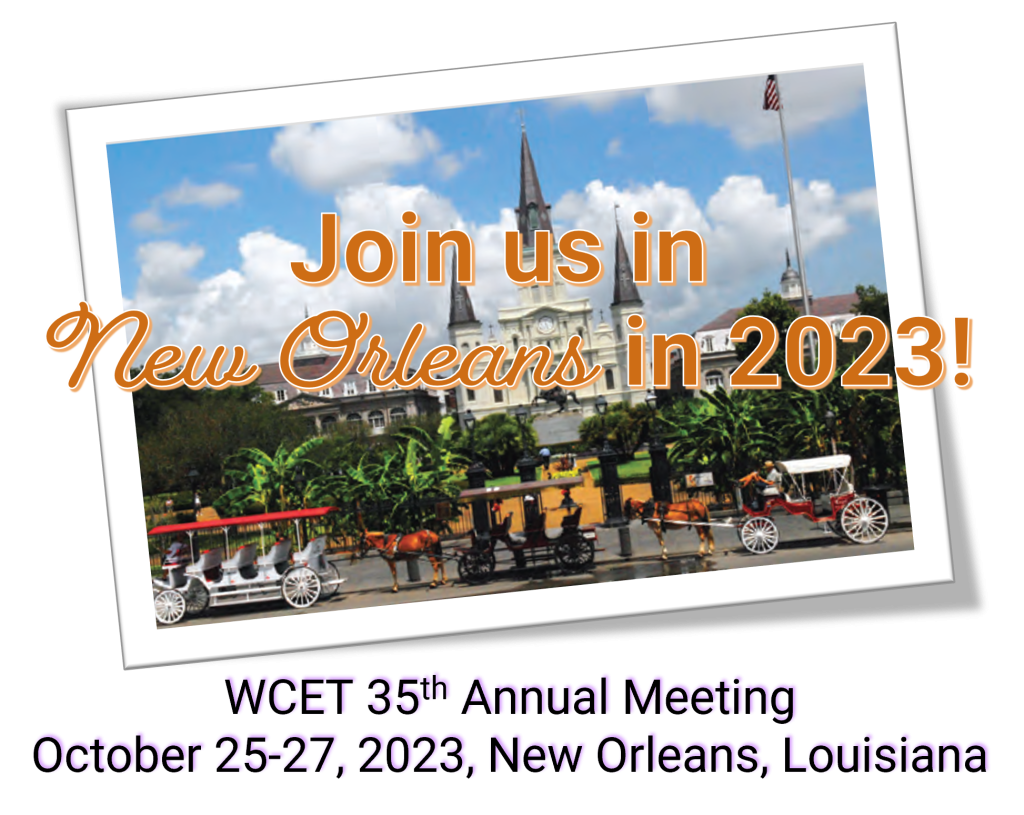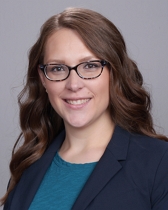 Lindsey Downs
Assistant Director, Communications and Community, WCET
---