The biggest topic in higher education right now, at least in my opinion, is artificial intelligence. There are various stories in higher education news about what impact AI will have on students, instructors, and the education field at large. This week, we welcome Marc Watkins, Academic Innovation Fellow from the University of Mississippi. Marc joins us to discuss the potential of AI in digital learning and to highlight the amazing work happening at his institution to prepare faculty and students for a future that includes working with AI. I really enjoyed learning about these initiatives and student reflections on AI in higher education.
Enjoy the read,
Lindsey Downs, WCET
---
Preparing Faculty to work with AI
The University of Mississippi is pioneering new approaches to prepare faculty for emerging technologies, like generative AI, in the classroom. A year ago, in August 2022, several UM faculty within the Department of Writing and Rhetoric began piloting AI-powered assistants in first-year writing courses. Doing so helped us develop the capacity needed to train others in generative AI literacy.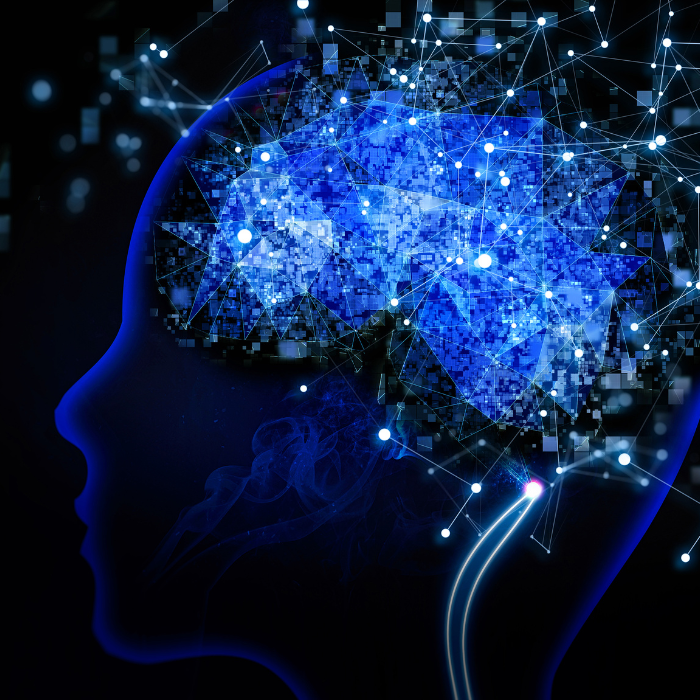 This summer, we hosted an innovative cross-disciplinary AI Institute for Teachers. Participants were generously funded by the Institute of Data Science and nearly two dozen faculty members received stipends to attend an immersive two-day workshop in early June, where they explored how to responsibly integrate generative AI tools in support of student learning.
The goal of this training was to help prepare faculty for the fall semester. Participants returned to their departments with enhanced capacity in AI literacy to teach students AI fundamentals, evaluate AI-generated content, and develop educational applications and policies that explored proactive approaches to generative AI. The AI Institute for Teachers demonstrates the University of Mississippi's commitment to equipping educators with leading-edge capabilities to enrich their pedagogy and serve the needs of their students in this new technological era.
Feedback from participants was overwhelmingly positive. The hands-on agenda encouraged active experimentation with tools like ChatGPT to imagine curricular integration in disciplines from sciences to humanities. Colleagues appreciated the practical insights tailored to higher ed contexts, noting that this training filled an important gap in institutional preparedness. UM remains committed to spearheading such initiatives to position our educators at the forefront of AI innovation in service of student learning.
With rapid AI advances, we anticipate the need for training educators about generative AI to grow. In July, I developed an online asynchronous training course for all University of Mississippi faculty. Faculty at dozens of other institutions have been granted access to the course through course licenses and scholarships. I've released assignments from this course under a CC-BY SA 4.0, so any educator can use and remix them for teaching: Generative AI in Education Assignments.
Our Ethos—Explore, Don't Panic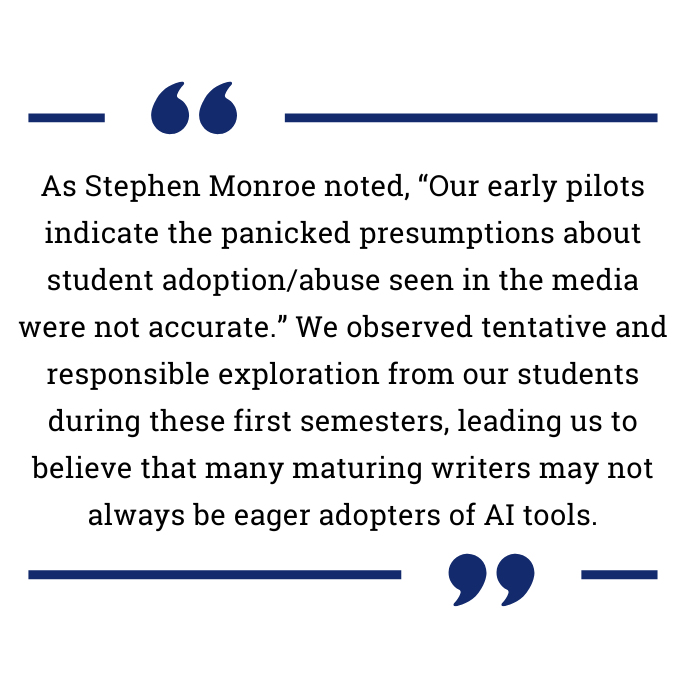 We developed this capacity through forward-thinking approaches to technology and teaching, with campus-wide leadership and support from UM Provost Noel Wilkin.
Stephen Monroe, the Chair of the Department of Writing and Rhetoric, recognized the impact generative AI technology would have on writing in the spring of 2022 and his approach was to "explore, don't panic."
Our department developed an AI Working Group to explore what affordance GPT-3 powered writing assistants, research assistants, and reading assistants, could offer students. Together, we built assignments that asked students to engage generative technologies at different points in their writing process.
We partnered with Dr. Robert Cummings, the Executive Director of the Academic Innovation Group, who helped frame this process. Eventually, we defined our teaching approaches by the acronym DEER:
D           Clearly define the stages of the project, and enumerate each stage's purpose in achieving student learning outcomes;
E For each stage, evaluate a specific AI technology to pair with the learning activity;
E Encourage students to explore that specific AI technology for that stage;
R Provide students with space for reflection.
The Introduction to AI-Powered Assistants video provides an overview of the tools we adopted using the DEER framework. Drawing on student and faculty feedback, including more than 80,000 words of student reflections, allowed us to explore the pedagogical affordances and limitations of generative AI in the writing classroom. As Stephen Monroe noted, "Our early pilots indicate the panicked presumptions about student adoption/abuse seen in the media were not accurate." We observed tentative and responsible exploration from our students during these first semesters, leading us to believe that many maturing writers may not always be eager adopters of AI tools.
Some Key Takeaways Based on Student Reflections
Students liked writing with their own voices and weren't eager to fully offload their writing process to an algorithm.
Ideation, brainstorming, and editing assistance were all widely praised features of the AI tools we used.
AI reading assistants, like Explainpaper and SciSpace, were the most popular tools and the ones least likely to be associated with academic dishonesty.
Students needed sustained interaction with the technology through structured assignments followed by space to reflect on specific tools in order to explore generative AI assistance.
Many students struggled with prompt engineering and needed clear guidance on how to use it effectively, preferring to use AI-powered writing assistants like Wordtune instead of ChatGPT.
The majority of students became hesitant and cautious about using generative AI when they were shown how easily the technology could make up or hallucinate material.
It is clear that generative AI technologies will soon be implemented within virtually every web-based interface we interact with daily. This will pose challenges to authenticity and authorship that academia is currently struggling with in nearly every industry. AI detection is proving to be too unreliable, as evidenced by OpenAI shutting down their Text Classifier tool and universities turning off or opting out of Turnitin's AI detection feature. It's important to help students understand the pros and cons of working with this, and future, innovations. Instead of surveillance, we should foster a culture of trust with our students by modeling ethical usage of this technology, and such usage will only be possible if faculty and students become AI literate. Training all stakeholders in such literacy is our best pathway forward.
Further Valuable Resources about Generative AI
---