Over the last several months, WCET has been researching and developing resources on Artificial Intelligence and the use of Generative AI technologies such as ChatGPT in higher education digital learning.
An important aspect of our work in this area is to highlight what our member institutions are doing out in the real academic world. Today we're excited to present a post doing just that – from our member Colorado Technical University. A huge thank you to Lisa Corprew and Connie Johnson for sharing with us the considerations and actions CTU has taken as Generative AI continues to make a large impact in higher education.
Enjoy the read,
Lindsey Downs, WCET.
---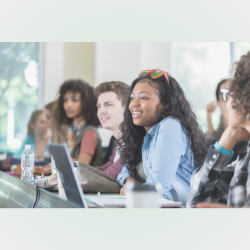 CTU's mission statement includes using technology to educate students. As the University experienced the rapid-speed information that Generative AI (and ChatGPT in particular) can provide for public use and was embraced by students to assist with their assignments, CTU leaders and faculty engaged to understand the possibilities, implications, and cautions related to the use of ChatGPT.
As the conversations unfolded, it was clear that there were several areas potentially impacted by Generative AI. Also clear is that while Generative AI itself does not have emotion, opinions and discussions can become quite spirited and diverse when discussing the future of and possibilities of AI in higher education.
As part of this process, the University reviewed several of the areas listed below:
Question 1: How would Generative AI affect academic work at CTU?
Faculty experience and feedback with Generative AI was mixed; faculty were equally concerned, baffled, and excited. Regardless of their feelings, they were seeking and deserved university direction. Fortunately, our exploration using a new AI "detector tool" led us to valuable direction rather quickly. The AI "detector tool" was extremely fallible. We stepped back from the common academic concern about plagiarism and got back to the heart of CTU's Academic Honesty and Integrity policy: "original work." As Generative AI does not replicate work, it does not create the risk of plagiarism. It does, of course, create the risk that students can submit work that is not "original."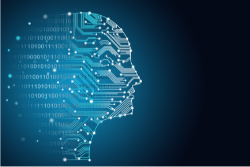 To manage this risk, faculty began to view student work differently. In many classes at CTU, faculty encourage students to use Generative AI to answer content questions and then use their own research and sources to validate those answers. English and coding classes were the earliest adopters of this type of use. Evaluating the sources of information allows students to reflect on the content, analyze the value of various sources, and separate fact from fiction. As Generative AI is not perfect and is known to "hallucinate" or integrate incorrect information, this analysis is not only a valuable academic exercise, but also a necessary one. This analysis supports the leveled objectives found in Bloom's Taxonomy, providing an excellent scaffolding tool for learning. The faculty evaluation of the student's process of investigation, along with the outcomes of the analysis, provides an excellent assessment of learning in partnership with Generative AI.
Question 2: Can Generative AI be used as a tutoring tool?
This question was of particular interest to CTU leadership. General education faculty created videos for students demonstrating the use, comparatively, of Google Bard and ChatGPT as a reviewer for the grammar, punctuation, and sentence structure of an English essay. Computer science faculty ask students to create and run programming codes through a Generative AI platform to identify errors. The collaboration between the Generative AI platform and a human partner provides insight and ideas, and provides students an opportunity to use their critical thinking and problem-solving skills to demonstrate their knowledge and learning. On a larger scale, CTU is exploring the possibility of implementing a tutoring tool similar to adaptive learning that can be used in all courses that generates tutoring content specific to a student's need.
Question 3: What about policies addressing Generative AI?
CTU faculty expressed concerns regarding how students can use Generative AI by but also understand and uphold the critical standards of Academic Integrity and the requirement for "original work" by students, as noted in CTU's academic honesty policy. Faculty have a direct link in the virtual gradebook to submit any Academic Integrity concern for review. With this submission, they create a direct connection with a review team to help evaluate the student submission, the tools used, and previous review requests for the particular student's work. That collaborative review allows faculty to understand the "big picture" for each student and provide extensive, detailed feedback to help the student re-evaluate either their work or protocols related to Academic Integrity. The plan to redirect and help students learn on the first offense, along with the collaborative uses of Generative AI, will help CTU meet the goal of using Generative AI tools for a learning advantage.
Question 4: How can leadership use Artificial Intelligence tools?
CTU previously launched an AI BOT to address student's basic questions in the areas of admissions and financial aid. There is currently not a plan to Increase usage of BOT's to engage with students in the areas of faculty and advising.
However, there is an appetite to explore how AI might assist student-ticketing systems (used to monitor student issues in the classroom and with faculty) and basic work questions, tasks and inquiries in departments including admissions, financial aid, and marketing.
CTU embraces the use of technology to improve student outcomes and student experiences and will continue to explore Generative AI with a focus on the time, resources, and people needed as AI continues to influence education everywhere.
---