The Sally M. Johnstone Award
The Sally M. Johnstone award is named after WCET's founding executive director.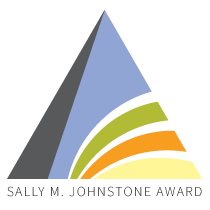 Sally led WCET from 1989 to 2006, creating the foundation for the organization. From WCET, Sally has gone on to leadership positions at several organizations and continues to be an advocate for student success and the use of quality technology in higher education.
This award recognizes a professional who has made an outsized contribution for their 'rank' to the digital learning community with the intention of recognizing thought leadership, excellence in practice, and demonstrated leadership capabilities. This award is meant to honor up and coming leaders in higher education.
Eligibility Criteria:
This award recognizes professionals who have…
made an outsized contribution for their 'rank' to the digital learning community,
not achieved the rank of senior leadership at their institution,
demonstrated leadership, including thought leadership, in an area effecting digital teaching and learning including policy and practice related arenas.
Candidates must be affiliated with a WCET member institution, organization, or cooperation that is in good standing.
Nominations may be submitted by the individual under consideration or by a colleague, supervisor, or other interested party.
There will be one award recipient chosen each year and honored at a WCET event or through another award winner showcase. Recipients will receive a complimentary registration to attend an upcoming WCET event (i.e. the WCET Annual Meeting, or virtual Member Summit).
2023 Nominations
Nominations are closed for 2023.
Award Timeline:
Nominations Open – June 27, 2023
Nominations Close – July 21, 2023
Recipients Will Be Announced this Fall and Honored at WCET Annual Meeting – October 25 – 27, 2023
__________________________________
Previous Recipients:
2022 – Erika Swain, Assistant Director for Compliance and Authorization at the University of Colorado Boulder and Associate Director of State Authorization at the University of Colorado System
Erika is a leader with WCET's State Authorization Network as she volunteers regularly and serves on the SAN Advisory Group and leads the SAN Professional Licensure Special Interest Team as well, generously sharing advice, humor, and resources with the WCET community.
Erika Swain holds a Bachelor of Arts in history from Ithaca College and a Master's in Library and Information Science from the University of Wisconsin-Milwaukee. Prior to joining CU Boulder, she worked for many years in regional accreditation, overseeing training and federal compliance programs in her various roles at both the Higher Learning Commission and the Middle States Commission on Higher Education. Erika has also served as the Registrar at North Country Community College in Saranac Lake, NY.
Erika is always eager to contribute and collaborate and we frequently rely on her expertise and wit to round out our programming. Erika's contribution is certainly outsized and exceeds her professional rank.
2021 – Dr. Chantae Recasner, Dean of Academic Success at Northeast Lakeview College
Chantae Recasner is well respected by her colleagues across the Alamo Colleges online team and the WCET Steering Committee. Her leadership skills and dedication on the Equity Steering Committee work group were integral to both the high-quality blog series and facilitated WCET member conversation, the Closer Conversation on Diversity, Equity, and Inclusion. Chantae continues to inspire through her student-centered and people-first leadership approach. About Chantae, her supervisor shares, "Dr. Recasner's extensive knowledge and background have significantly and positively impacted the ability of Northeast Lakeview College to serve our students through distance Learning. She continues to help us be the best we can be in the distance learning space." 
2019 – Crystal Faulkner, Instructional Technology Support Manager at Austin Peay University
When nominating Crystal Faulkner for the 2019 award, her colleagues noted that she is a thought leader in educational technology who strives to "be a forerunning in the field." She is an accomplished presenter, and her work has been used as a case study for the implementation of successful educational technologies, and she is active outside of her institution to create educational content for faculty. One of her most impressive projects was working to connect distance education students with services such as research assistance through her institution's library. This is just one of the many ways her colleagues distinguished Faulkner and how she focuses on elevating the online student experience for her institution and promoting student success.
2018 – Heather Nash, University of Alaska Anchorage
Heather Heather Nash is an accomplished scholar, author, grant writer and director, consultant, and evaluator. She has published numerous book chapter and papers, presented at multiple conferences, and is a respected voice in the educational technology field, with a focus online course quality and program administration and instructional design. Nash is recognized for her work on a statewide initiative in Alaska that created quality support structures for technology-enhanced learning. The program includes participation from all three universities within the University of Alaska system and includes multiple smaller community campuses. Nash's team recognizes and values her contributions to their group, specifically for her complete redesign of instructional design processes for their institution and her dedication to assisting their faculty and students.
When accepting her award, Nash spoke to the award ceremony attendees about the importance of higher education, stating that "despite the many flaws in higher education today, I still believe, at the core of my being, in the transformational power of higher education. That is what brings me to work every single day."
2017 – Bucky Dodd, University of Central Oklahoma
Bucky Dodd embodies an unparalleled dedication to the Center for eLearning and Connected Environment (CeCE) department's mission to "empower course design, teaching, and learning experiences that are learner-centered, high-quality, flexible, and affordable" and has been instrumental in implementing innovative course design and quality assurance initiatives.
Recent indicators of Dodd's leadership effectiveness and successes include state and international awards recognizing CeCE teams for effective, innovative, replicable, scalable, and sustainable initiatives to foster success in technology-enhanced education, including recognition from Brightspace and the United State Distance Learning Association. Dodd's leadership and accomplishments are truly remarkable for his rank and the span of his career to date.
2016 – Dale Johnson, Arizona State University
As Adaptive Program Manager, Dale Johnson collaborates with faculty and vendors to develop new courses and educational technologies to help personalize the instructional resources for students. Johnson studied architecture at ASU and public policy at Harvard, a learning path that combined his interests in design, engineering, art, and history.
Nomination materials on behalf of Johnson's candidacy for this award noted his professionalism and his willingness to share with other institutions and organizations the lessons learned from the multiple personalized courseware deployments he had led at ASU. Those who submitted Johnson's nomination let us know that:
Dale has the rare ability to describe complex subjects, such as algorithm-enabled learning systems, in a manner accessible to novice audiences.
Dale uses our industry's perennial pursuit of the next great ed tech product as an opportunity to emphasize the critical interdependence of teachers using technology to support learners.
In the ed-tech community, Dale has become a leader in the effort to analyze how adaptive systems work and explain them to colleagues who also want to use them to help students.
Three factors make Dale a compelling candidate for this award: project success, best practices, and community. He excels in all three areas.