WCET Outstanding Work (WOW) Award – 2021 Digital Learning Heroes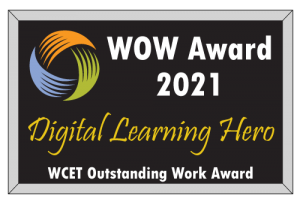 The WCET Outstanding Work (WOW) Award recognizes outstanding efforts by member institutions and organizations in applying innovative solutions to a challenging educational need.
WCET Celebrates Digital Learning Heroes – WCET Outstanding Work (WOW) Award 2021
WCET is pleased to announce this year's winners of the WCET Outstanding Work (WOW) award. The theme for the 2021 WOW award was Digital Learning Heroes. WCET member institutions were invited to submit "stories" describing the intensely hard work that member institutions' staff, faculty, administrators, and students heroically stepped up to the meet the challenges brought on by the pandemic. Congratulations to the 2021 WOW awardees:
Colorado Technical University.
Miami University Regionals E-Campus.
University of Alabama.
University of Louisville.
University of North Dakota.
University of Texas at San Antonio.
The stories from the six WOW awardees were featured in fall 2021 as a Digital Learning Heroes blog series on WCET Frontiers.
Blog Posts from DLH Winners
All submissions were reviewed by a panel of five reviewers. While six submissions were deemed "outstanding," the reviewers were impressed across the board as noted by these comments:
"Many of this year's WOW Award submissions highlighted heroes that helped institutions pivot from face-to-face to remote instruction during the pandemic. I was struck by the teams and individuals that not only facilitated this shift, but managed to build caring, innovative solutions to challenges facing their learning communities. Congratulations to all of the nominees, and thank you for pausing to share these initiatives. May these solutions continue to evolve to fit the ever-changing landscape of higher education and the specific needs of our respective institutions. They've sure helped spark new ideas at Southeast!"

– Holly Sumner, Online Instructional Coordinator, Southeast Missouri State University
"The WOW awards highlight the innovative ways institutions meet the needs of their students, faculty, and campuses. Throughout the pandemic, institutions have continued to innovate so that the school's core mission, education, continued with little impact." 

– Justin Louder, Associate Vice Provost, Interim Superintendent, TTU K-12, Texas Tech University

"Our 2021 WOW! award winners are distinguished by their proactive nature, scaling what works, collaboration among campus units and using data to measure success. The success of these digital heroes inspires the entire higher education learning community. The annual WOW! awards is yet another example of how WCET continues to provide a forum for best practices among its member institutions and organizations."

–  Russ Adkins, CEO Russ Adkins Inc. and long-time WCET member.
Thank you to the committee of judges who volunteered their time to consider the outstanding nominations this year. WCET appreciates all of your hard work and dedication.
Contacts for the Six Awardees
University of North Dakota (UND)
Jenny Reichart
Faculty Development Specialist and Inclusion Ambassador
Teaching Transformation and Development Academy (TTaDA)
University of North Dakota (UND)
Grand Forks, ND 58202-7104
jennifer.reichart@und.edu
The University of Alabama
Rachel S. Thompson
Director, Center for Instructional Technology
Office of Information Technology
The University of Alabama
Box Box870248
Tuscaloosa, AL 35487
Phone 2053480216
rsthompson2@ua.edu | https://cit.ua.edu/
and
J. Allan Guenther
Associate Director, Department of Instructional Technology and Academic Services
College of Continuing Studies
Division of Online Learning
The University of Alabama
Office 205-348-4912 | Fax 205-348-9549
aguenther@ccs.ua.edu | http://teachbydistance.ua.edu | https://online.ua.edu
University of Texas San Antonio
Claudia Arcolin
Director of Digital Learning
University of Texas San Antonio
claudia.arcolin@utsa.edu
Colorado Technical University
Connie Johnson
Chief Academic Officer/Provost
Colorado Technical University
CJohnson@coloradotech.edu
Miami University Regionals E-Campus
Kara Anand-Gall
Instructional Designer
Miami University Regionals E-Campus
E-Campus: 513-217-4003 | Direct: 513-727-3224
ecampushelp@miamioh.edu | anandgak@miamioh.edu
University of Louisville
Kristen Brown
Associate Director, Online Learning
Delphi Center for Teaching and Learning
University of Louisville
E: kristen.brown@louisville.edu
O: (502) 852.8565.   M: (502) 475.2932
http://louisville.edu/online
###