WCET Outstanding Work (WOW) Award 2023 Award Winners
The WCET Outstanding Work (WOW) Award recognizes outstanding efforts by member organizations and individuals in applying innovative solutions to a challenging educational need.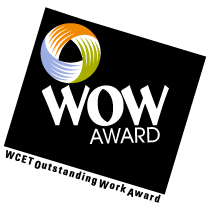 WCET is pleased to announce this year's winners of the WCET Outstanding Work (WOW) award.
The stories from the WOW awardees will be featured this fall as a blog series on WCET Frontiers Blog or the WCET Frontiers Podcast.
See below to learn more about each awardee.
_____________
Awardee: Oklahoma State Regents for Higher Education – Online Consortium of Oklahoma
The Online Consortium of Oklahoma works collaboratively with twenty-five member institutions on online learning excellence for the entire state of Oklahoma. Innovations in the area include developing low-and no-cost professional development for faculty and staff, leveraging group purchasing for technology, facilitating collaboration for student success programs and user groups for common online platforms, hosting summit events to share current practices. These initiatives include the creation of the Council for Online Learning Excellence (COLE), which is aimed at promoting learning equity and student success pathways.
Awardee: Rio Salado College – RioPACT
Rio Salado College is dedicated to serving its highly diverse and non-traditional student body, and this dedication led to the development of predictive analytic tools to be used at the programmatic level. RioPACT is one of these tools which increases student success outcomes and closes equity gaps. The predictive model utilized determines the likelihood of student persistence, analyzes student engagement, and considers previous academic success and demographics. RioPACT then identifies "high risk" and "low risk" students for not progressing through a program. The program informs student support staff who are able to provide just-in-time support and direct resources more efficiently. Pilots of the RioPACT program in the Academic Advisement and Disability Resources and Services unit show direct improvement in learner equity, additional support and outreach, and greater persistence rate than all other student groups who were not involved in the pilot program.
Awardee: Sinclair Community College – Course Equity Rubric
Sinclair Community College's mission is to improve the quality of learning by expanding digital equity and inclusion for all learners. The eLearning Division took this mission to heart through the creation of the Course Equity Rubric. The tool is used by faculty and course designers during the course design process to evaluate content, assessments, and materials to ensure the entire course supports digital equity and inclusion goals. So far, the course has been used in over 200 courses to improve design. The rubric ensures that course materials welcome learners into an inclusive environment where they feel safe to learn new content and share ideas. Course evaluations show that students' perceptions of equity and inclusion have increased, students find the course content to be representative of diverse cultures, backgrounds, and experiences.
---
WCET thanks all of the outstanding nominees for submitting their work this year. Our WCET membership community is made of dedicated individuals, teams, and organizations working to ensure all students can access an equitable and successful educational journey.