WOW Media Release 2008
Nine Recognized in WCET Awards for Outstanding Use of Technology in Higher Education
Boulder, Colorado – WCET announced recipients of the 2008 WCET Outstanding Work (WOW) Award, an international competition that recognizes the innovative uses of educational technologies in higher education. Recognized works include projects that track students to intervene before they drop-out, use an online game to attract new students, and challenge students to create powerful multimedia stories.
"This year we had an amazing group of applicants," says Lisa Cheney-Steen, WCET Awards Committee chair and co-executive director for Learning Technology of Colorado Community Colleges Online. "Many colleges around the country are working on truly exciting projects that improve both access to higher education and the teaching and learning process itself."
The 2008 WOW recipients include Dakota State University's Student Retention Alert System which is a web-based early-alert system that signals faculty and advisors about students needing help before they fail their classes. Ohio Learning Network's E 4 ME is a self-paced, introductory course through which students experience what it is like to take an online course. Stories of Culture and Place from the University of Alaska Southeast teaches students the power of story-telling as they research, create, illustrate and perform original new media stories about their cultures, communities, academic pursuits, and personal lives. Student use of online library services is increased by the University of Texas TeleCampus's Enhanced Student Learning through Integrated Resources project by the thoughtful collection and placement of links to library resources throughout the curriculum.
California State University receives a one-time special recognition award for its continued follow-up work on a WOW Award it earned in 2006. The Early Assessment Program educates K-12 teachers on how to better prepare their students for college-level mathematics through an online tutorial.
---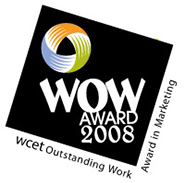 New in 2008 is a WOW Award for creative marketing of technology-based programs. "Our goal in designing the competition was to provide an opportunity to showcase, recognize and reward excellence and innovation in marketing e-learning," said Jennifer Rees, Assistant Director, Communications Services, UT TeleCampus and chair of the committee judging the marketing competition. "We were delighted that WCET recognized the role effective marketing planning and practices play in the success of e-learning initiatives."
Recipients of the 2008 WOW Award for Marketing include BCcampus's Dare2BDigital–The Online Learning Challenge, which is a combination of game, reality television, and social networking events allowing British Columbia's students to experience online learning as a fun and interactive event. Through CU Online's Freedom project, "microsites," tailored to the appropriate persona for each marketing campaign, enables the University of Colorado Denver to collect detailed, segmented information to tailor their efforts. Seeking to acquaint public opinion leaders with the quality, versatility, credibility, and effectiveness of online learning, Excelsior College's Access to Learning CD and website include interviews with online learning experts and online learners, themselves. Minnesota Online boosted Student Recruitment by creating a website listing online courses and programs offered in the state and connecting that site to customer relations management software to gather data about those potential students.
WCET is a membership cooperative of institutions and organizations dedicated to advancing access and excellence in higher education through the innovative use of technology. Celebrating its 20th anniversary this year, WCET has members in 46 states and six countries.