I've received several inquiries in the last few days about what institutions should do next.  Amanda Mead, Director of Online Program at Fontbonne University summed up the questions very well:
I have been diligently following your blog, email updates, conference sessions and any webinar materials regarding the state authorization issue.  I'm thankful for you and WCET for helping to make this understandable.  As with everyone else, I still have questions, and I'm not sure where to go with my questions…what should I be doing now?
I am looking for information on state web pages, but there does not seem to be information about, specifically, offering online work without a presence in the state— or a definition of presence.  I am hesitant to call/contact states.  Should I be?
Should I just hush-up and wait for the upcoming list you have referenced previously?  Will it come too late for me to take action?  I feel like I'm revved up to go, but I don't know where to go!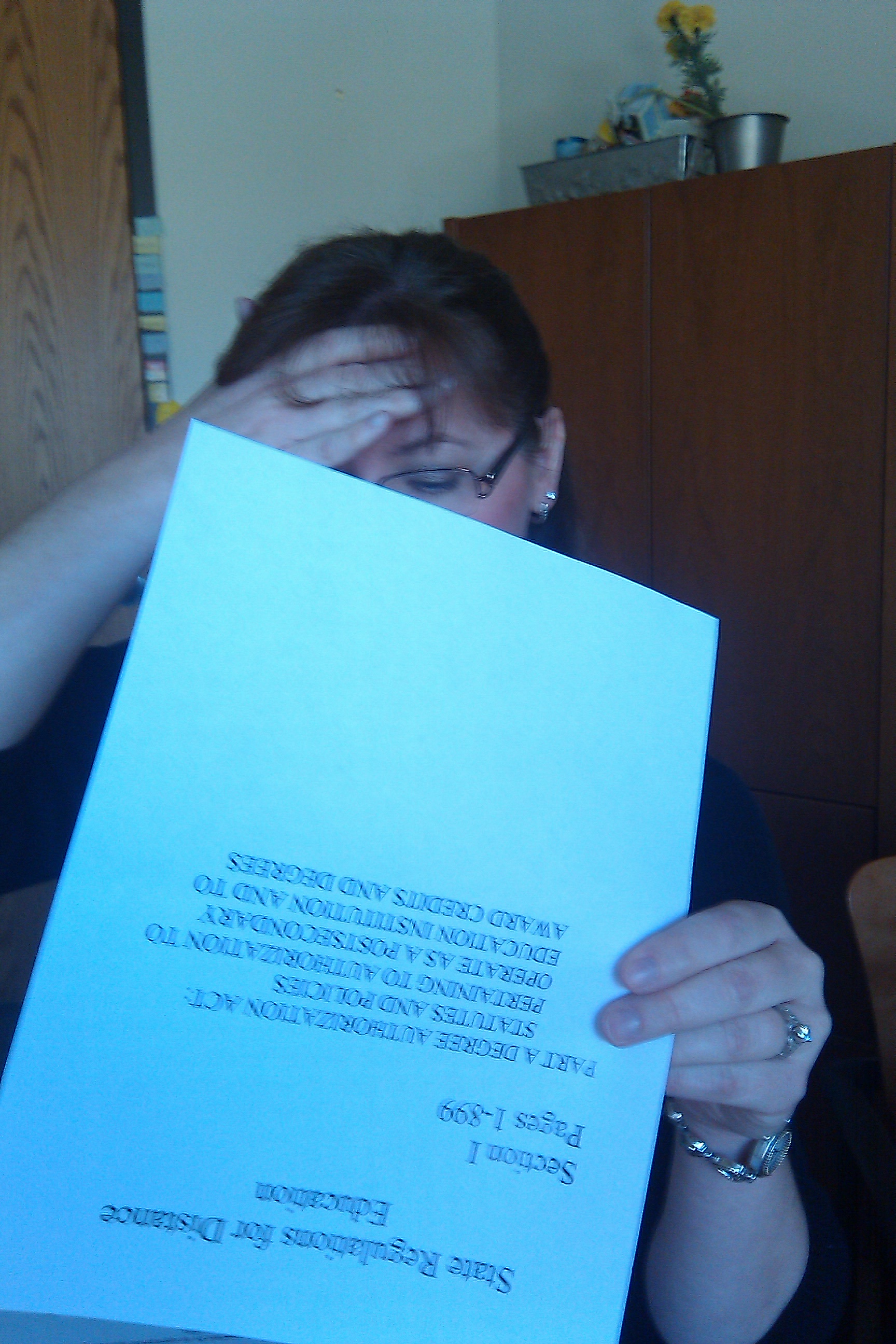 The List
First, we had a meeting yesterday with our partners from the Southern Regional Education Board, American Distance Education Consortium, and the University of Wyoming. They are helping us to create the list of state agencies.  We are planning to release that document by the end of the January.  We also will create a space to collect experiences from institutions that contact states.
PLEASE NOTE:  The intention of the list is to give you the initial information to explore each state's regulations on your own.  I'm hoping that we will be able to tell you which states have absolute requirements (everyone needs to apply) and which have no requirements (no institution needs to apply).  YOU WILL NOT NEED TO APPLY TO EVERY STATE.  The majority of states in the middle.  Approval requirements depend on what you are doing in that state. We can't provide definitive answers for those states.  You will need to contact each of those states on your own.  Sorry.
Also, look for a list coming from Dow Lohnes law firm soon.  It will be more comprehensive, there will be a fee, and WCET members are supposed to get a discount on that fee.
Steps You Can Take
Meanwhile, here are eight things that institutions can be doing….
1.  Decide Who Is Going to Be Your "Go-To" Person on This Issue
Responding to this issue will take time and you need to free-up time for someone to concentrate on it. We talked to one institution that has four people dedicated to addressing this issue.
2.  Review Your Enrollment History
In what states have you served students at a distance?  Determine which states you need to address first.
3.  Review Regulations In-Depth for One or Two States
As Amanda suggests, for many states it is difficult to interpret exactly what is expected of an institution.  Some states have no requirements.  Some states will expect every institution to seek approval.  For the vast majority of states, it will depend on what you are doing in the state.  For the short term, it might be good to try to decipher the regulations of one or two states.  This effort will give you a sense of the type of language that is used before you venture onto the other states.  Reviewing the resources that I covered in my earlier "What Do We Know About State Approval?" blog should help.  See if your interpretations match the findings in the documents listed in that blog and with the list that we will release soon.
4.  Engage Your Leadership
It would be wise to inform the key campus players (distance education leadership, provost, chief financial aid officer, and attorney) of this issue and that you are planning to address this issue.  This could have major implications on budget (fees to states), personnel (this will take time), service area (do you have to pull back from some states?), and exposure to risk.  My guess is that they don't like surprises.
5.  Create Short Profiles
It's a fool's errand for you to try to interpret the regulations from all 50 states.  What triggers the need for approval is dependent on what activities you are doing in the state.  The person who will know is the officer(s) charged with overseeing the approval process in each state.  Those offices are not staffed to handle the coming onslaught.  My hunch (and it is a hunch) is that if you could create a short profile of your institution describing what you are doing in that state, the approval officer will probably be able to tell you pretty quickly whether you need to complete the full application process.  Included in the profile would be:
Name of institution.
Type of institution (public, for-profit, religious-based, etc.).
Programs and degree levels in which you previously, currently, or plan to enroll students in the state.
Related activities in that state that could trigger a review (you maintain a

local

mailing address or phone number in the state, you advertise in

local

media, students take proctored tests, you have recruiting officers or faculty resident in the state).  See the Dow Lohnes survey from 2006 for a good list of these.
Your contact information.
But keep it short!!  It's an initial inquiry.  If someone sends a short profile to a state, let me know if it works.
6.  Seek Partner Institutions
These tasks will become difficult.  There could be benefits from sharing the work with similar institutions in your local area.  You might be able to split states and help each other respond.  I noticed that some states might charge for inquiries, so several institutions could partner on one inquiry.  You may wish to share intelligence and war stories.  Save those stories, as we will create a space for you to share your findings openly.
7.  Document What You Do
Since you could be asked for proof of activity in seeking state approval some day, keep good records of your correspondence and phone calls with each state.
8.  Join WCET
We're a membership organization that welcomes colleges, corporations, governmental agencies, and organizations interested in e-learning.  Membership supports our ongoing work on issues that have an impact on you and your institution.  Our current members would love to have you join us.
Thank you Amanda and to all of you who asked for assistance.
Russ
Russell Poulin
Deputy Director
WCET – WICHE Cooperative for Educational Technologies
rpoulin@wiche.edu