After I published my blog piece that analyzed the Community College Research Center's (CCRC) new research on online students, Mac Adkins of Smarter Services contacted me about research based upon the experiences of institutions using their services.  Mac was invited to submit this guest blog, which presents outcomes that undergird some of  CCRC's findings and some the support my suggested alternative interpretations.  You may wish to look at CCRC's follow-up to the study and advice on "Creating an Effective Online Instructor Presence."  I think they adopted some of the comments made about their original work. Thank you Mac for adding to the research discussion. — Russ Poulin, WCET

This guest blog post is a continuation of the thoughts shared by WCET's Russell Poulin in February, 2013.  In that post, Russ responded to criticisms and observations of eLearning which were published in a New York Times editorial as well as a report by the Community College Research Center.
Russ stated, "The biggest takeaway that I took from the CCRC research is the need to make sure that students are prepared to succeed in an online course."  This statement caught my attention as this has pretty much been my life's work for the past decade.  Since 2002 we have measured the levels of online learning readiness from over two million students with our Learning Readiness Indicator.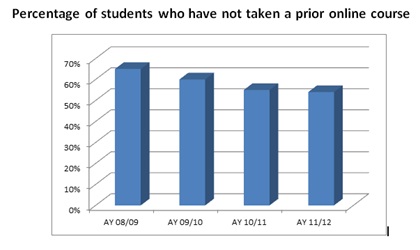 In the section of Russ's blog post titled "Students Adapting  to Online Learning"  Russ stated that when one first experiences online learning, the student who is new to online learning must "adapt" to this learning modality.  He added, "The vast majority of students spend the bulk of their education career without having taken an online course. It is an adjustment."  I fully concur with this observation.
Each year we publish for free the National Student Readiness Report (pdf). The report presents aggregate data from over a half million students each year who have taken the assessment.  One of the demographic factors which we collect on the assessment is "How many prior online courses have you taken?"   Sometimes a student enrolling in school A has already taken several prior online courses at school B.  Most of the time, the new students have had little or no prior online learning experience.  In the annual Readiness Report, we compare the means of each of our scales across persons based on their prior experience in online learning.
You Can't Beat Experience
One of the strongest findings of this section of the report is that when it comes to distance learning – experience matters.  Students who have taken five or more prior online courses had statistically significant higher means (random sample of 300) than students who had taken fewer online courses on the following subscales: Persistence, Procrastination, Time Management, Locus of Control, Technical Knowledge, and Help Seeking.   Students with this level of online learning experience also had statistically significant higher means in all six of the major scales measured by the assessment with the exception of reading and typing rate.
The greatest difference in means from students with no prior online course experience and those who had taken five or more courses continued to be in the area of technical knowledge. This indicates that with experience students can learn to use the technology required for online courses.
The take away for eLearning leaders is that we really need to hold the hands of students who are new to online learning.  If we can closely support them and help them persist past that second online course, then the learning curve for eLearning levels out.  This fact is perhaps a partial explanation of the higher dropout rates for new online students which was cited (albeit inappropriately) in the New York Times editorial.
I also concur with Russ when he stated, "The authors are off-base in suggesting that students be 'screened' out of an online class."  Very few of the schools which use our readiness assessment use it for screening.  If they do so, then typically they recommend the student take the course through a hybrid or on-campus delivery system.  No schools use it as an admissions screening device.  Schools need students.  Schools also need students who will remain enrolled.
In the 2012 National Student Readiness Report, the majority (54%) of students reported that they had never taken an online course prior to taking the SmarterMeasure assessment. It is worthy of note that the percentage of students who have never taken an online course is decreasing. (see graph above:  2012 = 54%, 2011 = 55%, 2010 = 60%, 2009 = 65%) This is an indicator that eLearning is becoming a more common educational delivery system.  It is important to note that the CRCC study's cohort  included "degree-seeking students who initially enrolled in one of Washington State's 34 community or technical colleges during the fall term of 2004."  The percentage of students who had never taken an online course was probably much higher nearly a decade ago.
Demographics and Online Learning
The CCRC study focused on certain demographic groups underperforming in online courses.  In the National Student Readiness Report, we also cross tabulate means of our scales across several demographic factors.  Aggregate data from over 690,000 online students who took the assessment over a twelve month period revealed that for the past four years in a row females have had statistically significant higher means in Individual Attributes, Academic Attributes, and Time Management.  Over that same four year period of time, males had higher means in Technical Knowledge.  Caucasians also had higher means in Technical Knowledge for four years in a row.
It is a fact that some learners are a better fit for online learning due to their attributes and skills.  But should that imply that they not take online courses?  As one of our client institutions recently stated, "You cannot change a tiger's stripes, but you can teach that tiger to hunt in a different environment."  Through well-developed orientation courses and other online student support services, we can equip students with no prior experience with the skills to learn online.
Dr. Daniel Golman, author of Emotional Intelligence, recently blogged about the topic  "It's Modes, Not Personality Traits."  He emphasized that persons tend to behave in different ways in different circumstances.  In our context, a person who is a habitual procrastinator about online course assignments may never procrastinate about other activities such as working out in a gym.  As educators it is beneficial in our communications with students to talk in terms of one's traits in the mode of learning.
By assessing an individual's attributes, attitudes, and skills for the context of  eLearning, both the individual and their school are better equipped to determine the level of readiness of a new online student so that the appropriate resources for support can be provided. 

Mac Adkins
President
SmarterServices.com
mac@SmarterServices.com