At your cooperative, we're always happy to share the learning of our members.  Sharing with us today is Sally Johnstone, Vice President for Academic Advancement at Western Governors University, about the work WGU has done with community colleges to launch CBE programs and the resources they have produced, which are open to all.
As some of you may be aware, Western Governors University has been working with almost a dozen community colleges across the country for the last two years.  Our role was to help them develop their own competency-based degree (CBE) programs. The staff members and faculty at these colleges worked at an incredible pace to incorporate the basic tenants of a CBE into their new programs. They were all faced with many challenges from both within and outside their institutions.  They met these challenges creatively and within the context of their own campus cultures.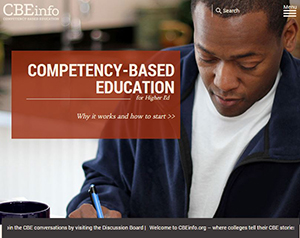 Among them the colleges now have over 3,000 students enrolled in CBE programs.  The lessons they learned in their journeys from being vaguely aware of CBE to launching their own programs are being collected.  This week we launched www.CBEinfo.org.  It is site to help other community colleges learn from the pioneering work of Austin Community College, Bellevue College, Broward College, Columbia Basin College, Edmonds Community College, IVY Tech at both Fort Wayne and Lafayette, Lone Star College's University Campus, Sinclair Community College, and Spokane Falls Community College.
One of the most remarkable aspects of all their work is that they integrated CBE into their regular campus operations. That effort has already enabled several of colleges to expand their CBE activities from a single degree or certificate program to include other academic areas.  The preliminary evidence indicating improvement in student success encouraged faculty and staff not involved in the initial projects to pay attention.
Accommodating Campus Cultures
The varieties in the campus cultures I mention above include both strong and loose system arrangements plus almost total autonomy.  Some campuses had faculty unions, some did not.  Some campuses were in states that tend to micromanage academic activities, like requiring A – F grades in each course.  These grades become meaningless when students are progressing by demonstrating mastery of the courses and working at different paces to achieve it.  The solution in this case was to assign a grade but redefine 'passing'.  At a different campus, the faculty did not have state mandates to assign grades, but their student information system did require it.  Their solution was to consider an 'A' or 'B.' If a student earned a 'C' or lower he/she was allowed to continue working toward the degree but in a more traditional distance learning program.
As you explore the lessons on the site, you will also notice that the organizational structure to support CBE was dependent on the culture at each college.  For example, at Sinclair Community College they already had in place a sophisticated distance learning support center.  The faculty on campus were used to working with instructional designers who used common course templates.  This was a very good fit for the development of their CBE program.  In addition, they had developed technological tracking systems that allowed them to flag at risk distance learning students.  This was adapted to their CBE program and helped their academic coaches know which students might be struggling with their courses.
In contrast, at Austin Community College they did not have a centralized distance learning operation.  Consequently they created a support structure for CBE students and the faculty developing the courses within the academic department in which the program was housed.  It was a good way to get started, but as other academic departments are beginning to develop their own CBE programs, the staff in the Dean's office is developing a new plan that will have some of the characteristics of the Sinclair center.
Interaction with the pioneers
Throughout this whole project all the colleges have been learning from one another. They will continue to do so as they modify their initial practices to better serve their students.  We now invite you to join in that sharing process.  Within www.CBEinfo.org is a Discussion option.  The staff and faculty from the partnering colleges have agreed to pay attention to questions and comments in that section and share what they have learning and are learning.
I look forward to seeing you online.

Sally M. Johnstone
Vice President for Academic Advancement
Western Governors University