WCET seeks to raise awareness on the why, how and what of adaptive learning; to develop a community of faculty, administrators, designers and providers to share promising practices and ideas; and for WCET to be a valuable resource on this important emerging application of technology. To support this, we have selected Niki Bray to serve as our 2015-2016 WCET Fellow on Adaptive Learning. This is her first blog post in a series to come over her time as Fellow about adaptive learning. You can also join her weekly on Thursday nights from 6 – 7pm MT, for #WCETAdaptive twitter chat. Follow her @adaptivechat. Welcome and thanks, Niki!
At this year's WCET Annual Meeting, Dale Johnson asked the participants in the session to imagine a heterogeneous incoming class, whether it be a freshman class or an adult learner class that's coming back after years of being out of college, and being able to guide them, understand where they need additional support, and being able to personalize the learning based upon individual needs, such as a learner who needs a video instead of a section of reading – that is the promise of adaptive learning.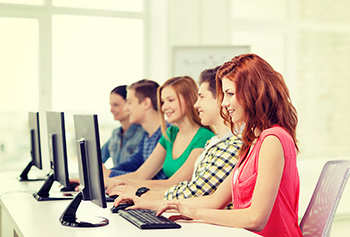 I had the opportunity to participate in this session with Dale Johnson, Arizona State University, as well as Thomas Cavanagh, University of Central Florida,  Dror Ben Naim, Smart Sparrow, Nick White, Capella University, and Judith Komar, Colorado Technical University, arguably a panel of the top leaders in adaptive learning. The session was Adaptive Learning as an Applied Innovation: How to Get Started and in this post I summarize Dale's discussion of how using adaptive learning improves student success. In the future I'll publish additional posts about the adaptive learning insights from the Annual Meeting.
As an educator we can all agree that students typically fall into one of three categories for each unit of instruction throughout the semester – below the expected level of prior knowledge, at or near the expected level of prior knowledge, and above the expected level of prior knowledge. In Dale Johnson's opening remarks to this session, he discusses the promise of adaptivity. In his commentary, he shares the fact that Arizona State University has some lecture-based courses with nearly 400 students enrolled in a section. The use of adaptivity, Johnson contends, allows professors in these large size courses to identify who needs help, who is on track, and who needs to be challenged – the key issue behind the concept of differentiation. Using the tools that adaptive systems provide, Johnson suggests, allows the professor to determine precisely what each student needs help with and the best way to help at scale. Now, we can single out students who not only need additional support but also those who can accelerate their learning and move in a more rapid fashion.
Prior to the use of adaptivity, detailed information about student progress, specifically at the granular level, was virtually impossible to determine for even a small number of students much less classes with large enrolments. At best, most professors today do not know how students are progressing until the first exam, which is oftentimes the midterm exam. By this time, it is often too late to provide the additional support students need to improve learning as too much time has passed and likely the class has moved on to other lessons. The adaptive learning systems that are available now give us information that we have never had before and they allow us to know where students are relative to the curriculum and to other students at any moment in time during the duration of the course. Imagine being able to know exactly where students are in their learning and what they are struggling with at any given time. Also imagine immediately knowing what you need to do to be able to help them – thanks to the big data being collected in the background.
A member of the audience posed the question to Johnson about the role of adaptive learning for supplemental instruction. Johnson responded by suggesting that adaptive learning works across the entire spectrum of learning needs, be it earning a credential or earning a credit. Oftentimes, students who are required to take remedial math, for example, have to pay in upwards of $1,500 for the course and they do not get any college credit for taking it. "That's a tragedy!" Johnson exclaims. He suggests that the use of an adaptive system can eliminate the need for these remedial courses, which a high number of students drop or withdraw, and save students money, too.
On my next Frontiers blog, I'll share the benefits of adaptive learning.

Niki Bray
WCET Fellow, Adaptive Learning
Instructor|Instructional Designer
School of Health Studies
University of Memphis
@adaptivechat