For those who attended the annual meeting, you already had in introduction to EdReady by The NROC Project as a 2015 WOW Award winner. They created a great video that explains the basis of the project, but we asked Ahrash Bissell, EdReady Project Manager, to share more about the project in today's post. Thank you Ahrash and congratulations to the entire EdReady team!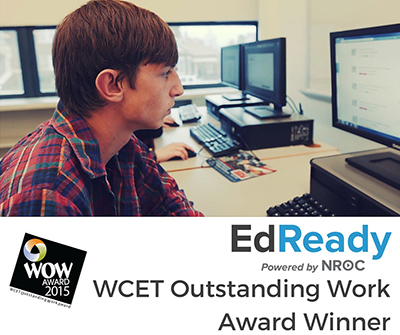 The non-profit NROC Project (NROC) was founded in 2003 (under the legal name Monterey Institute for Technology and Education), with the mission to ". . . help meet society's need for access to effective, high-quality educational opportunities in an era of rapid economic, social, and personal change." In that vein, NROC has pursued a number of strategic initiatives over the years, including new approaches to distributed content curation and dissemination, cutting-edge multimedia development, production and redistribution of open educational resources (OER), and more.
Our latest initiative, EdReady, a 2015 recipient of the WOW Award, brings a certain coherence to these various prior and ongoing efforts at NROC. Here, I'll relate a brief history of The NROC Project and the principles that led to the design and launch of the EdReady platform.
Discovery & Curation: the Foundation of The NROC Project
We now live in a digital age. At least when it comes to information transfer and access to knowledge, digital modes of creation and transmission now dominate the landscape. Even if the end-product is not digital, such as a printed book, the source material is almost certainly digital, and most of the creation and editorial processes depend on digital tools and media.
For the most part, this massive digitization shift has unleashed new opportunities and capabilities for students and educators. Where access to fundamental knowledge would have previously been limited to the number of volumes in the school or local library, or whatever books a family could afford to own, now a person has access to more information at the click of a button than what is contained in all of the world's libraries and bookstores put together. But the sheer volume of material creates new problems, especially around the discovery and curation of appropriate materials, and the alignment of those materials to desired educational goals.
The NROC Project has tackled this issue head on from inception. We have a core editorial staff that not only builds cutting-edge, multimedia learning materials that people need, but also identifies and curates materials created by other people and projects. These materials are disseminated for free via a site we built and maintain called Hippocampus.org, and we know that millions of teachers and students benefit from accessing the materials on Hippocampus every year. Educational institutions – from schools to entire systems – recognized the value of this work; thus, our institutional membership model grew over the years, providing the beginning of a sustainable foundation for the work to continue.
However, despite these usage numbers, we also heard from many NROC members and other colleagues that they did not feel that simple access to materials, no matter how excellent, was really changing their practices or supporting innovation in the classroom in any fundamental manner. It became clear that we needed to situate these materials in a context that not only solved pressing problems educators and students face today, but then could provide an infrastructure for promoting and supporting innovative practices into the foreseeable future. At the same time, we had been exploring ideas around "adaptive" or "personalized" learning, as well as social and political barriers to the creation and adoption of OER. In addition, we had acquired deep expertise in developmental education as a result of building a next-generation developmental math program, and we saw that the massive, national crisis around college and career readiness offered an opportunity to target our efforts and bring tangible, positive impact to people's lives.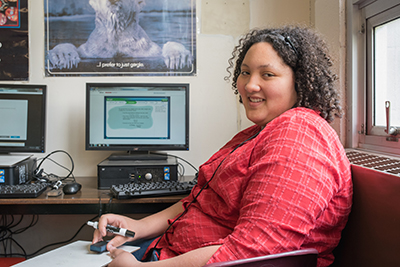 Personalized Learning with EdReady
When we stepped back and considered how these different facets of our work played off each other, we realized that we had an opportunity to bring it all together by building a lightweight yet highly customizable platform for personalizing learning. We decided to call that platform "EdReady." We launched EdReady in 2014, with a strong focus on college and career readiness in math.
For far too many students, lack of sufficient math competency is an insurmountable barrier to further college and improved career prospects. Unfortunately, most educational institutions treat this issue as a logistical problem rather than a learning problem. They ask students to achieve generic benchmarks in order to begin or progress through post-secondary programs of study without adequately considering why the students need to demonstrate this knowledge and what might be the most efficient way to help them get there.
Contextualizing Student Needs
One of the primary principles behind EdReady's design is to take each student for who they are and then contextualize their needs according to where they want to go. "Math competency" makes little sense unless you ask "competency for what?" In EdReady's case, students can choose among various goals, ranging from more general aspirations like passing the SAT or scoring highly on placement exams, to more specific aspirations like preparing for an advanced welding certification or preparing to be a nurse's aide. These goals are defined in the EdReady platform by the specific math skills that are actually required for success. In this manner, the EdReady system differentiates among each user by recognizing that the paths forward for college and career are going to vary for each person.
Similarly, EdReady does not arbitrarily bin and sort students according to some generic measure of "readiness." Instead, EdReady administers an initial diagnostic explicitly appropriate to the intended pathway and then ascertains each student's contextualized strengths and weaknesses. Nearly all students are some distance from their desired competency goals – all we need to know is how far the distance is and which skills are most critical for closing that gap.
With a clear idea of where students want to go and where they stand in reference to that goal, EdReady provides a "study path" that will help them get there, complete with all of the necessary learning materials. The critical factor here is that all of this information and support is provided in context to their specific aspirations. What might have previously been abstract and useless math concepts can take on new clarity and meaning when they are presented as explicitly necessary for success in the program or career of choice.
Operational Transparency
Another principle of EdReady's design is operational transparency. We are seeking to educate people, not just get them through hoops and hurdles. With that in mind, we knew that we needed to employ a light touch when it comes to adaptive learning, scoring algorithms, and other mechanics of the EdReady experience. The scoring methods used by EdReady are quite easy to figure by hand, and we use a common basis for measuring student progress across all goals and assessments, no matter how much they might differ in their specified scope of math skills.
Customization to Fit Shifting Needs
A third principle is that the EdReady platform had to be able to accommodate a diversity of assessment strategies, as well as a diversity of learning interventions. Technically, you can gain some discriminating power by deeply integrating specific assessment items with specific interventions, creating a tightly scripted experience that works really well for the specific use case for which it was designed. But that was essentially the antithesis of what we were trying to achieve. Since we work so closely with institutional partners, we know that their needs differ substantially, sometimes even within an institution. Furthermore, needs change, and we needed EdReady to be able to change along with them. EdReady allows students and educators to specify precise learning objectives by way of defining a goal, thus enabling the platform to support millions of possible paths, all of which are easy to deploy or refine as needed. Further customization can be provided by choosing specific (OER) interventions from the library, or (soon) by choosing among specific collections of assessment items. Proof of EdReady's extraordinary flexibility can be seen in the great diversity of populations targeted (including middle schools, high schools, postsecondary institutions, adult education centers, etc.) and use cases deployed to date (including many different pedagogical approaches ranging from completely online to fully classroom-based courses).
There has not been much time since EdReady was officially launched and available to the world, but the results thus far have been overwhelmingly positive. However, sustained impact will only be achieved by identifying opportunities for further improvement and continuously engaging with students, educators, and our institutional members in that process. We believe that EdReady and the NROC membership structure offer a solid basis for this work, and we hope that we can provide inspiration and guidance for others who are seeking to build a new model for sustained educational innovation in the digital age.
We welcome inquiries and comments from anyone. If your institution is considering new models for college and career readiness, we encourage you to get involved with our membership. Learn more about our work at theNROCproject.org.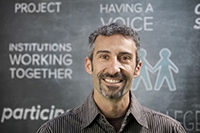 EdReady Project Manager