This week WCET Frontiers is excited to offer something a little different…
We all know and love WCET's Russ Poulin. Here at WCET, several of us are excited about innovative activities and developments in Artificial Intelligence. This week, Rosa Calabrese puts IBM's Watson to the test, to see if Watson can analyze and accurately capture Russ' personality.
Thanks Rosa for this week's post, especially your concluding insights on the future of AI.
Enjoy the read and enjoy your day,
~Lindsey

---
Do you think you could analyze Russ Poulin's (WCET's Director of Policy & Analysis) personality based solely on his last six blog posts? A machine can—or at least it thinks it can.
According to IBM Watson's Personality Insights tool, Russ is "excitable, particular, and strict."
He is also "likely to like historical movies" and he is authority-challenging and takes very little pleasure in life.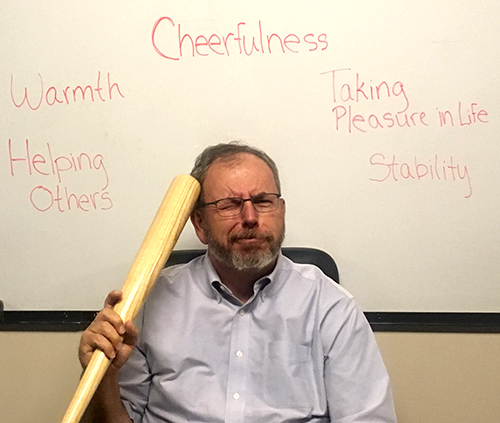 He sounds peculiar.
Background
Artificial intelligence (AI) is everywhere these days. Amazon Echo is answering all our questions and helping us organize our lives, Google has created a tool to recognize our bad drawings and turn them into clip art, and company chatbots are handling front line customer service.
AI has also been used to alter human faces (which sometimes yields offensive results), merge Internet images into (sometimes disturbing) new ones, and create new recipes that I think most of us would pass on.
While artificial intelligence does have some pitfalls related to issues such as inadequate data sets or faulty algorithms, we are still entrusting machines to do more and more tasks for us, even here in education. Because of this, I thought it would be fun to put artificial intelligence to the test to review WCET's Russ Poulin, as most of us are well familiar with his communications on the blog, at conferences, and on our email lists.
IBM has kindly made artificial intelligence tools available in the palm of our hands through Watson Analytics. And while my programming skills are limited, I was able to use their in-page demo to try out some analysis of my own in the Personality Insights app.
Process
First I copied text from Russ' last six blog posts that were written solely by him and not in collaboration with anyone else. I removed basic headlines, image captions, and quotes from external sources. Then I inserted the text into the Personality Insights demo.
In seconds, Watson created a "strong analysis" of Russ with a breakdown of more than 50 personality traits as well as a small paragraph and bulleted list description of him.
The analysis was interesting, but overall didn't seem to necessarily describe Russ, as shown by some staff members openly laughing at the results. Each trait is given a percentage that designates how high the trait is. According to Watson, Russ is high on intellect, curiosity, and sympathy; but was low in categories such as emotionality, self-expression, and harmony. Meanwhile, the summary seemed at times to almost be descriptive of how we hope that WCET is seen by our members:
"You are philosophical: you are open to and intrigued by new ideas and love to explore them. You are assertive: you tend to speak up and take charge of situations, and you are comfortable leading groups … Your choices are driven by a desire for discovery … You prefer activities with a purpose greater than just personal enjoyment. And you care more about making your own path than following what others have done."
Points to Russ on his ability to convey the WCET spirit well through his writings on our behalf.
A Wider Look:
Since the text I used from Russ is information that he wrote on specific issues and events related to ed tech, I wondered if it didn't really define him personally. I decided to analyze a secondary writing sample from Russ to see if I could get better insights on him rather than on his writing on behalf of WCET.
For anyone who reads Russ' Announcements on the WCETnews email list, you will know that at the end of each announcement for over a year he has tagged on a brief movie recommendation. I collected thirteen of these paragraphs written over the past year, which added up to 2,568 words to be analyzed (a "decent analysis" according to Watson). In summary, this version of Russ is simply "unconventional." He also is "likely to like musical movies," and is "unlikely to prefer style when buying clothes." This version of Russ has a much wider imagination than "blog post Russ," but has a lot less self-efficacy. It's unclear if this version of Russ is actually a better or even decent representation of the real thing. In fact, Russ suggests that we might be better off just reading his horoscope.
To properly demonstrate all the strange machine analyses of both versions of Russ, I created the graph below with a breakdown of the most interesting categories: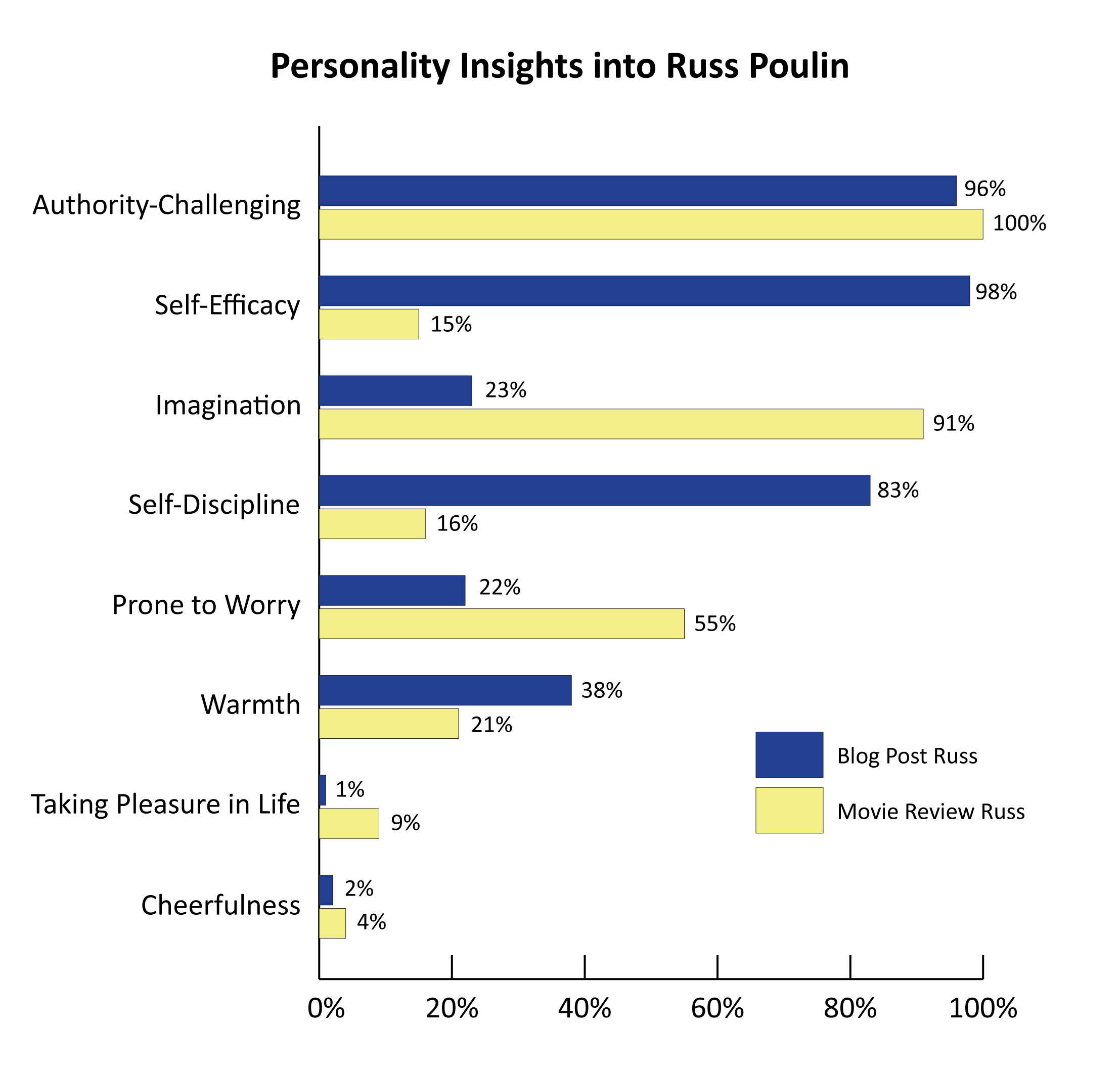 Apparently, despite his many trips to the movies, Russ is still doing a poor job of taking any pleasure in life.
Then again, it's unclear exactly what Watson was looking for with this trait, and whether it understands the concept of going to the movies.
In Conclusion

I'm not sure what to make of the overall results.
There are certain results that do make sense:
Russ does have a high intellect, and when critically clarifying the Education Department's definition of 'reciprocity,' why shouldn't he be authority-challenging?
Alternatively, the results that do not describe Russ could be explained with the fact that I used a small data set and that neither writing sample necessarily defines him very well.
Perhaps, it is still concerning to imagine how we can be using machines to analyze people on a large scale when the results are still so imperfect. Perhaps, we need more samples. Perhaps we should see this as a cautionary tale that we should be careful how we use these immensely powerful tools.
Or maybe this could just be a hilarious new way to look at our beloved, bat-wielding, policy guru, Russ Poulin.
---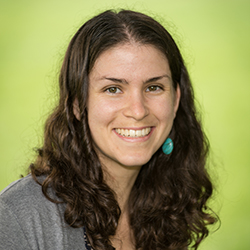 Rosa Calabrese
Coordinator, Digital and Project Services
WCET
---