You really should have been in Denver at WCET's 29th Annual Meeting…or "family reunion" as Mike Abbiatti liked to call it. If you were there, you probably did not catch every session and every conversation. Let me help.  I'm here to provide some highlights of the Annual Meeting. Thank you to my WCET team members and WCET leadership who contributed their notes and takeaways for this post.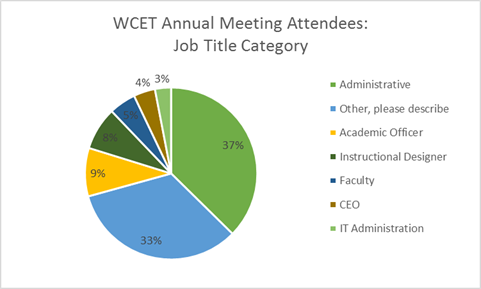 There were 436 attendees at the Annual Meeting this year representing 45 different states from all over the U.S. Attendees also represented a wide range of higher education jobs. Railing against conventions, about a third identified with the mysterious "other" category.
Wednesday, October 25th
Wednesday morning was filled with pre-conference workshops.
I was thrilled to be invited to the Academic Leadership Forum, a meeting of chief academic officers. This year Tricia Bertram Gallant, Director of the Academic Integrity Office at UCSD presented on academic integrity. My takeaways:
Our students are human beings, not a morally corrupt generation. They may make bad decisions under pressure and cheat in class or on an exam.
Cheating can be a teachable moment to help students learn from the experience (and apply to future workplace).
We should keep academic integrity policies fair and efficient.
We should reward faculty/instructors for including integrity in research and teaching.
During the opening, Mike Abbiatti, Executive Director of WCET, awarded this year's Richard Jonsen Award to The Honorable Peter P. Smith. This award, named after the WICHE Executive Director who founded WCET in 1989, is given annually to a WCET member whose career has been committed to improving postsecondary education through innovative uses of technology and for exceptional service to WCET.
Our keynote this year was given by Mike Hess, Founder and Executive Director, Blind Institute of Technology. Mike entertained us with a thought-provoking presentation on sensory capabilities. He challenged us to become better professionals and educators by:
Requesting the first half of meetings be "tech free zones."
Focusing on clarity in our communications.
Embracing different presentation styles/types that meet the communications needs of everyone (leverage audio, video, tactile, etc.).
Luke Dowden, University of Louisiana at Lafayette, commented that Mike's presentation reminded him of the FISH! Philosophy principle of "Being Present," when he stated that our brains "are single threaded processors" and can only process "one attention rich input at a time." Luke is refocusing his efforts of being less distracted and more present in all his meetings.
Great talk by Mike Hess of @BlindInstituteT at #WCETOpening at #WCET17. #sketchnote pic.twitter.com/EnDCbSJGPJ

— Kara Monroe (@knmtweets) October 25, 2017
Next up: concurrent sessions, such as Accessibilities' Role in Postsecondary eLearning, a partnership between OLC and WCET. Cyndi Rowland, Associate Director, Center for Persons with Disabilities, Utah State University, provided a list of eight common expectations that are expressed by the Office of Civil Rights in their findings against institutions. Cyndi will continue this discussion in a post for WCET Frontiers this month. There seems to be interest in OLC and WCET presenting/developing additional accessibility resources around:
What is required of institutions by law?
What are best practices, regardless of what the law says.
And, what influence can our members have on vendors to provide products that are already in compliance?
Purdue University's Margaret Wu and Amy Haston provided advice and strategies for ending a relationship with an Instructional Technology. Participants discussed challenges when "calling it quits" and the presenters showcased examples of phasing out tools. Check out EdSurge's coverage of the session.
During an Ask the Expert Session, education experts discussed state higher education regulations and policies. Both Evie Cummings (University of Florida Online) and Van Ton-Quinlivan (California Community Colleges) reminded attendees about the importance of clearly defined and applied outcomes measures for higher education.
Jessica Knott and Ryan Yang from Michigan State University described the advent of the MSU Hub for Innovation, including their agile process for large scale campus projects, open working space, project boards, and feedback processes. The MSU Hub is a great model for campus-wide, transparent collaboration.
Thursday, October 26
Thursday started bright and early for the WCET 5K crew (you go runners!).
Bummed to miss the run this morning, looks like a great group! #WCET17 #wcet5k pic.twitter.com/7JFNooFmwU

— Megan Raymond (@meraymond) October 26, 2017
During the general session and breakfast, we heard from inspiring, female, recent graduates in computer science, who shared stories about STEM classes and career prospects and trajectories. They suggested how we, as higher education professionals, can better support women in STEM fields: bring more coding opportunities into all classes (increase interest in tech fields for all students), increased cross-curricular collaboration, discussions about failure, and mentoring. Thank you to the National Center for Women and Information Technology (NCWIT) for helping us put together this amazing session!
After he co-moderated the session, Joe Garcia, President of WICHE, announced the second annual Digital Inclusion Award. This Award is a unique recognition of an individual, organization, or program having shown significant impact on low-income and/or first-generation learner populations through digital inclusion.
I may be biased, but I enjoyed the session on the #DLNChat (granted, I was presenting). Participants engaged in an interactive workshop on using social media professionally, development of a Twitter based professional learning community, and we ran a mini-chat in the room. Thank you to Michael Sano and Renee Franzwa, my co-facilitators.
Did you know WCET members have a new benefit? The e–Literate Big Picture subscription service is designed to help institutions track the changing landscape in important learning platform topics and make sure that the decisions an institution makes today will still make sense tomorrow. Mollie McGill, WCET, and Phil Hill, E-Literate, discussed this new benefit. I understand there was also beer. And the hashtag was #BeerPuppy. What more can you ask for in a conference session?
At lunch, WCET awarded the 2017 WCET Outstanding Work (WOW) Awards and the Sally M. Johnstone award.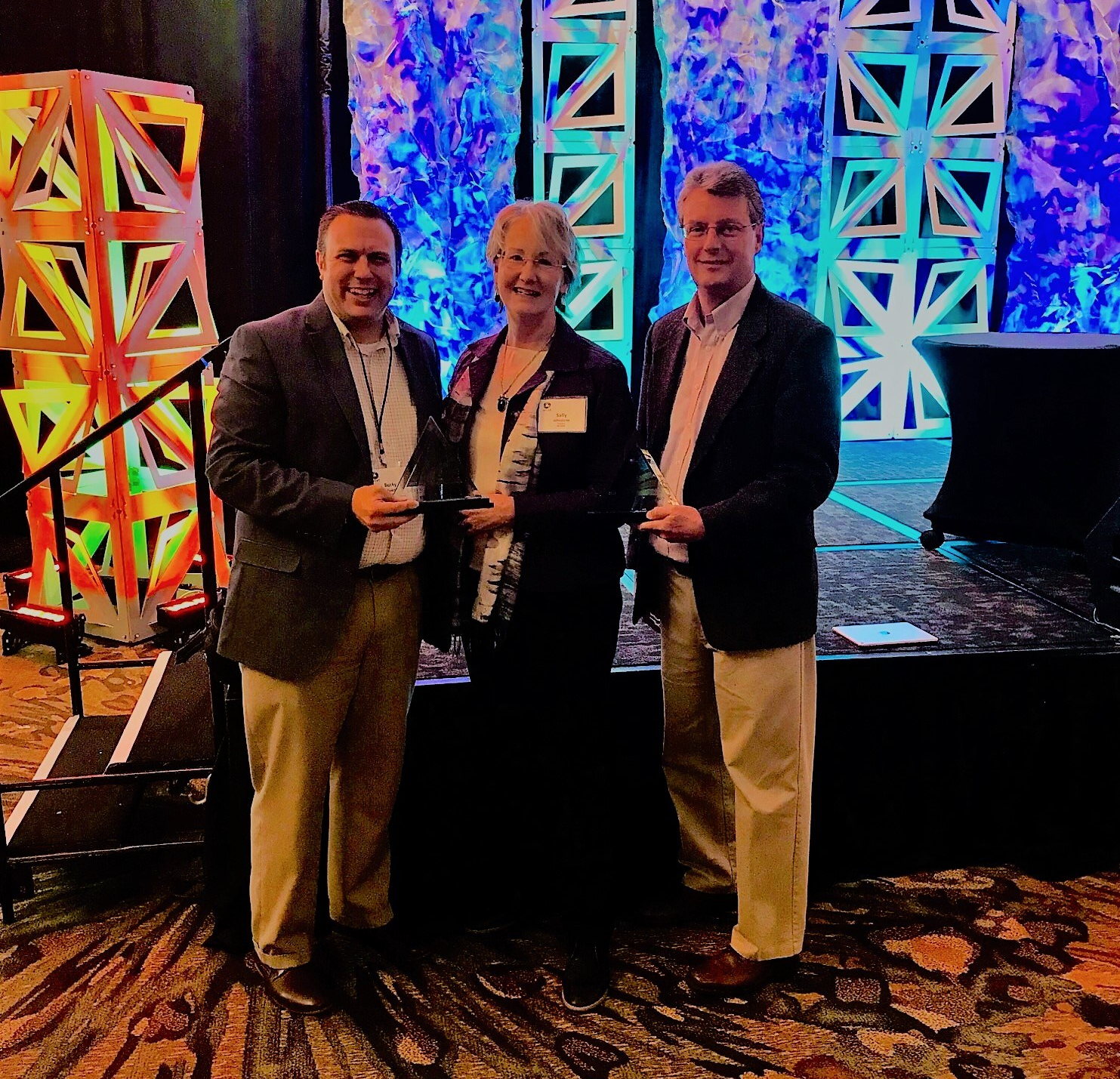 Congratulations to University of Central Florida, Blackboard Inc., Oregon State University Ecampus, and Healthcare Learning Innovations, a division of American Sentinel University (2017 WOW award winners) and to Dr. Bucky Dodd, 2017 Sally M. Johnstone awardee. Thank you to our wonderful MCs: Leah Matthews, Kara Monroe, Dale Johnson, and Mike Abbiatti.
Wednesday afternoon, WCET welcomed several federal higher education experts and officials to discuss administration higher education priorities and updates. According to Ken Salomon (Thompson Coburn), the House Committee on Education and Workforce will release the first version of a reauthorization of the Higher Education Act in the next few weeks. The Senate is behind on working on the bill. Many feel final action is unlikely until 2019. The education technology community needs to make its wishes known with a common voice. WCET hopes to help fill this "policy void" however we can.
Our higher education press keeps us updated on higher education stories, what a big job! I was thrilled to help moderate a panel with Jeff Borden and our colleagues Jeff Young, Senior Editor from EdSurge, and Phil Hill e-Literate Co-Publisher. With questions on everything from Regular and Substantive to higher education in 2025 (college classrooms will look different due to enrollment changes and shifts to holistic student support models).
I joined other attendees to hear more about the recent Office of Inspector General recommendations regarding WGU and possible ways the distance education community can move forward. Thank you to the panelists, who discussed the history of 'regular and substantive interaction' and the issues raised by the audit. These findings should be of concern to all distance education providers and competency-based education institutions, whether distance or face-to-face. It is expected that the Department of Education will not accept the recommendations in the Audit Report.
I had a wonderful time at the Young Professionals meetup and sock-swap. Everyone who brought [new] socks exchanged them for a pair brought by another attendee (I got great fuzzy socks that will be useful this winter).
Spoils of the #WCET17 sock swap networking social! pic.twitter.com/SHXzzJ3Q4W

— Lena Patterson (@lpatter10) October 27, 2017
Thursday night group dinners, one of my favorite WCET traditions, were a blast! I enjoyed walking around Denver with my group, chatting, and eating great food.
Friday October 27
Friday morning began early for WCET yoga attendees, our Steering Committee, who met for a morning working meeting, and those who attended the networking breakfast.
I then attended the EdSurge hands-on workshop digging into the problems that can be solved through digital learning practices and products. I enjoyed hearing about challenges other institutions face. For example, my group wanted to work on retention of underrepresented/underprepared students. This workshop was an excellent example of using design thinking to collaboratively solve problems.
Honestly, my favorite part of WCET 2017 was the Stump the Expert Session. Our game show host/session moderator, Van Davis, entertained us by attempting to stump our higher education experts: Myk Garn, Stacey VanderHeiden Güney, and Tanya Joosten. Our esteemed judges, Russ Poulin, Nick White, and Cecilia Retelle Zywicki, withstood several attempts at bribery, and, I'm sure, judged our experts answers purely based on answers to several audience questions. Questions ranged from new credentials , likely uses of Artificial intelligence in higher education, and how higher education will look in 2030.
While poor Myk lost this year…
Lost @ stump-the-expert at #wcet17 #sad #loser. Go bit-credit. See y'all in Portland!

— Myk Garn (@eduAfterNext) October 27, 2017
Tanya was crowned (is that the right word?) the 2017 WCET Expert!
.@tjoosten declared the top expert at #wcet17. Thanks for sharing your expertise Dr. J. pic.twitter.com/dUhUBaaSvT

— Russell Poulin (@RussPoulin) October 27, 2017
The Annual Meeting is a once in a year opportunity to connect with extraordinary folks in higher education and have real conversations about the issues that face us. Thank you for a great family reunion.
#WCET17 would not have been such a wonderful success without YOU our #WCETFamily. Thank you for joining us in Denver, CO! pic.twitter.com/ewW7yjISGo

— WCET (@wcet_info) October 27, 2017
Next year, see you in Portland, Oregon, where you can experience the original Voodoo Doughnut. Oh yes, and have another family reunion with your edtech cousins.
Enjoy the day,
Lindsey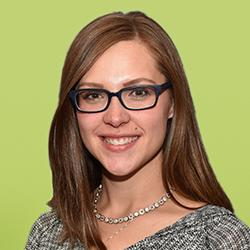 Lindsey Downs
Manager, Communications, WCET
@lindsey0427
---