Welcome today to Abbey Elder, the Open Access & Scholarly Communication Librarian for Iowa State University, who is here to discuss the development of a series of videos about open education. Abbey's post today provides a wonderful outline for how you could create your very own series of educational videos, including an open access flowchart for video creation and publication.
Thank you to Abbey for today's post and resources, we appreciate you sharing your experiences, practices, and resources!
Lindsey Downs, WCET
---
As a librarian specializing in open education and open access, I've spent a lot of time thinking about how professionals like me can engage with and learn more about these topics. One way I have attempted to make the concept of open education more approachable is through the development of my new handbook, The OER Starter Kit; but before I had even dreamt of writing a book, I made a series of short videos about open education. In this blog post, I outline my video production process and how you can apply the lessons I learned to your own video projects.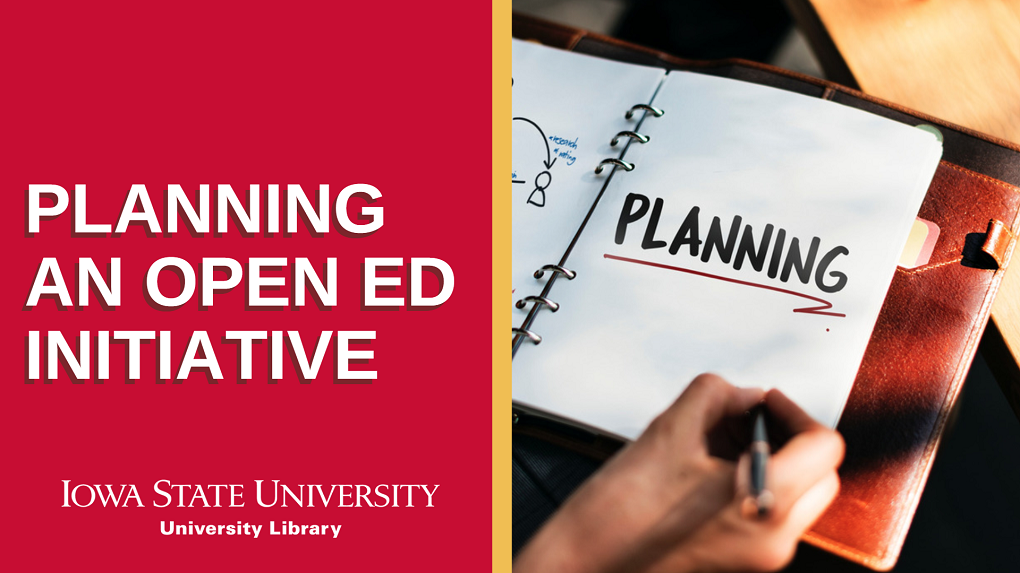 Streaming videos are not a new thing in the world of open education: there are many recorded webinars and conference presentations available online for those who want to learn more. However, with the exception of my own videos and the wonderful video series on OER by The Council of Chief State School Officers, it can be difficult to find short, informative videos for newcomers to open education.
My Work
In late 2017, I joined the pilot cohort for the SPARC Open Education Leadership program, an innovative professional development opportunity for librarians working in open education.  When the program started, we were given the option to reflect on weekly readings in one of two ways: we could write a blog post or make a short video about what we had learned. If you've ever tried to draft, script, record, and edit a video in the course of a week, you understand why I was the only member of the cohort to choose the latter option.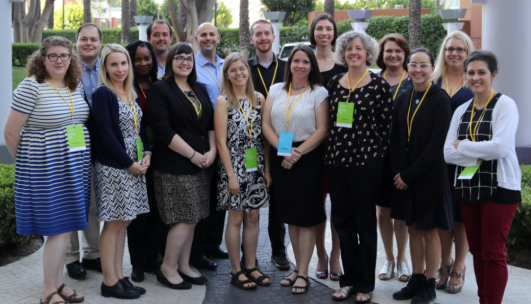 My project started as a series of eight videos. I created one video for each module covered in the LeadOER program. They ranged in length from three minutes to eight minutes long, ending with "Open Education Leadership: What I've Learned & Why It Matters." Since they were originally developed and shared, my videos have been added to LibGuides, shared on social media, and used as a reference for faculty.
Video Production 101
If you're interested in making instructional videos, there are many excellent resources available online. I would recommend looking into multiple options to see what fits your style best, but if you like the format of my videos, here is a breakdown of my process:
Reflect: Ask yourself what you know about this topic, and what you are trying to convey. Is there more you need to learn before you can effectively explain the topic at hand? Locate additional resources that you can cite or link to in your video.
Script: Consider how you should introduce and navigate your topic. In what order should you address each item? What tone should you use? I do not edit my scripts; instead, I adjust my language during the recording process.
Record: Decide on an audio recording and editing software. I recommend Abode Audition or Audacity. Remember that recording audio takes time. You may need multiple takes and that's okay. This process gets easier with practice.
Create: Create any visuals you need for your video. This may include slides (I use com and Unsplash for the slides in my videos), screen capture, or traditional video recordings. You can also use this time to locate background music (I use Blue Dot Sessions in most of my videos).
Edit and Export: Compile your audio and visual files, add music, and cut any segments that no longer work. I use Adobe Premiere for this process, but there are free alternatives available.
Upload and Finish: Upload your video to your preferred platform and add captions, metadata, and a description of the video's content.
My workflow is represented in the flowchart below, which is licensed CC 0  for anyone who wants to reuse or adapt it.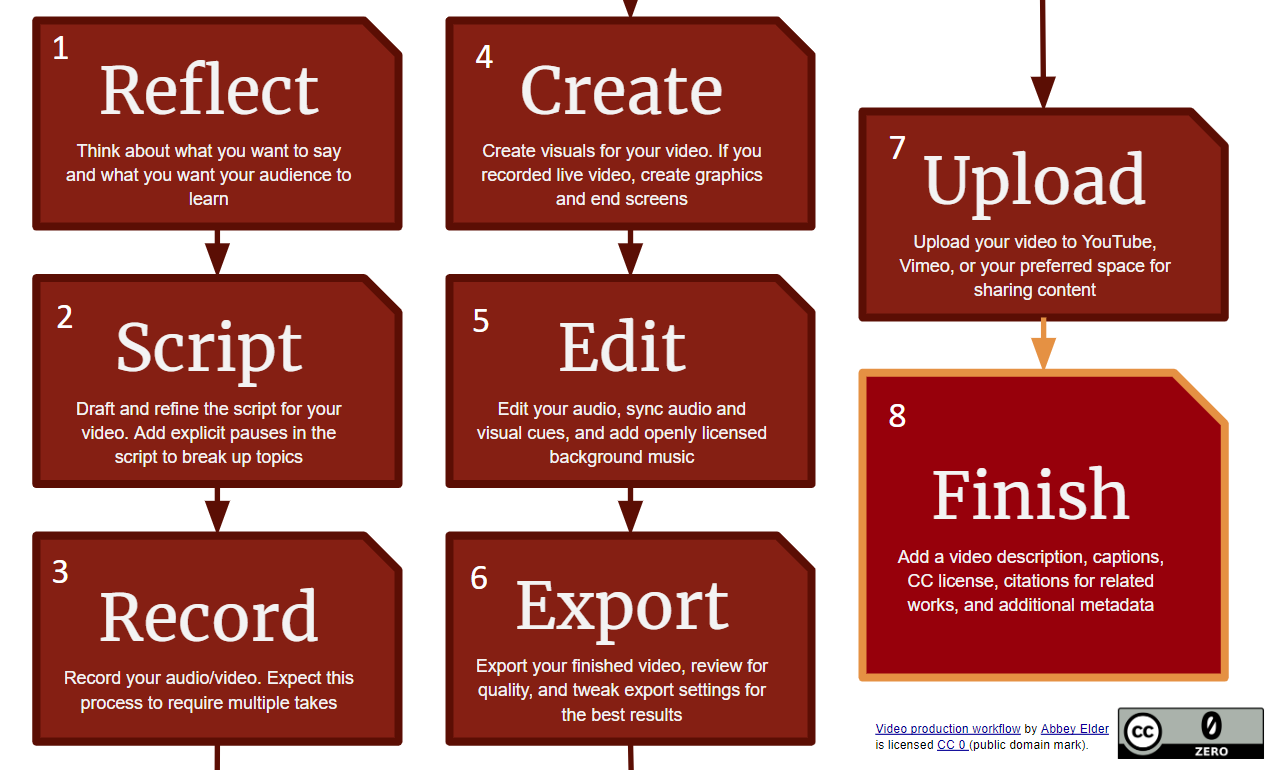 Lessons Learned
Now that you have a grasp on my process, let's talk about what I've learned. As I like to say in all of my talks, "never build what you can borrow." This is true of negative experiences as well: learn from my mistakes, don't make them yourself.
Keep it consistent. If you are aiming to make short, informative videos like mine, keep them under six minutes in length. This will ensure that more people watch your content through to the end and get the most out of your work. Whether you want to make long-form or short videos about your work, you should keep the length of your videos consistent.
It is okay to delete. If you no longer agree with a past piece of work, or if you feel that work is not accurate, it is okay to change your mind, delete your video, and create something new. I edited and re-uploaded many of the videos I created for the LeadOER program the following year. You shouldn't feel bad for adapting and updating your own work, even if it means taking down the original.
Remix, reuse, and remember to keep a back-up. Keep back-ups of your content. This is incredibly useful if you ever want to edit or remix your content. Keeping a back-up of your script can make it easier to adapt your work in the future or revisit a topic. Having editable files on hand can also make it easier to share your work openly!
Instead of listing many more lessons I've learned here, I'll ask what you want to hear more about: is there a video project you're hoping to start soon? What are you working on? Are there any topics you'd like to see me tackle in my next video? Let me know, and I'll address your questions!
I hope that this blog post has been useful for those of you considering making educational videos. While my process is definitely not applicable for everyone, it works for me and I'm happy to share about my experiences to help others achieve their goals.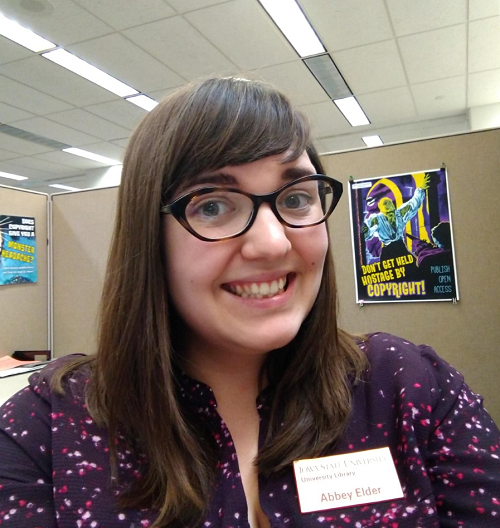 Abbey Elder
Open Access & Scholarly Communication Librarian
Iowa State University
Abbey Elder is the Open Access & Scholarly Communication Librarian for Iowa State University as well as the liaison librarian for Anthropology and Sociology. She is responsible for providing support to instructors on campus who are interested in OER, open access, and related topics. As part of her work, Abbey chairs the cross-campus Open & Affordable Education Committee at Iowa State.
---