Women's History Month: Breaking the Bias in Higher Education  
Published by: WCET | 3/10/2022
Tags: Every Learner Everywhere
WCET + Every Learner Everywhere Celebrate Women's History Month
To celebrate Women's History Month, WCET and Every Learner invited inspiring women to share their reflections on International Women's Day's 2022. The 2022 theme is "Celebrate women's achievement. Raise awareness against bias. Take action for equality. #BreaktheBias." Barriers in higher education are being dismantled brick by brick and women are leading the way by empowering, elevating, and supporting one another.
Throughout the pandemic, a significant proportion of women were juggling multiple roles– employee, caregiver, and even teacher–often simultaneously, which left many, including me, feeling like I was doing everything subpar. Additionally, women left the workforce at a striking level. In September 2020, four times more woman than men left the workforce1. They were burned out and exhausted. Now, a few years after the start of the pandemic, we are seeing an exodus of both men and women from their positions, which is being called the "Great Resignation." This "Great Resignation" is an opportunity to challenge the models and break the bias. This is the time for the "Great Reset" as Colleen Ammerman and Boris Broysberg write in the Harvard Business Review2. Organizations, and higher education, can and must debias their systems, "The headwinds of bias diminish workers' experience at work and deprive their employers of their full contribution."
During the "Great reset" and in celebration of Women's History Month, impassioned stories of #breakingthebias are timely and relevant and, as you will find, galvanizing. Thank you to the remarkable students of Every Learner Everywhere's Fellowship Program and an Expert Network alum for sharing their stories about women who empowered, supported, and inspired them. Together we can continue to #breakthebias and celebrate women in higher education.
Aajahne Seeney, Student Fellow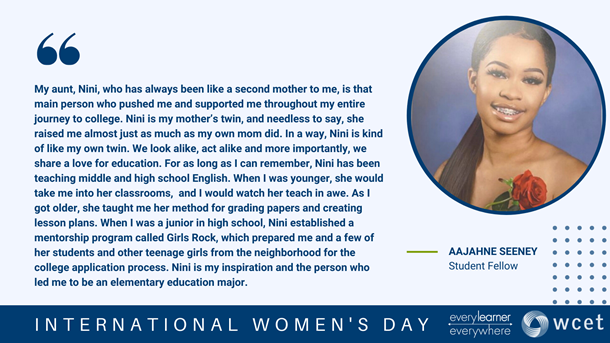 "My aunt, Nini, who has always been like a second mother to me, is that main person who pushed me and supported me throughout my entire journey to college. Nini is my mother's twin, and needless to say, she raised me almost just as much as my own mom did. In a way, Nini is kind of like my own twin. We look alike, act alike and more importantly, we share a love for education. For as long as I can remember, Nini has been teaching middle and high school English. When I was younger, she would take me into her classrooms, and I would watch her teach in awe. As I got older, she taught me her method for grading papers and creating lesson plans. When I was a junior in high school, Nini established a mentorship program called Girls Rock, which prepared me and a few of her students and other teenage girls from the neighborhood for the college application process. Nini is my inspiration and the person who led me to be an elementary education major."
---
Zaire McMican, Student Fellow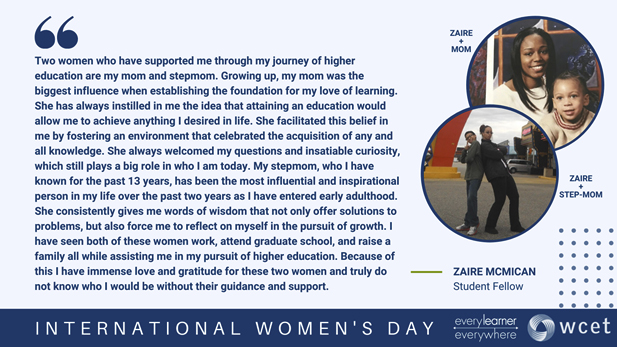 Two women who have supported me through my journey of higher education are my mom and stepmom. Growing up, my mom was the biggest influence when establishing the foundation for my love of learning. She has always instilled in me the idea that attaining an education would allow me to achieve anything I desired in life. She facilitated this belief in me by fostering an environment that celebrated the acquisition of any and all knowledge. She always welcomed my questions and insatiable curiosity, which still plays a big role in who I am today. My stepmom, who I have known for the past 13 years, has been the most influential and inspirational person in my life over the past two years as I have entered early adulthood. She consistently gives me words of wisdom that not only offer solutions to problems, but also force me to reflect on myself in the pursuit of growth. I have seen both of these women work, attend graduate school, and raise a family all while assisting me in my pursuit of higher education. Because of this I have immense love and gratitude for these two women and truly do not know who I would be without their guidance and support.
Cherise McBride, Expert Network Participant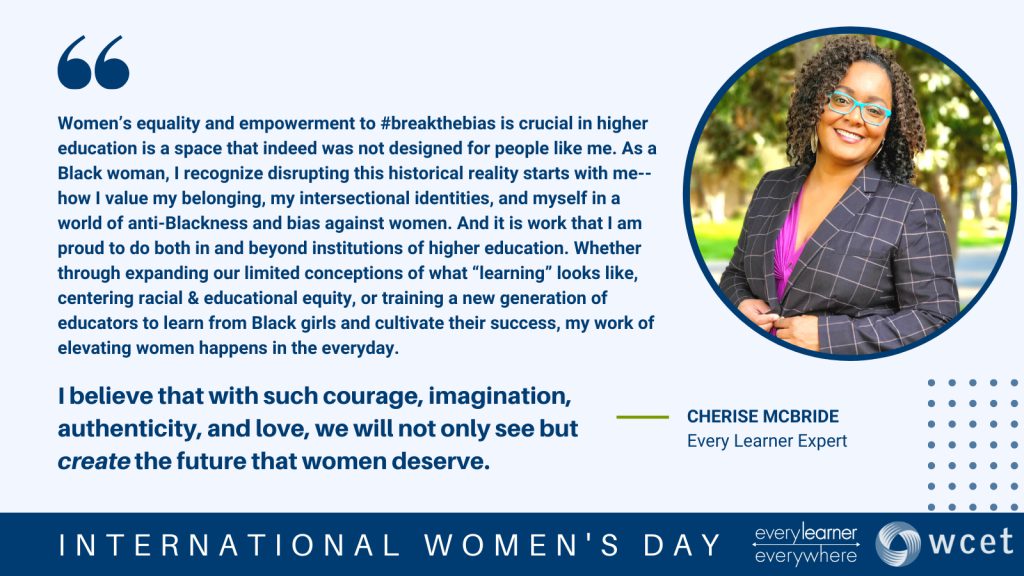 Women's equality and empowerment to #breakthebias is crucial in higher education is a space that indeed was not designed for people like me. As a Black woman, I recognize disrupting this historical reality starts with me–how I value my belonging, my intersectional identities, and myself in a world of anti-Blackness and bias against women. And it is work that I am proud to do both in and beyond institutions of higher education. Whether through expanding our limited conceptions of what "learning" looks like, centering racial & educational equity, or training a new generation of educators to learn from Black girls and cultivate their success, my work of elevating women happens in the everyday.
I'm grateful that, as I raise two Black daughters, I am not alone in designing a world where the brilliance, curiosity, and humanity of women can shine. Both locally through friends and family, and across time and space, several key women have inspired me. In common, they hold a worldview that resists hierarchy in human value and relationships, and that instead exalts reciprocity and interdependence. I appreciate Antonia Darder's Pedagogy of Love which emphasizes the process and of being human. My academic advisor, Kris Gutierrez, who reminds us to resist the Cartesian divide that would separate our minds from our cultures and bodies. Toni Morrison, whose life demonstrated radical imagination beyond the confines of the moment. And most influential of all, my grandmother, Bertha Louise, who courageously traveled thousands of miles during the Great Migration, leaving behind the familiar in order to craft a brighter future for her children and her children's children.
I believe that with such courage, imagination, authenticity, and love, we will not only see but create the future that women deserve.
Conclusion
How are you #breakingthebias in higher education, and who has inspired and encouraged you during your journey? I'm fortunate to have an incredible network of women who nudge me when I need challenge, laugh with me when I'm too serious, and support me when I'm treading water or drifting. Cheers to all of you badass women of higher education. Together we'll continue to dismantle barriers with a wrecking ball rather than brick by brick.
Footnotes
1https://www.bc.edu/content/dam/files/centers/cwf/research/Publication%20Images/COVID%20stand-alone%2012-7-20.pdf
2 https://hbr.org/2022/03/women-cant-go-back-to-the-pre-pandemic-status-quo