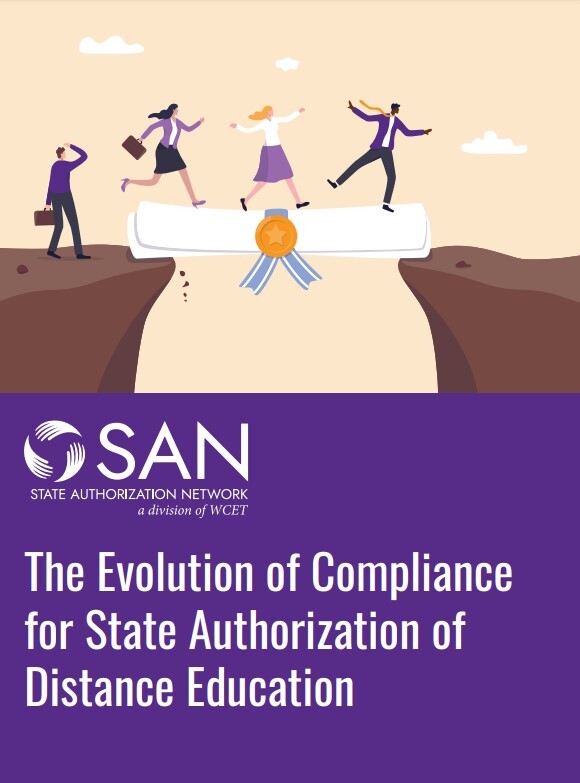 The State Authorization Network (SAN) is pleased to release a very thorough examination of state authorization of distance education through the lens of a colleague who witnessed many steps in the development of consumer protections for students participating in interstate distance education.
Today, we welcome the author of the paper, Sharyl Thompson, who offers us summarized insight into the very complicated and nuanced compliance road for state authorization of interstate distance education.
Sharyl is a long-time colleague and friend of SAN who not only witnessed but was an active participant in this evolution. In addition to the experience that Sharyl offers in her biography, which is shared at the end of the paper, Sharyl served as one of SAN's Basics' Workshop mentors for many years and has been a regular presenter and contributor to SAN. Sharyl was also among those on the initial team that worked on the reciprocity idea for state authorization of distance education that ultimately became SARA. You can read more about this initial team for reciprocity and the beginnings of SAN in our WCET Frontiers post celebrating the 10th Anniversary of SAN in 2021.
A big thank you to Sharyl for developing this thorough paper chronicling the evolution of state authorization of distance education and for sharing the following summary today on Frontiers.
Summary
Releasing today, The History of State Authorization of Distance Education is an extensive review of the origins and evolution of state and federal oversight of consumer protection regulations in higher education.
In the early years of higher education, many states had no oversight over institutions – until diploma mills entered the marketplace and, in many situations, cheated students by taking their money and providing inadequate or no education to their "students." Individual states passed legislation to oversee higher education institutions. Each state differed in the level of oversight, which activities from out-of-state institutions required some form of approval or review, and the costs for receiving the required state authorization. However, the early regulations did not address distance education, as, at that time, it didn't exist.
The History of State Authorization of Distance Education paper was commissioned by the State Authorization Network (SAN). It is a chronological depiction of the evolution of state oversight of activities conducted by in-and-out-of-state institutions. The paper begins with background on state authorization – what it is and why oversight was needed. It addresses the importance of terminology and provides some detailed examples for two basic terms: "school" and "operating." Other state-by-state differences addressed in the paper are the applications for authorization, the application processes, and the timeline for receiving a response from the state agencies to the institutions' applications.
In 2010, the U.S. Department of Education (ED) published regulations that addressed distance education for the first time. Although state regulations had been in place for years, institutions were unaware that they should have been seeking and receiving permission from individual states to conduct certain academic activities. When the ED published these regulations, institutions all over the country began to be aware of the state and federal obligations concerning consumer protection. It is challenging to describe the chain of events chronologically at the federal level due to implementation delays overridden by newer regulations and their implementation. The paper goes into great detail on the evolution of federal regulations and their impacts. Even today, ED is in the process of creating more regulations for which institutions are to abide.
A major change in interstate oversight of distance education came about after 49 states and territories, all except California, voluntarily joined the State Authorization Reciprocity Agreements (SARA). Several efforts had been made in the past to create a way for institutions to receive reciprocity for state authorization. With the initial establishment of SARA in 2013, if authorized in the home state, the institution would be authorized to provide distance education-related activities subject to the agreement in the other states that are members of SARA. The paper provides a history of efforts made, as well as the creation, acceptance, and effects of SARA on states, institutions, and students.
I was excited to be invited to write this paper. I started working in state authorization while employed at a distance education for-profit institution back in 2001. At that time, the for-profit institutions were the only ones paying attention to state authorization. There was no information sharing between institutions, so I had to learn it on my own. Although very challenging, as time progressed, I grew to appreciate the years of experience I gained through learning state authorization from the ground up. As a result, I continue to have an interest in helping other institutions learn the ins and outs of state authorization, so they don't have to go through some of the agony I experienced when no assistance was available. I am motivated by helping institutions succeed at this work.
After thirteen years of employment doing state authorization work at three different institutions, I decided to become an independent consultant, which affords me the opportunity to work with multiple institutions simultaneously. That was ten years ago. It has been and continues to be my pleasure to work with many institutions of all types to address state authorization and professional licensure issues.
State authorization work continues and will continue because of the rather frequent changes made to federal and state regulations. The newest proposed federal regulations may impact how SARA can be implemented and may require institutions to almost go back to the days when state authorization work must be handled on an individual state-by-state basis. Only time will tell . . .
---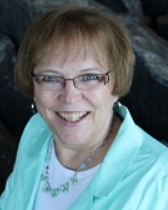 Conclusion
As Sharyl's paper explains, SAN was developed by WCET (WICHE Cooperative for Educational Technology) in the spring of 2011. The timing of this new membership group was in direct response to the release of the first iteration of a federal regulation for state authorization of distance education in October 2010.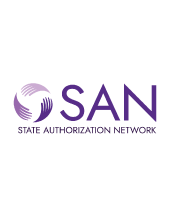 The initial purpose of the SAN membership group was to provide a place to pull together systems and consortia to collaborate on strategies and to share information about federal and state regulations related to interstate activity compliance. Additionally, members were offered the opportunity to obtain training and access to experts, including Sharyl, to help members develop compliance management strategies. You can learn more about SAN here!
Today, nearly thirteen years later, SAN still provides a platform for sharing information and strategies among the membership community. The resources developed by SAN have grown over time and are available on the SAN Website, including charts, papers, and examples of best practices to manage compliance for our foundational focus on interstate online learning. We have expanded these resources to address professional licensing or certification, interstate employment law-related responsibilities, and international compliance . SAN continues to follow and advocate for members in the development of new federal regulations and SARA Policy modifications, often in collaboration with WCET.
For those unfamiliar with SAN, we urge you to review the SAN website. If you are interested in membership, please review the Membership webpage on the SAN website. Please connect with the SAN staff for more information!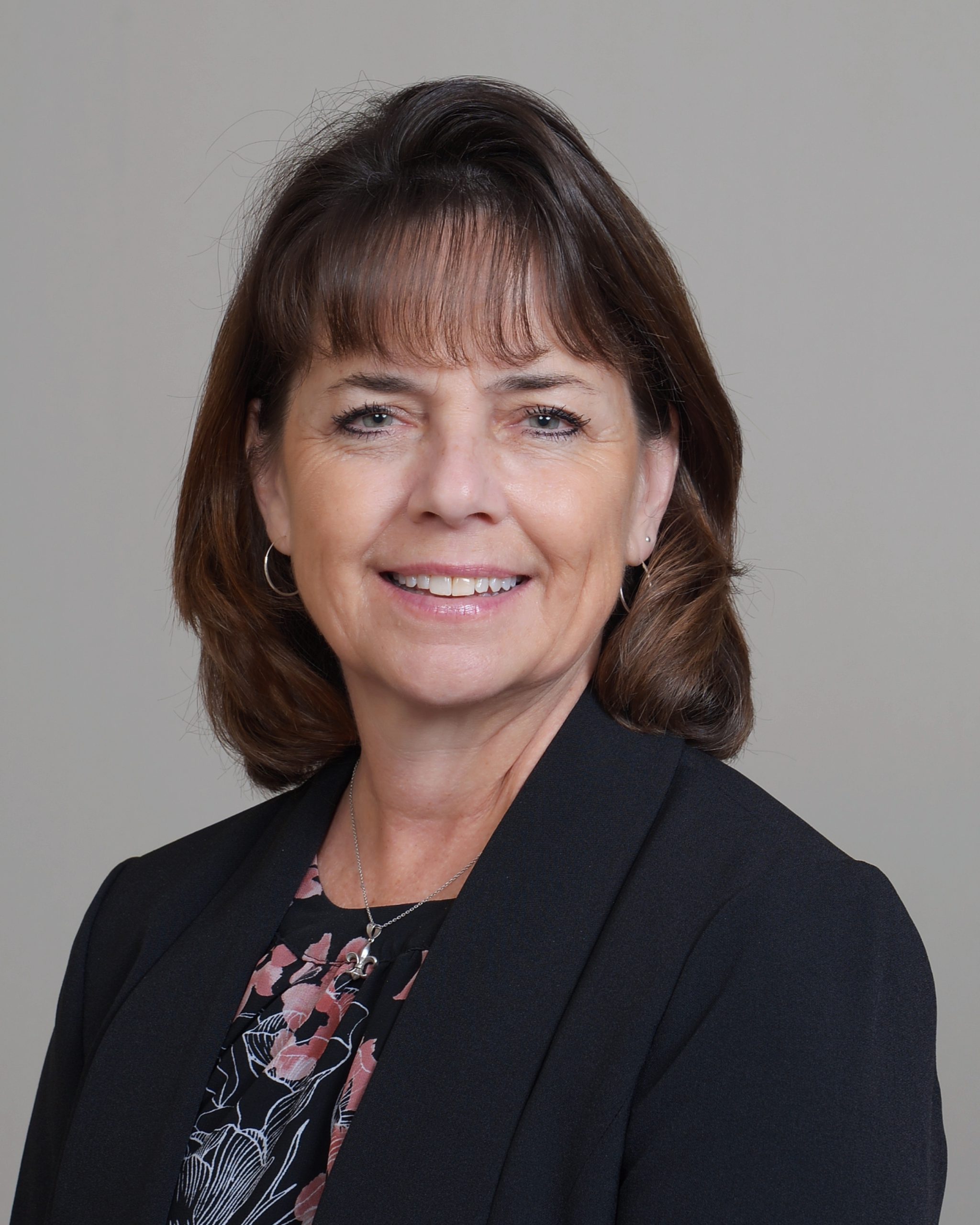 Cheryl Dowd
Senior Director, State Authorization Network & WCET Policy Innovations
---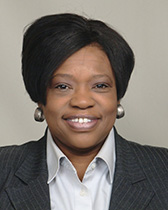 Jana Walser-Smith
Director, Interstate Compliance and SAN Member Outreach, State Authorization Network
---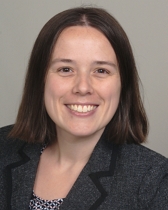 Kathryn Kerensky
Director, Digital Learning Policy & Compliance, State Authorization Network
---