Microcredentials in Higher Education—Strategizing the Journey at Your Institution
Timezone :

US/Mountain

Date :

October 12, 2022 11:00 AM - 12:00 PM

Meeting Type :

Webcast
This webcast was hosted in partnership with LearningMate. 
There is rapidly growing interest in higher education about microcredentials and badges. The why of adopting a microcredential strategy was explored in a recent WCET Frontiers blog, "Considering Your "Why"- How Developing a Microcredential Strategy Will Help Your Students (and Your University) Thrive." Microcredentials create shorter-term pathways for learners and earners. Additionally, they can aid student recruitment and retention. Microcredentials can also connect pathways and career advancement. But how do you get a microcredential initiative started at your institution? Panelists shared their microcredentialing journeys, covering: 
Where to begin.
Who should be included in the conversations?
Engaging students.
Evaluating options for microcredentials, platforms, and badges.
Defining microcredentials and outcomes.
Determining governance structure.
And more.
Speakers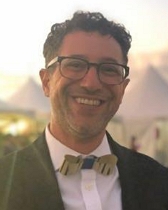 Noah Geisel
Micro-credentials Program Manager, Office of the Registrar, University of Colorado Boulder