Thank you to our guest bloggers Marianne Boeke of NCHEMS and Sharmila Basu Mann of SHEEO.  Both of their organizations share the same building as WCET, and we have enjoyed working together with them on the state authorization issue.  With funding from WCET's State Authorization Network, we've been able to support Marianne's work in helping to produce some of the reports announced below that are off-shoots of the state-by-state surveys conducted by Sharmila.
In late 2010, as the U.S. Department of Education (USDOE) announced their intentions to more closely regulate state approval of postsecondary institutions, those institutions lacked even an up-to-date, widely available, comprehensive directory of state approval agencies, much less descriptions of such agencies' authorization practices. To address this need, SHEEO, in collaboration with NCHEMS, developed and distributed the SHEEO State Authorization Survey to all 78 agencies responsible for authorizing providers of postsecondary education in the 50 states and 9 territories of the US.
First Data Collection
Last October, we completed the first data collection using this survey, and were able to publish on our website  a set of core information on state authorization practices and processes as provided by the agencies themselves. This in itself has proved to be a valuable resource to the community. In addition, we created and published three directories across all agencies:  one containing contact information; the second, student complaint processes; and the third, a summary of fees charged for authorization. We also completed an analysis of selected data elements for the agencies in the 50 US states and Washington, DC, which we presented in a webinar in April 2012 (which was archived).
Second Data Collection
In June 2012, we completed a second data collection, and posted updated surveys for each agency on our website. Recently, we have also completed updated directories of contact information, complaint processes, and fees for all agencies. While the information in these directories was primarily based on the June 2012 data, web searches, follow-up emails, and telephone calls with state agency staff were utilized to ensure that the information was up to date as of September 2012. These updated directories are now available online.
Complaint Process Report.  The SHEEO Complaint Process Report is a compilation of web links and/or explanations, for all agencies within the US (including Puerto Rico and Washington, DC), of the existing process(es) that students can follow in order to lodge a complaint against an institution authorized by that agency.
In its July 2012 'Dear Colleague' letter, the USDOE, made a change in the requirement to provide both current and prospective students with contact information for third-party complaint processes. Institutions may now post a link from their web site directly to the SHEEO Complaint Process Report and WILL BE IN COMPLIANCE with the requirement inform the student of the complaint processes in the state in which the student is receiving the education.
Fee Summary Report. The SHEEO Fee Summary Report is a compilation of authorization fee structures and possible exemptions for all agencies within the US (including Puerto Rico and Washington, DC).  This list is only meant to be a guide; for exact costs and possible associated fees for authorization, please see each agency's web site.
New Reports and Trends Across State Agencies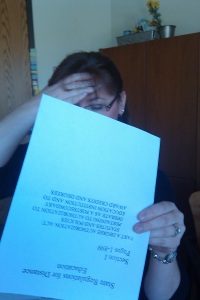 In addition to updating all surveys and directories, we have completed an analysis of selected elements of the June 2012 data, from the 50 US states and Washington, DC, that is comparable to the analysis we presented of the October 2011 data in our April 2012 webinar. We will be publishing the results of this analysis next week on our website in a side-by-side comparison report between the two data collections.
In all of the areas we examined – number and scope of agencies, external program approval requirements, accreditation requirements, physical presence triggers, exemptions – we found no shifts in the data trends, and almost no changes in the data itself, across all agencies between October 2011 and June 2012. Thus, while a few individual agencies may have decided to, say, add regional accreditation as a requirement for authorization, or stop using recruiting as a physical presence trigger, overall, state agencies are not changing much in terms of their authorization practices.
Over the past year, we have received numerous requests for an agency-by-agency report of physical presence triggers. With the June 2012 data, we have created this report, listing agencies by their use of the top six physical presence triggers – instructional activities; property in the state; recruiting activities; third-party contracts; advertising in the state; and employing faculty in the state – as well as a list of those agencies that require authorization without regard to physical presence. This report will also be published next week on the SHEEO State Authorization website.
Changes Within State Agencies
While our data shows that authorization practices have not shifted much across agencies over the last year, we have seen some important – and positive – changes in the business practices within state authorization agencies during the same time period. For example:
Due to the heightened awareness resulting from the changes to proposed USDOE regulations, state authorization agencies have been striving more diligently to maintain the currency of information on their websites.  These websites are now easier to find, more user friendly, and have contact information prominently displayed.
In a related trend, state authorization agencies are providing more transparency with regard to the policies and regulations surrounding state authorization.  State agencies are increasingly using their state authorization web sites to post the rules and regulations of state authorization, the particular triggers for physical presence for their state agency, their specific fee schedules, frequently asked questions documents, and/or steps to authorization.
Finally, we have observed better consistency in responses from state agencies to institutions in regards to questions concerning state authorization, easing the burden for institutions seeking to become authorized in those states.
While it is true that some state authorization agencies have enacted more complex or expensive procedures for authorization, other agencies have concurrently simplified their procedures or eliminated certain complex elements.  We have fielded a few questions from institutional representatives about states that have shifted their state authorization agencies to the offices of the Secretary of State.  In reality, only two states have done so – New Jersey and South Dakota – and in both of these states, multiple agencies are responsible for state authorization depending on the type of institution or type of programs offered. A third state, Alabama, has always included the Secretary of State as one of three agencies responsible for state authorization.  Overall, our sense is that the balance across agencies – in terms of complexity of the authorization process, level of fees, number of agencies per state, and authority to authorize — has remained relatively the same.
We are currently gearing up for our third data collection, to be completed in December 2012.  We look forward to providing you another update in early 2013.