As part of our series on MOOCs, WCET asked Pat James Hanz of Mt. San Jacinto College to provide an overview of their experience in developing and offering their first course.  We also asked her to provide some lessons learned in case your instituion is interested in joining the fun.
Russ Poulin
In May, Mt. San Jacinto Community College conducted the first basic writing MOOC for Coursera.  Our intention was primarily to provide a resource for students who did not assess into college level English.  We also thought that anyone who needed to brush up on grammar and language usage skills could make use of the course. The title of the course is "Crafting an Effective Writer:  Tools of the Trade."
The next offering of the course will begin on Sept. 21, 2013.
We encourage you to view a Youtube video of a sample lecture  or view our "Good-Bye" video.
———————————————————
Where are we going with this MOOC stuff?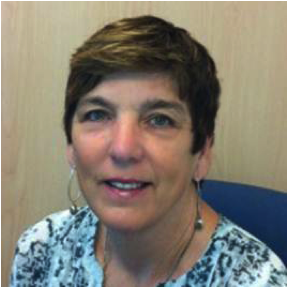 This is not a question I ask lightly.  There has been a huge buzz about MOOCs and how they will be either the savior or downfall of education and/or civilization!  I've been here before.  The first connectivity in the early days of the Internet made many of my colleagues think the end of the teaching world surely had arrived.  I remember hearing them say that they would no longer have jobs!
Most of them, if they haven't retired, still have teaching jobs.  Ahem–what are we hearing now?  The same cries.  For many teachers the MOOC methodology is frightening.  For me, it's exciting!  Each time we step out and try something new, we become more alive.  Each time we reinvent the way we teach, we become more aware of learning.  I welcome the new ideas and grab the opportunities to experiment and grow.  This philosophy is responsible for my journey into MOOClandia.
There's always a story!
This one starts in the Spring of 2012 when I was asked to participate in a meeting of state level officials the purpose of which was to consider how online course delivery, including MOOCs, could provide greater access to California students.  The conversation was about how to offer courses more broadly across the educational sectors of the state and particularly how the California Community Colleges could use their over ten years of distance education expertise to make something happen.
I came home from that meeting with an idea that I called "The Perfect Storm."
We were experiencing a state-wide economic crisis that left students waiting at the registration door without enough classes to go around.  Cuts were being made at every college.  At ours, the entry level courses that meet the needs of students needing to remediate into college level courses were cut in favor of the transfer level courses.  Our big concern was what do people who don't assess into college level classes do now?
I sat down with two of our English faculty members and we decided to try to put together an open course designed to help students assess into freshman composition or at least, into the next level down instead of three levels below the transfer level comp course!
I was put in touch with Daphne Koller at Coursera through the people at our state chancellor's office and had a series of conversations with her about "educating the world" and serving students such as ours in the process.  She agreed to have Coursera host our course, if we could build it. We started planning.
Within weeks, there was a request for proposals from the Bill & Melinda Gates Foundation that addressed just what we were trying to do, build entry level classes.  We applied and were funded for $50,000 to develop and implement a basic writing MOOC in partnership with Coursera.
The Production:
I immediately began to research the style of courses in Coursera and realized that our expertise in creating quality "traditional" online classes would really help in this new effort.  Course design was primary in my mind as a direct route to building a quality class.  The classes in Coursera were as diverse in their design as in their topic areas.  I saw everything from the "only video lecture" courses to incredibly detailed interface designs that would be daunting to a beginning online student.  Our design experience was well suited to the beginning level student we imagined would enroll in our grammar and language usage course.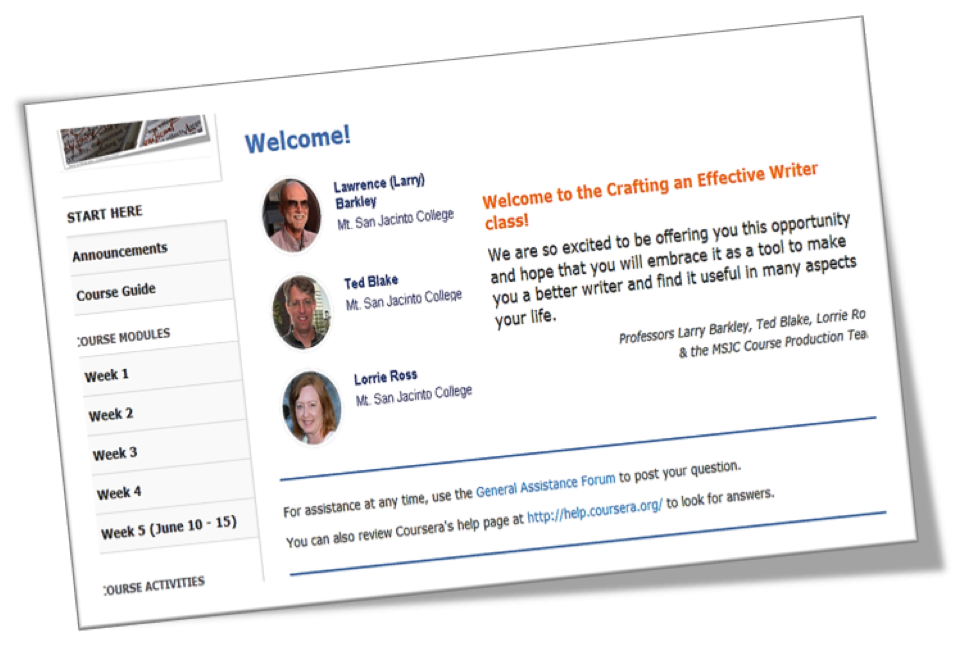 The team was assembled and included our own video production faculty (2), English faculty (4), instructional designers (2 part time faculty with expertise), and me.  I realized about a month in that I needed a project manager who could get things done and one of our designers became the PM. I switched to design support!
The development went slowly, too slowly!  Lots of time was spent on the video production of the lectures and the written content.  We weren't done with the whole course when it opened!  That's hard to manage and not what I would recommend.
We trained seven of our writing center tutors to help us monitor the discussion forums when the course opened and all of the rest of us were involved there, too.  There were a total of 14 staff members involved in answering discussion post questions.
The Students: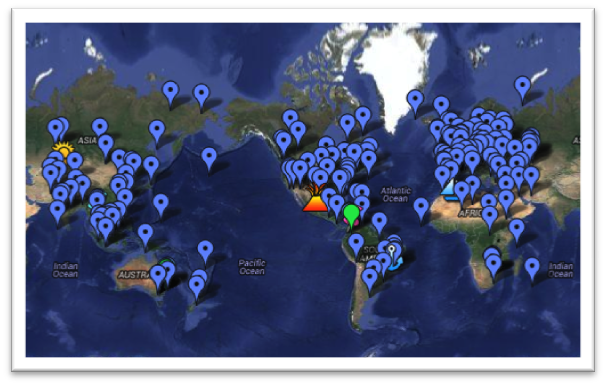 Holy cow!!!!  We watched in amazement as our Google map grew to show that our students were coming from every corner of the world.  For almost a month, enrollment grew by 1,000 people per day!
We wondered who these students were and about 10,000 took a survey in the beginning with the results shown on the right.
We also found out that over 65% were English as a Second Language (ESL) students.  We thought we'd have some, but the number was a bit startling.
The Results:
We ended up with over 40,000 enrollees with about 30,000 active users of the course.  More than 3,500 completed the final peer review assignment (required to pass) and about 2,700 actually received a certificate of accomplishment.
The data that was available from Coursera was difficult to format and we are still trying to correlate students to answers from both the entry and exit surveys.  We have asked Coursera to consider the problems we have had and said we are more than willing to work with them to develop solutions.
Amazingness!
The good stuff that has come of this would take days to write about.  We received compliments from students for about every aspect of our course.  The design was easy to follow and many appreciated our first unit on being a successful online student.
The big favorite, and tone setter, was the quality of the video lectures in the course.  Both the production and content were great, but it was the interaction and personalities of the two professors, Ted Blake and Larry Barkley that made the class so wonderful.  We had them talking together in the video lectures and it really was a good format for delivery.  Students loved both guys and commented often about their humanness.
Another big compliment from students was that we were so responsive.  With 14 people able to participate in the discussions, students felt tended to. We stand by our decision to be as present as possible in the discussion forums.  Our reading material was an excellent supplement to the video lectures and the discussions were interesting and prolific.
When one student from Jordan said, "Before this kind of opportunity, education for me was just a dream," we were hooked.  Another young girl in a discussion of ages of the students noted that, "Knowledge has no age."  My favorite comment was that we had infected the class with a virus and that now everyone had the "grammar flu".  I understood exactly what she meant as I struggled to correct every bit of my writing in the responses I provided in the forums! We received 180 thank you letters posted in an album style cloud website that was organized by another student.  We just received an envelope filled with souvenirs from Australia from a student in appreciation for our team.
Lessons Learned
You have to be thick-skinned. The three students who like to complain about everything in a small class, are magnified by thousands in a huge class.  Let the other students shut down the complainers. You don't have to do anything!
It is good to have online teaching experience before you start this kind of course, but designing one of these is different in many ways.  What's the same?  Organization is EVERYTHING.
Many of the professors from major institutions who are now teaching in MOOCs, have little or no prior online teaching experience.  We think the MOOCs, with their huge public relations potential, appeal to the university administration, but the joyful and exciting experience of teaching thousands of students from all over the world grabs the imagination of the teachers.
Grading is impossible so you have to rely on machine grading and you have to have detailed rubrics developed for the peer reviewed assignments.  The Coursera platform randomizes and creates the groups, the highest and lowest scores are dropped out of the final grade.
Even if a course is not for credit, students are crazy about points.
Being available and human is a must.
Be prepared for a life changing experience.
During a presentation to teachers, I was asked, "Isn't this just passing on information rather than educating people?"  My answer was that we absolutely educated people. There is no doubt in my mind that the course we offered was education, complete with interaction, innovation, inspiration, and, yes, information, too.
What do you think we should be doing now?  Should we investigate or castigate?  Consider MOOCs in light of all of the other technology innovation we have experienced in the past 15 years.  How is it different?  How is it similar to other changes?  Where are we going?
Pat James Hanz
Dean of Instruction:  Library and Technology
(and Distance Education, too!)
Mt. San Jacinto College
pjames@msjc.edu