Today we welcome our WICHE colleague, Christina Sedney, project coordinator for the Adult College Completion Network (ACCN), as she shares with us the changes to IPEDS reporting that will improve, if not drastically at least incrementally, the data we have on non-traditional student outcomes.  This post was first published on the ACCN blog – we are so very thankful to Christina for allowing us to share it with you.
IPEDS Changes Will Improve Available Data on Non-traditional Students, yet a Comprehensive Picture Remains Elusive ­­
The Integrated Postsecondary Education Data System (IPEDS) is the primary source for data on colleges, universities, and technical and vocational postsecondary institutions in the United States. The system is managed by the National Center for Education Statistics (NCES) and provides publically available data on all postsecondary institutions which participate in federal student financial aid programs. NCES collects data on a variety of topics—such as enrollments, institutional prices and graduation rates—from institutions through a system of interrelated surveys. While IPEDS contains a wealth of information and serves as an important resource, it has long had a serious drawback for those interested in returning adult students. Critical topics such as graduation and retention rates have been calculated using only "first-time, full-time" students, excluding those with prior college credit who return to complete a credential. However, NCES will implement a new Outcome Measures component including non-first-time and part-time students in their 2015-2016 Winter data collection.
The addition of the Outcome Measures comes after the U.S. Department of Education's Committee on Measures of Student Success' 2011 recommendation that IPEDS "broaden the coverage of student graduation data to reflect the diverse student populations at two-year institutions." The U.S Department of Education responded with the release of an action plan to improve its measures of postsecondary success (at both two- and four-year institutions). The department then convened a series of Technical Review Panels (TRPs) to develop proposed changes to the IPEDS data collection process, solicited public comments on the TRP recommendations, and ultimately received clearance to implement the new Outcome Measures in the 2015-2016 data collection.
Two- and four-year degree-granting institutions will report on four cohorts in the new Outcome Measures survey: first-time, full-time students; first-time, part-time students; non-first-time, full-time students; and non-first-time, part-time students. The inaugural survey will have institutions report on the outcomes of degree/certificate-seeking students in each of these cohorts who entered school in 2007 after six years (2013) and eight years (2015).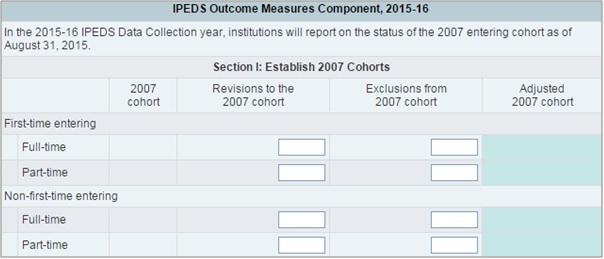 The Outcome Measures will track whether students: received an award within six years, received an award with eight years, are still enrolled at their initial institution, are enrolled at another institution, or have an unknown enrollment status.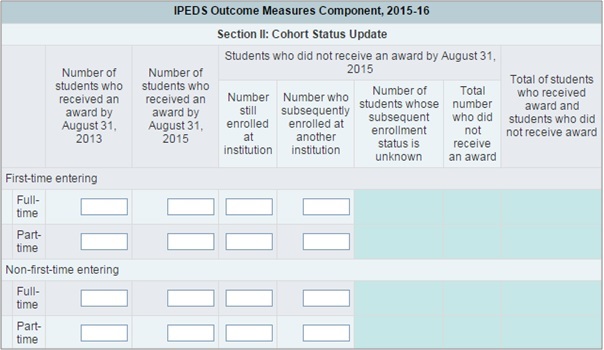 The survey will not track the type of award received by the student (i.e. bachelor's degree, associate's degree, or certificate), nor will it track  transfer type (i.e. not differentiating between a two-year to four-year "upward" transfer and a two-year to two-year "lateral" transfer). The data will also not be disaggregated by student characteristics such as race, ethnicity, or gender – therefore, presumably also not by age.
It is also important to note that the new Outcome Measures function as a supplement to existing IPEDS data—not as a revision to their methodology for calculating graduation rates—though some groups have suggested that aligning the Outcome Measures with IPEDS graduation and retention rate components might reduce the reporting burden on institutions and produce more consistent, comprehensive data. An in-depth look at this viewpoint is available in a 2014 report from the Institute for Higher Education Policy.
IPEDS expects the first round of Outcome Measures data to be available around mid-September 2016 in the IPEDS Data Center. At the institution level, data will appear in the: College Navigator Website, IPEDS Data Center, IPEDS Data Feedback Reports, and the College Affordability and Transparency Center Website. At the aggregate level, data will appear in: IPEDS First Looks, IPEDS Table Library, IPEDS Data Feedback Reports, The Digest of Education Statistics, and The Condition of Education.
As the Outcome Measures data are being gathered, it is worth noting that a series of voluntary data collection initiatives, such as the Student Achievement Measure (SAM), the Voluntary Framework of Accountability (VFA), Complete College America, and Access to Success, already exist to provide a nuanced view of how various groups of postsecondary students are faring. Moreover, many states have the capability of analyzing the success of the non-traditional students enrolled in their public institutions through their various Statewide Longitudinal Data Systems (SLDS) projects, which include unit-level data. To capitalize on and complement states' SLDS investments, WICHE is leading a Multistate Longitudinal Data Exchange effort that will account for students who cross state lines during or after their college experiences.
These voluntary initiatives are providing valuable insight into many important aspects of higher education. Yet many experts believe that to capture a comprehensive picture of the nation's evolving postsecondary student population a federal student unit record system is necessary. Though currently prohibited by law, a recent white paper released by Senator Lamar Alexander—chairman of the Senate's Health, Education, Labor and Pensions (HELP) Committee—raised the possibility of a federal student unit record system. This hints at an increasing openness to the idea at the Congressional level with the reauthorization of the Higher Education Act on the horizon.
Despite uncertainty over the possibility of a federal student unit record system and the limitations of the new IPEDS Outcome Measures, the level of discussion around the importance of non-traditional student data is encouraging. With this increasing dialogue, growing participation in voluntary data initiatives, and the emergence of new resources such as the Non-First-Time Student dataset, it is clear that stakeholders are beginning to recognize the important role that adult students play—and will continue to play—in the higher education sector and the accompanying need for more inclusive data systems.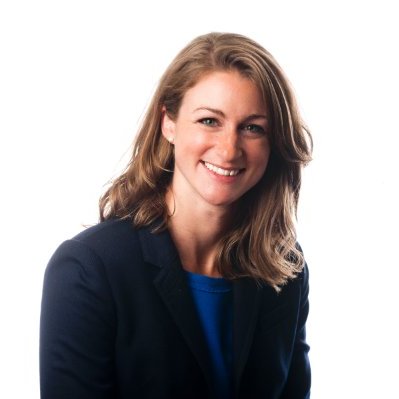 Christina Sedney
Project Coordinator,
Adult College Completion Network, WICHE