Serving Older Students with New Technologies: Highlights from #ACCN15
Published by: WCET | 12/1/2015
Tags: Practice
Last month, just ahead of the WCET Annual Meeting, the Adult College Completion Network held their annual Workshop, focused on garnering discussion of how we best serve adult learners and bring them back into higher education.  Today, Christina Sedney, project coordinator for the Adult College Completion Network (ACCN), shares the highlights of the meeting with us. Thank you, Christina!
When you think about innovation in higher education, your natural next thought might not be "returning adult learners," but maybe it should be. Perhaps a bit counterintuitively, this older student population in many ways represents the future of higher education.
Projections indicate that fewer than 3.3 million students will graduate from the nation's high schools this coming spring, while 36 million working-age adults in the United States have some college credit, but no degree. This is not to say that tens of millions of adults are beating down the doors at institutions across the country—many do not have plans to return to higher education and some have high-value certificates not captured in the current "some college, no degree" statistics—nevertheless the data are clear that the "typical" college student is no longer 18 and straight out of high school. The people, programs, and policies that support returning adult students have important lessons to offer a higher education community gradually coming to realize that serving nontraditional students will be a big part of their new normal.
The Adult College Completion Network (ACCN) Annual Workshop provides an opportunity for those working in the space to come together and share their challenges and strategies for addressing them, building a collaborative learning community of practitioners and policymakers. This year's workshop showcased a variety of innovative projects and programs around the country leveraging technology to serve this critical, often overlooked population.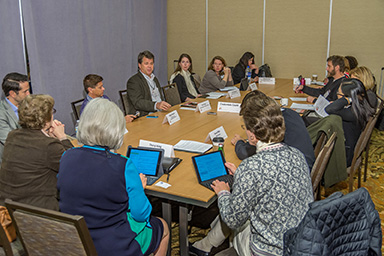 Partnerships with Alternative Credit Providers: Many adult students seek out online classes and programs, needing flexibility as they manage family and work obligations. Yet at the same time, older students are often unfamiliar with the medium and are hesitant to spend the time and money required to try a fully online course. Institutions such as Western Governors University (WGU) and the University of Memphis are tackling this issue by partnering with alternative credit providers—StraighterLine and Saylor Academy respectively—to offer their students and prospective students a low-cost avenue to enter or complete their programs. The early results of both initiatives are promising and may be of particular interest given the Department of Education's recent announcement of the EQUIP experimental site initiative.
Leveraging Technology to Boost Retention & Completion: A number of projects and programs represented at the ACCN workshop are using interesting new approaches to help their adult students succeed. These ranged from the development of hybrid competency-based programs at Salt Lake Community College's School of Applied Technology to University of Maryland University College's four week "Jumpstart" online course. The Jumpstart course takes new adult students through the process of designing an individualized learning plan (the program's early results demonstrated a positive effect on consecutive term enrollment and one-year retention, compared to a matched control group). In a different approach, the University of Phoenix has developed a "Career Guidance System" (CGS), a platform students can use to guide their job search process. The CGS links students to job postings relevant to their interests, provides information on different career tracks, and connects them with career coaches to work on skills such as resume writing – all through a personalized online dashboard. Given the large percentage of University of Phoenix students who identify as actively job-seeking, the CGS was developed by the school as a retention tool. On a statewide level, evidence from the Credit When It's Due project suggests that states with integrated data systems and the technological capacity to run preliminary degree audits are better positioned to boost associate degree attainment through reverse transfer.
Technology-based Tools for Marketing & Recruiting: A number of workshop attendees are working hard to ensure adults seeking to return to postsecondary education have accurate, easy to use information on the programs and institutions available to them. The Southern Regional Education Board has developed org to provide a searchable repository of adult-friendly programs around the country, while the Maine Development Foundation has developed a similar resource for adults in Maine looking to return to school and for employers working to provide their employees with avenues towards a credential. Meanwhile, the College In Colorado site provides information on courses of study linked to the state's major industries. Attendees also heard from startup New Ed Inc. which is working to launch a cloud-based engagement platform that can provide post traditional students with comparable information on programs' costs and career options. Connecticut's Go Back to Get Ahead initiative was also represented, and detailed how they successfully used a Customer Relationship Management (CRM) system and temporary staff in conjunction with a statewide marketing campaign to connect potential returning adults to the right program for their credential completion needs. The Graduate! Network also shared how some of their members use a CRM to manage a comprehensive employer engagement strategy.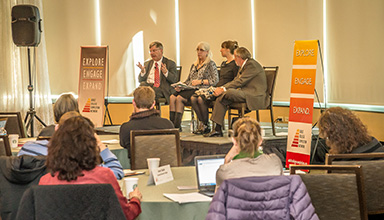 In addition to the concrete examples presented, more general considerations—for example how new types of credentials such as digital badges might fit into a comprehensive national credentialing framework—generated lively discussion among the attendees. Questions of quality assurance, whether for badges, CBE, or PLA also featured prominently throughout the day-and-a-half workshop. Here at the ACCN we are looking forward to taking these conversations further in the coming months. If you'd like to join us, you can join the network, explore our website, or reach out to me with any questions.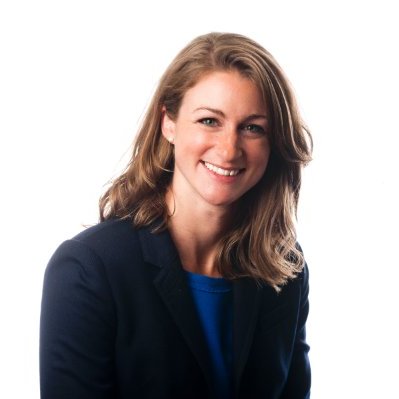 Christina Sedney
Project Coordinator,
Adult College Completion Network, WICHE