Today, the U.S. Department of Education released a new set of proposed regulations for those educating our future teachers at a distance. The long-delayed "Teacher Prep" regulations could cause more complications for colleges of education using distance education to serve students who are learning to become teachers in other states.
Even though today's date is April 1, this is no joke.
If you are teaching an Education program at a distance, you should plan to comment. And you will need to hurry – this comment period is only open for 30 days.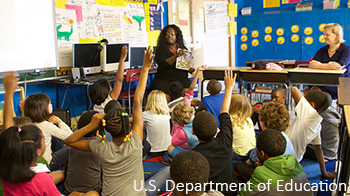 A Very, Very Brief History
You may recall that the Department of Education was not happy with how states were grading colleges and alternative programs that prepared people to be K-12 teachers. One of the criteria for institutional eligibility to award TEACH grants to students is receiving a passing grade from the state. States rarely failed an institution and few states were paying any attention to students learning via distance education.
In December of 2014, the Department of Education released for comment a set of proposed regulations to remedy this situation. A couple major tenets of the proposed "Teacher Prep" regulations were: 1) the new unit of measure for institutions would be by "program" and not institution; and 2) the state would be expected to review distance education programs from other states serving students within the state.
Shortly after those proposed regulations were released, I provided a summary of what was being proposed. In partnership with the Online Learning Consortium and the University Professional and Continuing Education Association, WCET submitted written comments focused on the distance education shortcomings of what was proposed and raised questions about what was intended.
The Current Proposed "Teacher Prep" Regulations on Distance Education
As a result of the December 2014 call for comments on the proposed regulations, the Department  received about 4,800 responses. Out of all those comments, the Department is adding additional regulations and opening a new comment period on just one issue:  Distance Education. Our joint comment had some impact.
The document for comment is 60 pages long, but most of the issues that will have an impact on colleges are in the first 18 pages. In a quick review by Cali Morrison and me, the most troubling passages were on page 15  in "Section 686.2 – High-Quality Teacher Preparation Program Provided Through Distance Education, where it is proposed that a college's program could fall short in ONE state and lose the right to offer TEACH grants to distance students in ANY state. That might work if every state used the same criteria, but that's not required. The "Discussion of Costs, Benefits, and Transfers" is a baffling attempt at measuring activity for which there is no good data.  [NOTE: This paragraph was updated on April 4, 2016 as I linked to the final version of the rules that did not have page numbers.]
What to Do Next?
There are only 30 days to comment.
If you are offering distance education "teacher prep" programs, you should review the language with the leadership of that program and your institution's government relations personnel. You should seriously consider submitting a comment.
In the next few weeks, we will be developing our own comments. I would LOVE to have your insights and suggestions. Please send them to me. I hope to develop a set of comments that I can share with you, as you may wish to use what we write as the basis for your response.
If I read this right, the regulations (as proposed) could have a chilling effect on serving budding teachers in other states. I'd like to hear your opinions. I'd like you to comment.
Thank you,
Russ

Russell Poulin
Director, Policy & Analysis
WCET – the WICHE Cooperative for Educational Technologies
rpoulin@wiche.edu
Photo Credit: U.S. Department of Education