Native Alaskans Use Digital Storytelling to Explore and Share
Published by: Russ Poulin | 7/28/2016
A trim hiker in black shorts and a blue sleeveless shirt stands atop a mountain, her arms raised in victory. This image literally headlines Eva Gregg's digital eWolf portfolio. That's her in the picture.

"I am a hiker!" she says emphatically to a small group of Alaska Native elders and community workers. "This is important to me. At one time, I weighed 252 pounds." Later in her portfolio, she writes, "I never thought in all my life that I would be conquering mountains…."
In fact, Wolverine Peak, a 10-mile hike that takes Eva eight hours, is her favorite endeavor. But highly popular Flat Top eluded her for a long time. The last steep section to the summit terrified her, she said. Yet, after watching two disabled hikers and a toddler skitter up, she managed it. "There are no excuses," she says, laughing heartily.
Kotzebue-born and raised, now age 49, Eva is the mother of four and a UAA college student. Flashing pages of her digital portfolio on a large screen, she demonstrated the different ways she has used this new tool to tell her own story, including her battle against obesity.
Identifying the Elements of Digital Storytelling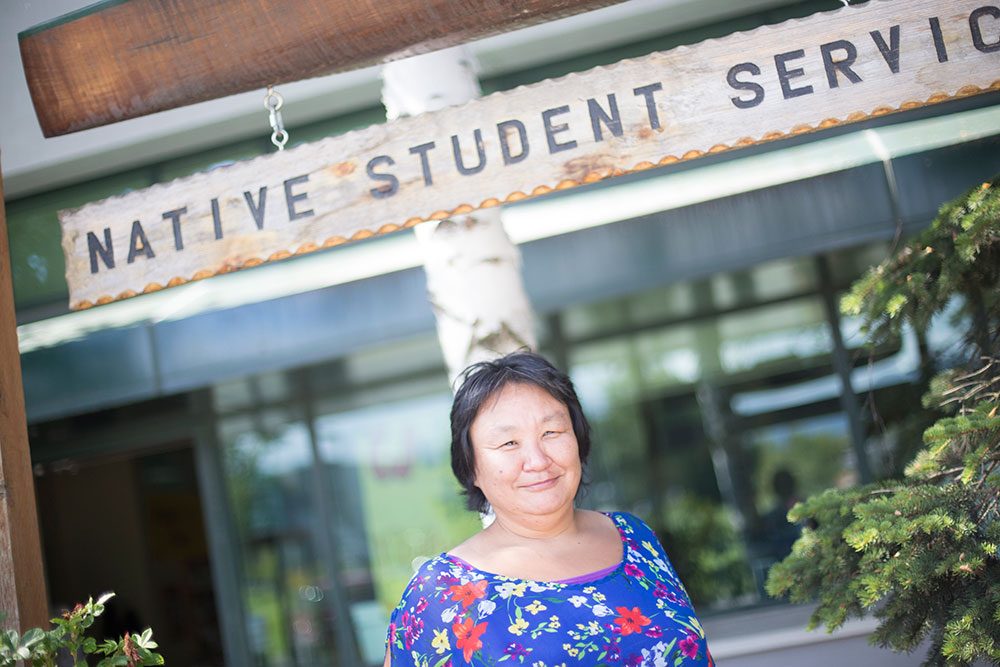 Just moments before, Sheila Randazzo, transition advisor for Native Student Services, and Paul Wasko, coordinator for UAA's ePortfolio initiatives, had teamed up to set the stage for what Eva's audience was about to see. They hoped this gathering of wise and caring community members could hear the power in Eva's digital storytelling. And they hoped this group might help shape and frame this new tool—a Native cultural identity ePortfolio—for UAA's indigenous students to "understand and record their journey of becoming aware of who they are," as Randazzo explained.
Specifically, the NSS team requested writing prompts from the community members to help students begin their ePortfolios and digitally document their identity journeys. As Wasko told them: "These are like chapters in a book. A blank page can be intimidating. But if this is my electronic book, I need a chapter on knowledge, on the physical, the emotional. Instead of financial, we might say 'provider.' Can you give these students prompts for what needs to go on those pages?"
"We need your wisdom,"  added diversity expert Tommy Woon. "This is a partnership with the community. We don't want to see it contained here, just on campus. Everything is connected. We are your servants and you are our board of directors."
Woon has been visiting and informally advising NSS as it works to develop the identity-relevant ePortfolio. He has worked a lifetime encouraging diversity at Stanford, Dartmouth and now Naropa University, a Buddhist-inspired institution in Boulder, CO.
Liberating Native Students Through Digital Age Tools
One of the disparities Woon said he is sensitive to is seeing minorities left behind in the wake of major technological change. As he told the elders and community workers gathered, "We have had the agricultural age, the industrial age, the technological age. Now we are in the digital age. Whenever new technology comes along, it can deepen the gap between the haves and the have-nots, leaving them further behind."
Instead, he challenged, "Why not use it for liberation work? Young people doing digital work get more computer- and digital-literate. They can develop it and use it to get jobs."
And they can use it to explore and understand their cultural identity. Woon's own Korean/Japanese family experienced historical trauma dating back to World War II. "It is very personal to me," he said. "The sting of discrimination is still public in Japan."
He envisions Alaska villages with their own ePortfolios. "Their stories can be archived. They don't have to rely on oral history. This can be their digital oral history. It can promote belonging, and point the way to resources when needed."
From his days working at Stanford, Woon knows Helen Chen, director of that campus's ePortfolio initiative and a premier researcher in the field. She wanted Woon's take on how this tool could best be used by minority students. From all his work in diversity, Woon quickly imagined concentric circles: self, family, community, traditions, ceremony and the environment. "Have the students explore how they came to be through those things. Let them interview their elders, do their own research, and in those ways define themselves and document their journey," he told Chen.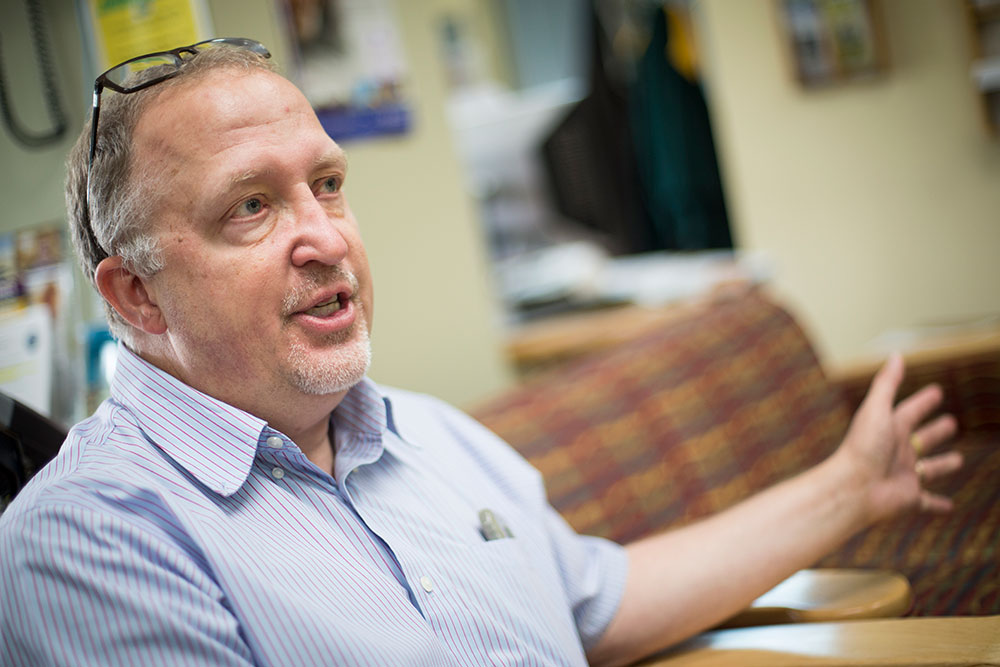 ePortfolios Capture a More Complete Story of the Person
Wasko worked in Minnesota when the state decided to scale the ePortfolio concept. Every resident could have one. The goal was a kind of K-20 education-to-career personal learning tool and map.
The goal: "If I am a student, how do I emerge from college into a job?" he said. "Or, if I am laid off, how do I track my way through getting more education so I can cycle successfully back into the work world."
By Revealing Your Story, You Help Yourself and Help Others
Eva's ePortfolio is a window into how a truly authentic voice can emerge in a digital environment, and how she is able to capture so much more than her grades or job history. Her writing expresses personal validation for her successes, and honest acknowledgement of her obstacles and challenges.
Her opening page, called 'My Path,' addresses pivotal moments in her life. That time in fifth grade when she finally stood up to four class bullies. Her first alcoholic blackout in seventh grade. And the moment, 30 years later, when she publicly admitted, 'Hi, my name is Eva … and I need help.'  She's been sober and clean since December 2009.
Decembers are big months for her, her story reveals. The very next one, in 2010, her best friend and the father of her daughter died. "I thought I would relapse…but I did not which surprised me."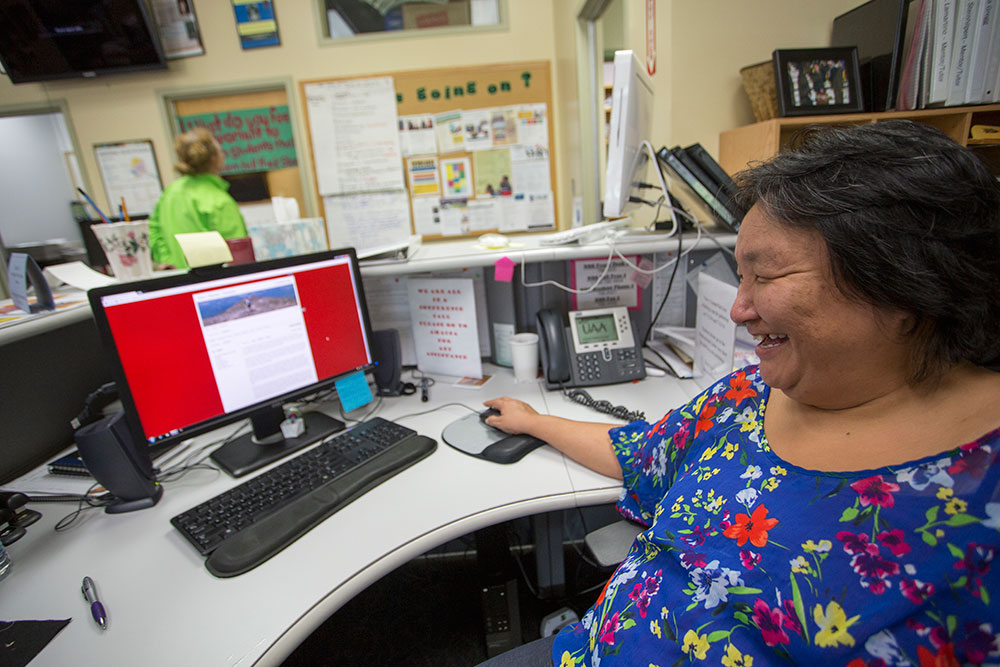 She now plans different ePortfolios for different audiences: one for scholarship applications, one for job applications, one for family. Her mountain climbing story isn't the only one that reveals her grit and determination.
After two years in college, she has plenty of papers and math tests under her belt. "I love math, don't get me wrong. It really makes me think. But it's time-consuming and hard."
What does she do when she gets stuck on a problem? "I watch YouTube videos on algebra, for hours. I watch the videos and then I go back to the problem." Only after exhausting all ideas and resources—from the videos to her class notes to the book's explanation, does she resort to asking for help. She might post the problem on Facebook, and query her several math-savvy cousins: "I am stumped guys," she writes. "Show me step one. "
What's Next?
In December 2012, Eva wrote in 'My Path,' standing at her sink washing dinner dishes, she wondered how and why she'd managed to survive three decades of alcohol, drugs "and the trauma that goes hand in hand with that lifestyle." She decided, then and there, that she would spend her life supporting any addict willing to work as hard as she has for her sobriety. She's aiming for social work and human services degrees.
"I want to help people like me," she said later. "They know they are stuck in something and can't get out. If they ask me for help, I am willing to help them." She has found her way to solid self-worth and to a career.
Thank you to Paul Wasko (ePortfolio Initiative Coordinator, Academic Innovations & eLearning, University of Alaska Anchorage, pwasko@uaa.alaska.edu) for his help in arranging for this story.  Paul has been a long-time supporter of WCET. 
A version of it originally appeared in the University of Alaska Anchorage Green & Gold News. Thank you to Kathleen McCoy, Editorial Director, UAA Office of Advancement for her help in arranging for us to publish this story.