Accessibility is a hot topic in and outside of education. In fact, this month, WCET joined the National Association of Councils on Developmental Disabilities (NACDD),  Association of University Centers on Disabilities (AUCD) and the National Disability Rights Network (NDRN) for Developmental Disabilities awareness month. In honor of that important topic, today, we welcome Rob Abel, Chief Executive Officer with IMS Global Learning Consortium to discuss the importance of accessibility in digital learning. This topic is important not just for students with disabilities but for all students, faculty, staff, and community members that may associate with our institutions.
I hope you will join us for our WCET Webcast this week to continue this conversation! Register now for Enabling Accessibility in Learning Technology Thursday, March 16, from 1:30-2:30 p.m. ET.
Enjoy this wonderful post, and, thank you Rob for the information and support of accessibility in education!
~Lindsey Downs
---
Learning is the frontier that defines all other frontiers. Yet, our understanding of the science of learning is very young. How is the explosion of digital devices impacting learning? The answer is "we just don't know."
However, we do know that learning is an adaptive process in the brain in which white matter connections among grey matter functional regions are strengthened through interactions with the world. Each human brain contains some 100,000 miles of blood vessels. How they are organized makes us who we are—and there is no one else like you.
What is in your brain has a lot to do with the type of digital experiences you prefer. And, the types of digital experiences you have also impact what is in your brain, bringing to mind Marshall McLuhan's famous quote, "The medium is the message."
Student Success and Digital Accessibility
The success of every student, not just those with "disabilities," is dependent on the impedance match between the medium and their brain. For instance, Jack has a specific preference for large type when reading on his cell phone. Jill prefers audio to reading. Jason has been diagnosed with dyslexia and prefers learning with the help of assistive technology. These situations illustrate just a few examples on the boundaries of the frontier of technology's impact on learning. All of these scenarios require digital accessibility: easy to find, easy to use, and importantly, meeting the needs of the user and the situation at hand.
Accessibility involves a range of products that "come together" during technology-enhanced learning. There is the instructional material itself—the digital textbook, web page or app. This material is delivered via a digital platform—an ebook reader, an LMS, a web browser—sometimes all of them at once. Then, there is the actual computing hardware and operating system that the platform software and instructional material are rendered on. The material may also be available via a range of assistive technologies—magnifier, screen reader, braille embosser, other specialized software or hardware. Importantly, assistive technologies also enable user input.
Accessibility in Higher Education
Every educational institution, regardless of how large, is grappling with the accessibility issues that can "get them in trouble." Everyone wants to do the right thing for every student. And, while there has been some steady progress on many fronts, such as the Web Content Accessibility Guidelines and Universal Design for Learning,  accessibility is clearly a need that is under-resourced in terms of both institutional support and supplier investment.
The IMS Global Learning Consortium (IMS Global) has been on the leading edge of developing open standards that can enable better accessibility for those with "special needs" but also for all users for more than 15 years. A small but dedicated set of organizations, including IBM, The Open University and WGBH led the development of IMS Global Access for All (AfA), a standard that enables matching of any learner's needs with digital resources that meet those needs under a variety of usage scenarios, including mobile devices. AfA is now an international standard published by ISO/IEC. IMS Global has also revolutionized digital accessibility in delivery of educational assessment via the Accessible Portable Item Protocol® (APIP®) that was led by ACT, ETS, Measured Progress, Pacific Metrics and Pearson. APIP provides assessment programs and question item developers with a data model for standardizing the interchange file format for digital test items so delivery can be optimized for a variety of special needs. The IMS Global Personal Needs and Preferences (PNP) standard enables the user preferences for both AfA and APIP.
At IMS Global we believe that a high degree of cooperation among the education industry, publishing industry and accessibility associations is required to move the needle on accessibility in education to where it needs to be. Over the last several years IMS Global has collaborated closely with publishing industry associations to leverage a mix of IMS Global standards and the most recent version of ePub, that has been named Edupub. Edupub promises to provide accessibility advances compared to existing digital book formats.
The Future of Accessibility in Education
For those of us in the education sector, institutions, suppliers, and associations, we need to work together to create the future of accessibility in education. However, the ecosystem is complex. IMS Global has an established Institutional Leadership Network focused on accessibility, led by Penn State, Tennessee Board of Regents, University of Michigan and Unizin. IMS Global is also participating on the advisory Board of the Center for Accessible Materials Innovation (CAMI), a first in the world grant program.
The agenda is as simple and complex as building an effective collaboration among the key ecosystem participants. The challenge is in the term "effective."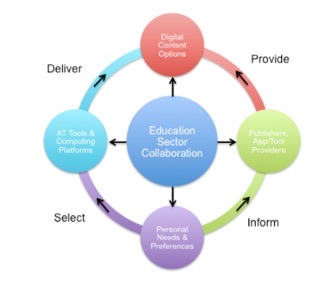 It is very clear that institutions today are required to replicate similar services. Thus, "effective" requires new collaborations among institutions to find, vet and recommend the right solution to each challenge.
It is also very clear that even though institutions may view suppliers (learning platforms, education publishers, assistive technology providers) as "large" or "well-resourced," they are not. Education suppliers do not have the same enormous budgets and profits as commercial Internet or computer companies. Not even close. Thus, "effective" requires new collaborations among education sector suppliers.
Join Us!
IMS Global invites all potential collaborators to join in to our efforts to enable accessibility for all. Please contact us to learn more and join in!
For a deeper dive on the information summarized above, please see the App Note: Enhancing Accessibility through IMS Global Standards. Or, join us at the Learning Impact Leadership Institute, Denver, May 16-19, 2017, for the Enhancing Accessibility for All track sessions as well as a full day focused on Assistive Technology.
WCET and the IMS Global Accessibility Institutional Leadership Network invite you to the Enabling Accessibility in Learning Technology webinar on Thursday, March 16, from 1:30-2:30 p.m. ET to explore the challenges and opportunities for standards-based accessibility work.


Rob Abel, Ed.D.
Chief Executive Officer
IMS Global Learning Consortium
---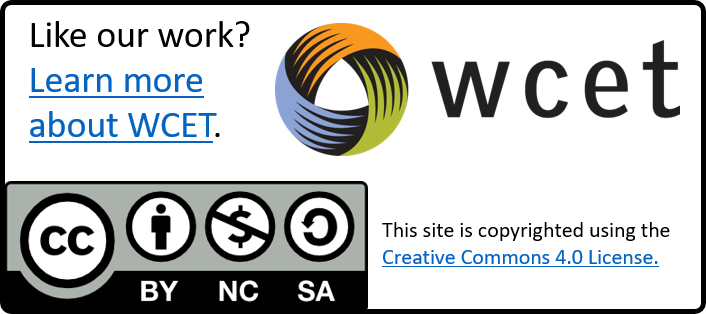 Save