Today Frontiers is excited to welcome Rebecca Karoff, Associate Vice Chancellor for Academic Affairs with The University of Texas System to tell us about the work of the DOERS3 Collaborative, specifically the OER Equity Blueprint and the Equity Through OER Rubric. WCET agrees that while higher education can see the benefits of open educational resources in many facets of our field, it's wonderful to hear stories of how this work can advance equity and inclusion for college and universities. Thank you Rebecca for sharing these tools with us!
Enjoy the read,
Lindsey Downs, WCET
---
Since Open Educational Resources (OER)'s formation, the social justice origins and equity motivation have been clear—think the 2007 Cape Town Open Education Declaration. However, the individual and multiple equity dimensions of OER have been less obvious. A new tool created by the Equity Work Group of the DOERS3 Collaborative seeks to change that.
Background
The DOERS3 Collaborative is a group of 25 public higher education systems and state- and province-wide organizations committed to supporting student success by promoting free, customizable OER. DOERS3 works across member organizations to realize the promise of high-quality, accessible, and sustainable OER implementations to achieve equity and student success at scale. Leveraging their collective strength, DOERS3 members build capacity to take established OER initiatives to scale and shape national and state innovation in the areas of OER research, data, policy, accessibility, equity, and quality.
The DOERS3 Equity Work Group has spent the last eighteen months developing resources—collected into the OER Equity Blueprint—that build on growing attention to equity and contribute—we hope—to outstanding initiatives and research underway across the post-secondary sector, including WCET – the WICHE Cooperative for Educational Technologies, and its lead role in the Hewlett-funded National Consortium of Open Educational Resources (NCOER), Every Learner Everywhere, AAC&U's OER Institute, the Achieving the Dream OER grant, and so many other impactful projects.
Of course, this work has taken place in a broader national context that evolved as we developed the project. Calling COVID-19 and the country's still incomplete reckoning with racial injustice "disruptions" doesn't do justice to their ongoing impact, nor to their exposure of inequities—educational, health, economic, environmental—that have been in place for centuries. Yet, the pandemic and the racial consciousness-building and activism following the murder of George Floyd (and too many others), have effectively engendered a collective sense of urgency for those of us in higher education to do more, and do better in advancing equity. 
As we worked on the OER Equity Blueprint and Equity Through OER Rubric, DOERS3 members heard from the OER community: all of us need greater guidance in closing gaps in opportunity and attainment for our students, especially when it comes to race and ethnicity. OER's capacity to drive down costs and improve educational affordability are well documented and the pandemic has sharpened our focus on digital equity. There are now phenomenal—if still under-utilized—resources available to meet the accessibility requirements for differently-abled students. Less visible has been the potential for OER to advance racial equity. Indeed, we both heard and experienced ourselves a hunger to engage equity in all its multifaceted-ness—more intentionally, deeply and holistically—across and within higher education institutions and systems, and to identify the individual and collective roles, functions, and responsibilities of practitioners and leaders.
The Equity Through OER Rubric and OER Equity Blueprint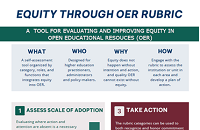 With this in mind, the DOERS3 Equity Work Group created the Equity Through OER Rubric, a comprehensive self-assessment tool designed to guide students, faculty, administrators, and other academic leaders toward better understanding and also acting on the equity dimensions of OER. With members from the university and community college systems in Colorado, Georgia, New Hampshire, New York, Texas and the Massachusetts Department of Higher Education, the creators of the Blueprint tapped into a diverse range of identities, perspectives, and institutional roles to develop guidance on how to apply an equity lens to all aspects of OER engagement.
---
The OER Equity Blueprint includes a set of initial case studies, designed to share stories of OER work that advance equity, including specific initiatives, projects, research and analysis, whether completed, underway, or just beginning. We are looking for additional case studies to include, and submission guidelines can be found on the DOERS3 website.
---
The rubric is the centerpiece of a larger project, the DOERS3 OER Equity Blueprint, which includes a theoretical and research overview, and an initial set of case studies designed to tell stories of OER work that advances equity. The Blueprint defines equity as a corrective process that demands fairness for marginalized and minoritized populations by reducing gaps in opportunity and achievement through systematic efforts. Two of the core values in the Blueprint state that:
Equity and quality should be understood as constituent components of one another—inclusive, capacious, and interdependent; and
Achieving equity results in increased student success in terms of access, participation, persistence, completion and entry into the workforce. Both these core values are present throughout the Equity Through OER Rubric.
The Blueprint also summarizes the growing body of research providing compelling evidence of how OER lowers the cost of education for students; deepens student learning across populations; and improves levels of persistence and completion—all of which are equity issues. Those who engage with the Equity Through OER Rubric will be able to contribute to that growing body of evidence as they work through the stages of adoption. 
Indeed, the rubric is the tangible application of the theoretical framework proposed in the Blueprint, bringing it into the practice and action realm by identifying roles and responsibilities of institutional players, and proposing levels of engagement, action, and assessment required to aid OER in fulfilling their promise. The rubric can be used to assess the institution as a whole, and/or may also be used by units and offices. It breaks down how to assess the level of OER adoption across the institution with an equity lens, based on three organizational categories: students, practitioners, and leadership.
Within these categories, rubric users can evaluate themselves based on whether a dimension is not present in their institution, beginning, emerging, or established. For example:
how aware of OER are students and which institutional units inform students about OER?
Do students have the technology to access them?
Who is teaching with OER and are the materials culturally inclusive and relevant?
How do institutional leaders take responsibility and how are they held accountable for progress on OER equity goals?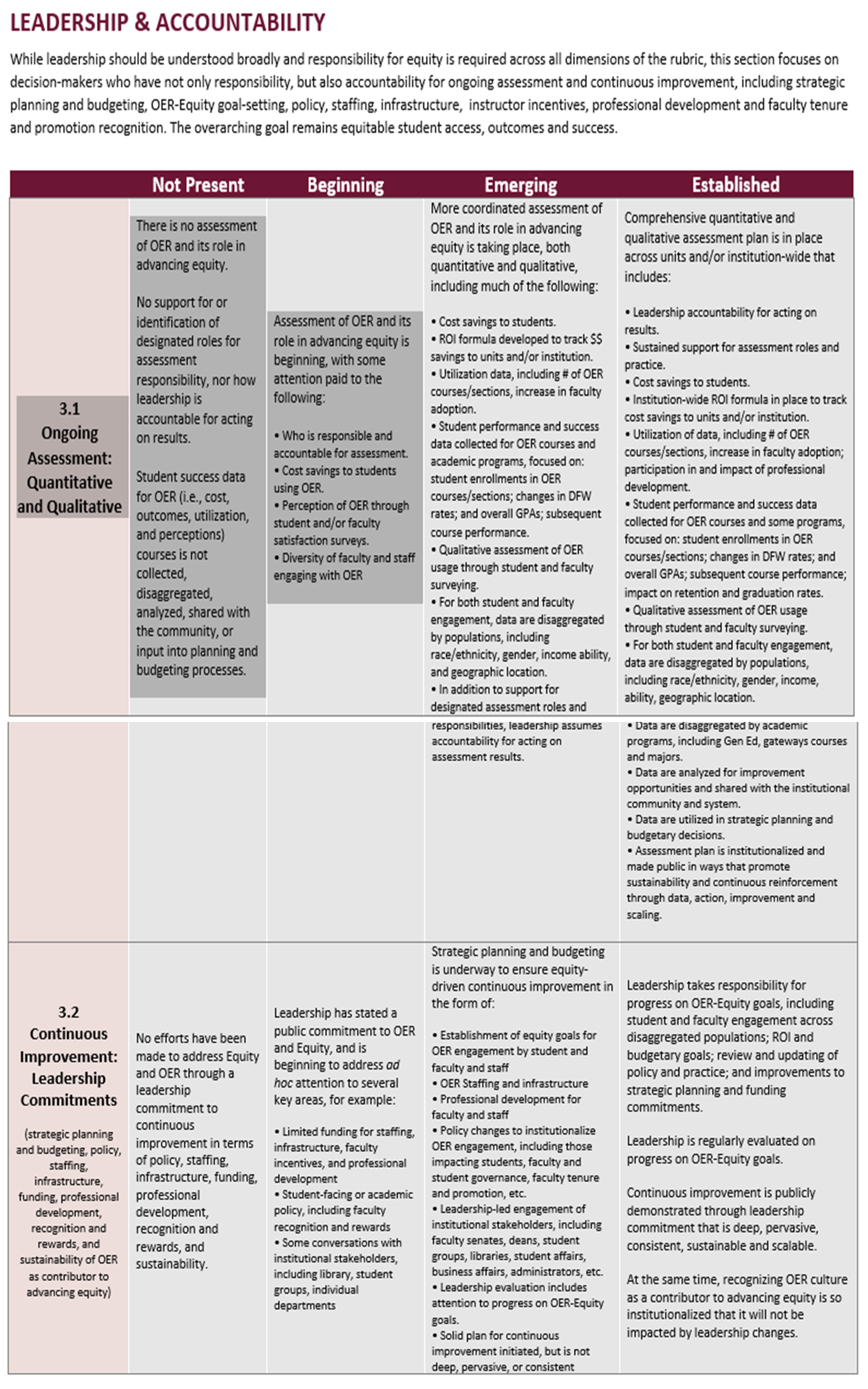 As users engage with the rubric, they can determine where their institution is doing well and where it can improve as they move across the stages of adoption to leverage OER in support of equity across multiple dimensions.
While institution-focused, we believe there are a lot of actionable components for university systems, organizations, and SHEEOs. The rubric seeks to make clear that all stakeholders have leadership roles to play in advancing equity through OER and invites higher educators to use it to both recognize and honor their commitment to equity, as well as evaluate progress and act on those areas identified as requiring additional focus and effort. Given that OER engagement is still nascent at many U.S. institutions of higher education, where resource constraints are all too real, the established stage will remain aspirational for many.
The holistic planning embedded in these stages is intended as a blueprint for reaching equity by correcting the gaps in opportunity and achievement through systematic efforts. Moreover, the rubric's comprehensive approach provides a blueprint for quality OER—by and for students, practitioners and leadership, with assessment, accountability, and continuous improvement built in.
Next Steps for our Work
The next phase of the work entails seeking institutional partners who would like to pilot the rubric with us, and we already have a number of potential partners, including WCET members. We are working now on formalizing the pilot process, one which we know will enrich the rubric and engage more stakeholders—including administrators and leadership—in that more intentional support of equity through OER. The rubric is open, and we look forward to seeing how higher educators will adopt and adapt it. We also recognize the current version inevitably has blind spots–regarding populations of opportunity and intersectional identities not adequately attended to, as well as neglected dimensions of quality OER implementation. We will keep WCET and others informed as we issue a call for pilot partners in coming months.
---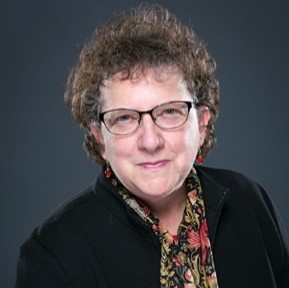 Rebecca Karoff
Associate Vice Chancellor for Academic Affairs
The University of Texas System
rkaroff@utsystem.edu
About Author
Dr. Rebecca Karoff leads systemwide student success initiatives at The University of Texas System as Associate Vice Chancellor for Academic Affairs. Her work addresses the student success continuum, PK-20 and into the workforce, and recognizes the remarkable responsibility and opportunity of the University of Texas System to achieve more equitable access and outcomes for the state's increasingly diverse students. She leads the UT System's momentum-building strategy on Open Educational Resources (OER), emerging initiatives on curricular innovation, and engaging faculty in embracing their roles in student success.  She is a co-author of the NASH Equity Action Framework, a tool designed for university systems to assess their progress toward, and she chairs the Equity Work Group of DOERS3, the Driving OER Sustainability for Student Success Collaborative, resulting in the OER Equity Blueprint and Equity Through OER Rubric. 
---