To join or not to join…. that is the question.  The answer, like everything else related to state authorization is….it depends!  This blog post will identify the factors that an institution faces in making that choice.
Begin with Internal Analysis
Each institution must look at its own institution's out of state activities and then analyze the costs to decide if the scale will tip toward being a member of SARA or not being a member of SARA.  The bottom line is a cost/benefit analysis.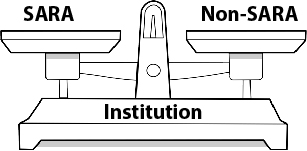 Regular readers of this blog will recall that the State Authorization Reciprocity Agreement (SARA) was created to provide a more uniform list of activities for which an institution may participate without applying for authorization in the SARA states.  While SARA does offer a more consistent path to state compliance for many institutions that manage out of state activities, not all activities are subject to SARA purview.  Additionally, while the list of SARA Member States is growing, not all states belong to SARA.  It should be noted that institutions that join SARA could be managing authorization through SARA and through traditional authorization pathways at the same time depending on the activity and the state for which the activity is taking place.
Understand the Costs of Joining SARA
In considering SARA membership there is still a cost.  A membership to SARA requires a national fee of $2,000-$6,000, depending on the institution's FTE.  Some states are imposing an additional fee to the institutions above the national fee. These state fees range from negligible to quite high. A SARA institution may find that there will be a national fee, state fee, and compliance fees to some non-SARA states depending on the location and type of out of state activities of the institution.
Review Your Institution's Current and Desired Out-of-State Activity and Where
An institution's analysis of out of state activity is likely familiar to most institutions.  This was a first step in state authorization management to determine the institution's footprint outside of the institution's home state.  A careful analysis of the institution will result in responses to the following non-exhaustive list of things to be considered:
Where are students participating in online courses?
Where are students participating in field experiences (i.e., practicum, internships, externships etc.)?…..including experiences stemming from a face to face program in the home state.
Does the institution market/advertise out of state? Direct marketing or National advertising?
Does the institution hire faculty who provide online services from another state?
Does the institution have a physical location in another state? …for instruction, administrative offices, or other support services?
Determine Whether Your Institution's Activities are Covered by SARA
When considering SARA for an institution, one should carefully read the full Policies and Standards document for SARA.  Generally speaking, online courses, field experiences, online faculty, marketing, and recruiting are all activities subject to SARA purview and therefore do not require a SARA institution to follow the state's traditional authorization process if the activity takes place in a SARA state.  Activities not described in the Policies and Standard document as "covered" by SARA, are subject to the traditional authorization process.  For example, a SARA institution will not be deemed compliant through SARA membership in another SARA state if the institution requires students to meet in person for monthly face to face group sessions related to an online course.  This monthly face to face activity is not among the activities permitted through SARA and therefore the institution will be required to pursue the specific state's authorization process or be subject to consequences for not being properly authorized in that state.
Be Aware of Fee Structures for States Where Your Institution's Activities Occur
As of this date, there are 29 member states in SARA with several more expected to join by the end of the calendar year.  Managing SARA authorization in member states and seeking traditional authorization in other states comes with a price.  Remaining a Non-SARA institution also comes with a price.  You should note that several SARA states changed their fee structure to manage Non-SARA institutions after their state joined SARA.  Please review the state process changes for states such as Missouri, Indiana, West Virginia, Oregon and more.  Regulations in each state are still going through revisions and must be reviewed on a regular basis.
Chart and Calculate
Not only should an institution analyze the amount of activity and where, but also analyze the annual cost. I suggest a chart that compares the institution's annual costs as a SARA institution and the annual costs as a Non SARA institution.
The institution should add:
NC-SARA fee + State fee (if any) + fees in any non-SARA state where a fee is imposed for your institution's activities. 
 Compare that total to the costs to remain a Non-SARA institution by calculating:
All fees and related costs (bonds, travel to the state for meetings, etc.) imposed by all states that your institution participates in activities.
Variables such as staff time required to manage state authorization (research & reporting), ability to market programs across more states, and the number of students who are impacted are also considerations to the basic equation.
Perhaps your institution is similar to one of the following scenarios when calculating and comparing annual compliance costs: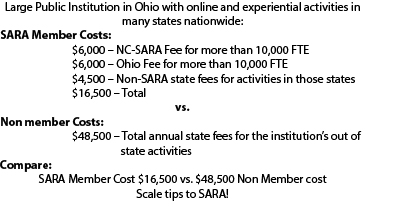 So, how does the scale tip for your institution?  As you see, the institution must determine its own financial benefit and whether that benefit coordinates with an institution's out of state activity goals.  An institution with a small presence outside of their home state will find it financially prudent to only seek the compliance process of the few states the institution finds necessary to pursue.  However, SARA can provide a more concise path for state compliance IF the institution is seeking a way to effectively manage compliance in many states.
The Bottom Line
Although we would all prefer an easy process that that will rid institutions of the need to actively manage state authorization compliance, there is no magic process. To join SARA or not to join SARA is a question that requires you to continue to review and assess the types of out of state activities, locations, and the goals of your institution to understand the institution's compliance requirements.  After that review and assessment is completed, your institution can determine and compare the costs and plans to accomplish these needs. The State Authorization Network is available to support your institution in your research and best practices to help manage compliance through SARA, through traditional individual state compliance, and a combination of both!  The good work continues!

Cheryl Dowd
Director, State Authorization Network
WCET
Graphic Credit: OpenClipart