Creating a New Kind of OWL: Online Writing Support that Makes a Difference
Published by: WCET | 9/18/2014
Tags: Practice
The Excelsior College Online Writing Lab (OWL) is a 2014 recipient of the WCET Outstanding Work (WOW) Award and will accept the award at the WCET Annual Meeting.  Today Crystal Sands, Director of  the OWL shares with us the goals, process and results of a pilot study on the OWL's use that resulted in their award.
We knew we wanted our Online Writing Lab (OWL) to stand out, to be more student friendly than other online writing resources, and to use some of the latest research about what works in writing instruction and in online education. It turned out to be a monumental task; we had just one year to build it. But, the Excelsior College Online Writing Lab was a labor of love for all of us, and I think it shows.
The Excelsior College OWL is a first-of-its-kind, open-source multimedia online writing lab. While we continue to expand its resources, the OWL already provides comprehensive writing support for students across eight areas:
Funding for building this kind of comprehensive support was generously provided by the Kresge Foundation. To fit within the funding criteria, our team worked quickly to build the OWL, completing it in just one year. During the second year of the grant, we conducted a national pilot study and based revisions upon feedback from the study.
Creating the OWL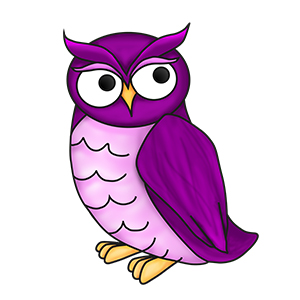 Excelsior College worked with one writing faculty member from each of its five community college partners to develop specific goals for the OWL. We knew we wanted to create an OWL that was different than other online writing labs, one that was student-centered, warm, and engaging. We wanted to make the OWL a fun learning experience, a place that students would come back to even after their writing class was over. We decided to focus on helping students build a strong writing process, as research indicates that students who have a better writing process also have better writing products. We also needed to help students build a rhetorical foundation and vocabulary, which would assist them in becoming more flexible writers. As part of the creation of OWL, a writing video game was created to reinforce both the writing process and a rhetorical foundation.
As director, my job was to develop content based on feedback from the committee and try to imagine how the content could be brought to life for students. An instructional designer was critical in that process. Additionally, we worked with an outside vendor, who was committed to our idea to do something creative and fun, on the website build and design. The brainstorming sessions we had were remarkable at times, and it was not long before we were seeing our ideas become reality.
As we neared the end of the first year of the project, we realized we were doing more than we had originally envisioned in the scope of the grant—adding new content, additional areas, and working to add a creative flair to the OWL. The hours were long, but our committed, small team got the OWL ready for the pilot study, which was to begin in the fall of 2013.
The summer of 2013 was an epic time. As the project director, I was responsible for making sure deadlines were met and budgets were kept. Thankfully, we had a wonderful grants office that supported me and our team in this endeavor. My family also became involved in the project as well, with my husband providing audio, and when testing on the site began my high school-aged son joined us in the testing as well. The OWL became our dinner-time conversation, and when my toddler asked me, "Mama, what is a thesis statement?" I knew I had probably crossed that work-life balance line. I knew I was not alone in crossing that line, as our team of five went above and beyond that summer. Thankfully, we were just about ready for the pilot study.
It truly was a labor of love. I don't think we could have built such a resource in such a short time otherwise. Fortunately, our hard work has been rewarded.
The Pilot Study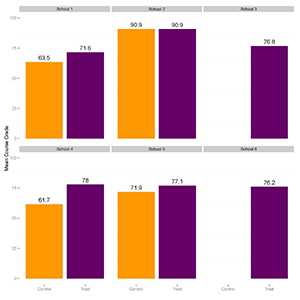 Thanks to an amazing team effort, the OWL was ready to go, minus a few tweaks, for the pilot study. Our team of teachers from our partner colleges worked together to build the OWL into the curriculum of their writing classes. We ran treatment and control group classes in order to have sets of students working with the same curriculum without the added support of the OWL. The results were positive and gave us a good start on future study of the OWL and how it benefits students.
We found that students in the treatment groups, who used the OWL regularly, scored 6.6 points higher on their final grades than students in the control groups. We also ran a "writing about writing" assessment in order to evaluate how students approached the writing process. In six of the seven categories we assessed, students in the treatment groups exhibited more growth than students in the control groups. In our assessment of the final product essays, something we knew would be tricky, as it is difficult to show improvement in just one semester, we had positive results as well. Students in the treatment groups exhibited more growth in three of the five categories we assessed, showing greater improvement in context and purpose for writing, control of syntax and mechanics, and genre and disciplinary conventions.
Students also completed extensive surveys on the OWL and their attitudes toward writing at the beginning and end of the semester. Students responded well to the OWL, reporting that the content felt relevant and helpful. Students in the treatment groups also reported greater improvements in their general attitudes about writing, with many students indicating they were more likely to write in their spare time after using the OWL.
These results are promising and are in line with the goals of the OWL. While longitudinal study is needed, we have evidence that the Excelsior College OWL provides students with a strong foundation in writing, one that is going to help them transfer the skills they learn in writing classes to other writing situations, which is, of course, the ultimate goal of writing instruction.
The OWL team at Excelsior College feels we have set the stage, through solid writing instruction and extensive multimedia support, to be the kind of free resource that students can rely upon and come back to, throughout their college careers and beyond.
Our team has been honored with the WCET Outstanding Work Award. We are excited that high schools, community colleges, and universities across the country are beginning to use the OWL in their classes and their writing centers. We have been successful in our goals to create a warm, engaging learning environment. The structure of the OWL makes it a valuable resource, whether students need one short lesson on documentation or extensive instruction in writing support. There is something for everyone in the OWL!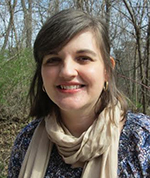 Crystal Sands, Director
Online Writing Lab (OWL)
Excelsior College