Mollie McGill – We Will Miss You
Published by: WCET | 1/7/2021
Tags: WCET
On December 31, 2020, our beloved Mollie McGill ended 32 years of serving WICHE, WCET, and their members. Mollie embarks on a well-deserved retirement. Unfortunately, the pandemic limited our ability to have a blow-out bash for her, in person. We have had several surprise honors for her with unexpected "voices from the past" suddenly appearing in our Zoom meetings.
This post highlights fond reminiscences, well-deserved honors for Mollie, and a new honor for her. And we invite you to share your memories and well-wishes with her.
Mollie and the Pre-WCET Years
Mollie grew up in the Kansas City area in a big Irish Catholic family. After a stint in the Los Angeles area, she joined her sister in Boulder, CO. Even though her sister eventually moved on, she fell in love with the area and stayed ever since.
Seeking employment, she earned an entry level job with the Western Interstate Commission for Higher Education (WICHE). Demi Michelau, WICHE President, figured out that in the same year:
Jimmy Carter, a Democrat, performed the rare feat of defeating an incumbent President.
The Apple Computer Company was formed.
"Rocky" was popular in the theaters.
 Russ Poulin appeared on the TV quiz show "It's Academic!"
At WICHE, Mollie worked successfully on several projects and was elevated to the role of executive assistant to the WICHE executive director, as the leader was then titled. In a recent video session, Holly Zanville (who just left the Lumina Foundation) recalled her days at WICHE. Holly was named to head a new project and needed help. She could tell that Mollie had skills and potential well beyond her current role. The executive director initially denied the request to move Mollie, but Holly would not be daunted. Together they created what came to be known as the "Holly and Mollie Show" as they toured the western states. This is all part of Mollie's progress of upward professional mobility with help from a great colleague.
Holly and Mollie also recalled a loose coalition of workers who dubbed themselves the "WICHE Women." They had buttons with that phrase on it and they displayed lots of mojo. Prior to the pandemic restrictions, many of the group members were still meeting for lunches.
The Founding of WCET
In the mid-80s, the WICHE Commissioners had the idea to share information about the increased use of telecommunications to offer learning across great distances. In that pre-internet world, courses were offered via phone, satellite, recordings, public television, local microwave, two-way analog or digital video, and other means. To learn more, see the WCET pre-history from Ray Lewis.
While many were experimenting with different tools, there was no single, good answer. It made sense to learn about all of the different ideas from those testing them. The WICHE Commissioners sought to facilitate information sharing among the states. WICHE's deputy director, Dick Jonsen, picked Mollie to help develop (what was originally called) the Western Regional Telecommunications Cooperative. In 1987 – 89, Mollie and Dick traveled to each state to conduct meetings to ascertain the viability of such an organization.
David Lassner (now President of the University of Hawai'i) recently recalled that he was the new guy on staff at the University at that time. He organized the initial meeting in his state and convinced the leadership that it was a good idea to join. Not only did David serve on the first WCET Steering Committee, but he also recalled how he, Mollie, and Charlotte Farr led the dancing contingent at Annual Meetings. I, wisely, stayed clear.
The idea for the Western Cooperative for Educational Telecommunications (as it was then called) was catching fire. At our first meeting, Oklahoma (a non-WICHE state) came to petition to be allowed to participate. That was the beginning of WCET growing to having members in all fifty states, even though currently only about one-third of them are in WICHE states.
My Personal Recollections
Like David, I was selected to plan the organizational meeting in North Dakota. Although I'm sure that the near-zero temperatures for the Bismarck meeting was much colder than those at the Hawai'i convening.
Through this process, I met Mollie. We were on the phone several times. We connected because we were both planning weddings in the near future. She invited me to observe the Montana meeting for pointers on how we might run our own. I still recall being in the hotel in Helena having breakfast. This small bundle-of-energy entered the room. Although I'd never seen her picture, I said to myself: "that's Mollie." And it was her.
Sally Johnstone served as the founding director of WCET, providing the inspiration, vision, and leadership to make it happen. Mollie was the assistant director and was the cosmic force that everyone came to know well. She always had a smile and a warm greeting for all.
Sally and Mollie invited me to come be the fourth staff member with Dale Cracraft (running meetings and operations….and a character in her own right) being the third. It was great to move back to my home of Colorado for what was only an 18-month contract. Working with Sally and Mollie on something new was very enticing.
As expected, it was a joy working with Mollie. In one of our recent recognition sessions, I said: "Mollie is everyone's friend." That's a great colleague to have on your team.
Imagine my chagrin when, a few years later, Mollie announced that she was leaving to work for the University of Colorado System. Of course, she went there to demonstrate her excellence and was named "Administrator of the Year." Meanwhile, Mollie and I would stay in touch and would sometimes have lunch at Carelli's in Boulder.
She couldn't stay away and, after about a decade, she returned as WCET's membership guru. It was great to have her back. As Sally Johnstone observed recently, "Mollie is the soul of WCET."
Recognizing Mollie
It is exceedingly difficult to properly thank someone who gave so much in the creation, the foundation, and the success of our organization. Here's what we did:
The Gnorman Award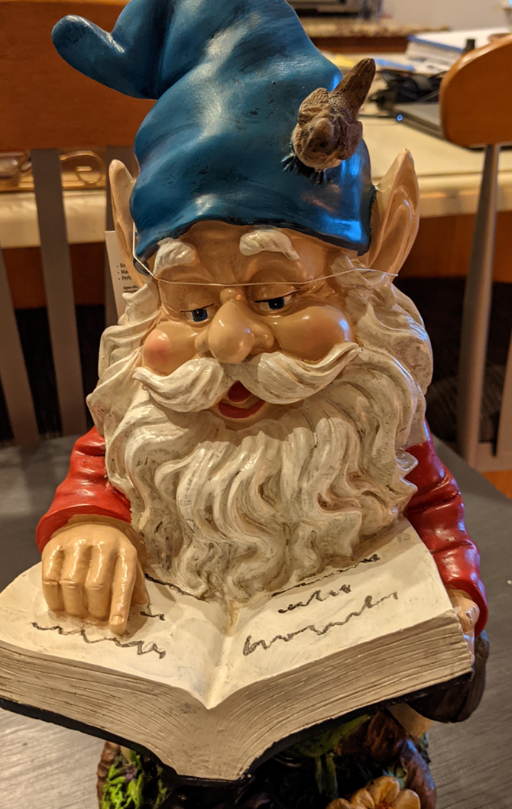 Gnorman the gnome is a traveling award that goes to WCET staff for outstanding work.
We gave Mollie a larger, scholarly-looking version of Gnorman that she can keep for all time.
WICHE and WCET Painting
Local artist Anne Gifford has painted several landscapes of Boulder and Colorado in all seasons. One of her paintings hangs near the office of WICHE President Demi Michelau. We knew Mollie liked the painting and we decided to get one for her. However, Mollie liked it so much that she started inquiring about it. Both Demi's office and our staff "forgot" who painted it or "lost" the name of the painter. Being her resilient self, Mollie found it for us and we were worried that she would buy one.
Once it was ready, Demi and I organized a lunch at the St. Julian Hotel. We picked because it is expensive, has good food, and few people go there, especially with no one traveling. This made social distancing easy.
The inscription on the painting:
Mollie McGill
32 years at WICHE and WCET
You brought energy to WICHE and life to WCET.
Wishing you boundless energy and the joy of life in retirement.
The 2020 Richard Jonsen Award
The Richard Jonsen Award is "given each year to an individual who has made a significant
contribution to the elearning community and WCET during his or her career."
It has never before been given to an existing staff member.
During one of our surprise Zoom meetings in December, we were very glad to present Mollie
with the award.
We were separated, so she did not get the actual award (or the gnome) until later.
And a "New" Award
The 2020 Richard Jonsen Award is the last of its kind. We asked Dick Jonsen if he would be willing to share billing with Mollie, just as he shared time traveling with her to every WICHE state so many years ago. He agreed upon one condition…"no one knows who the hell Richard Jonsen is, so you need to change my name to Dick Jonsen."
Your wish is granted. In the future, the award will be known as the:
Dick Jonsen & Mollie McGill Award
A great recognition to the duo who performed much work to make this Cooperative a reality.
Congratulations Mollie!!!
Share your Memories and Well Wishes
We have created a padlet for everyone to share their memories of Mollie and to wish her well in retirement. So that she knows who the comment is from, be sure to login or put your name at the bottom of the post. While you are there, take a look at the kind thoughts shared by others.
What's Next?
Mollie is not sure what interests she will pursue. She will continue volunteering and mentoring a young girl she was paired with through a local program. She does plan to improve her French, in which she was fluent as a youngster, and spend some time in France. She will spend some time with her twin sons, who currently work in Colorado ski country. Lindsey hopes she'll visit the one-person WCET office in Montana at some point.
And we will certainly seek her advice. Megan Raymond assumes Mollie's membership duties and has been trying to download 30+ years of knowledge and wisdom. We might not have accessed it all.
Given her personality and dynamism, she is sure to make a mark with whatever she tries next.
For WCET staff and members…
We miss her already.
We have shed tears of sadness and of joy.
We will remember her fondly.
We can't thank her enough.
Congratulations Mollie. We will miss you…but we have your phone number.
Russ